Gliding over or schussing through high-quality powder is the ultimate delight for skiers and snowboarders of all skill levels. Tohoku, just a few hours away from Tokyo by shinkansen (bullet train), is the perfect destination for those who ache to spend some serene or invigorating time hitting the slopes. Aside from skiing and snowboarding, there are myriad other tantalizing activities on offer to meet every particular fancy.
Zao Onsen Ski Resort (Yamagata)
At Zao Onsen Ski Resort, you can enjoy magnificent views of windblown juhyo (fir trees) heavily coated with thick, sparkling snow. These legendary "snow monsters" are often grotesquely shaped due to the extreme velocity of the northwest winter Siberian monsoon cutting through. January and February are the best times to see for yourself the weirdest and wildest—even scariest!—of snowscapes in all of Japan.
Access: 40 minutes from Yamagata Shinkansen Yamagata Station by bus
Appi Kogen Ski Resort (Iwate)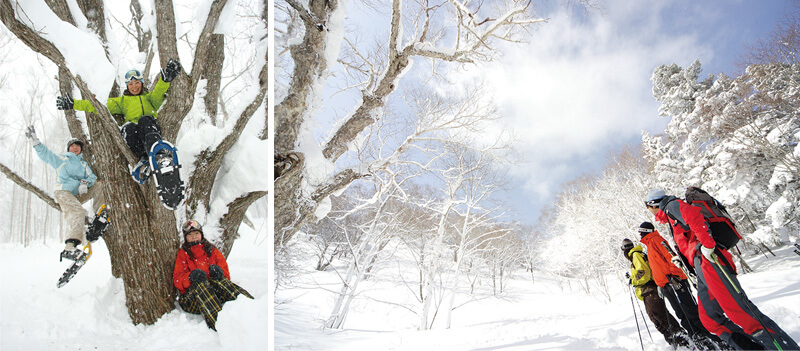 Iwate Prefecture is proud home to several popular winter destinations, including the ever-so-famous Appi Kogen Ski Resort, one of the largest in Japan with 20-odd trails and a total length of 45.1 km. A vacation here, however, is not as exclusive to skiers and snowboarders as one might assume: Appi Family Park, for example, offers gentle slopes for sledding and tubing—as well as a snowman-making area open to "Frosty builders" of all ages!
Access: 50 minutes from Tohoku Shinkansen Morioka Station by JR Hanawa line or bus
Ura-Bandai (Fukushima)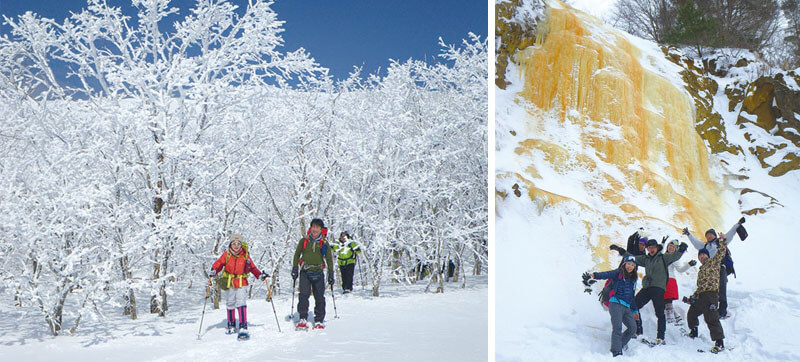 Skiers, snowboarders and sightseers never get enough of the silky, microfine snow at Ura-Bandai Kogen. Aside from thrilling, well-groomed trails designed to satisfy anyone from "bunny trail" novice to "black diamond" expert, there are also scenic backcountry fields for fans of snowshoeing and cross-country skiing. The views from the slopes are absolutely breathtaking—like scenes lifted straight off the canvas of a classic landscape painting!
Access: Urabandai Kogen: 30 minutes from JR Banetsusai Line Inawashiro Station by bus
Snowmobile Night Cruise (Zao Onsen Resort, Yamagata)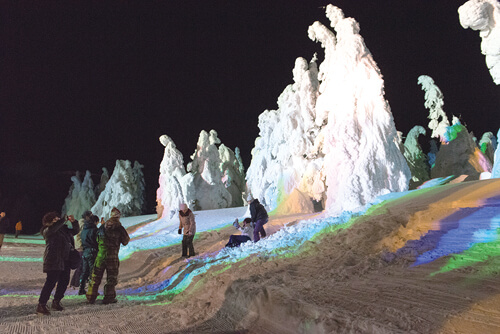 See ghostly trees illuminated in magnificent colors every night during the peak winter season. The stark contrast of brilliant white, mystical black and rainbow hues creates a fantasy world you will not want to miss. Hop on the resort's snowmobile, which is equipped with heating, and experience this amazing spectacle—at minus-10 degrees
Zao Night Cruise
Date: Dec. 23, 2016 – Mar. 5, 2017
Hours: 5pm – 9pm (Last tour starts at 8pm)
Access: 40-min bus ride from JR Yamagata Station
Price: 3,800 yen (Adult), 3,100 yen (Children)
Tel: 023-694-9518
*Reservation is required.
Other Recommended Ski Resorts
Onikobe Ski Resort : 40 minutes from Naruko Onsen (Miyagi) by city bus Located in Naruko onsen village, the ski resort has eight slopes for different levels and a snow park for kids.
Nekoma Ski Resort : 2 hours from Tohoku Shinkansen Koriyama Station by free shuttle (available during ski season,reservation required).
The ski resort attracts a great number of skiers with its fine powder snow and a beautiful view of Mount Bandai's lakes and marshes.