Though it may still be relatively unknown, there is a wonderful festival in Niigata that is a must for capturing on your social media. Unlike huge festivals packed with thousands of people, this festival offers you the unique chance to enjoy an event with a more local flavour alongside town residents.
The Echigosekikawa Great Serpent Festival:
Watch a giant straw snake parade through town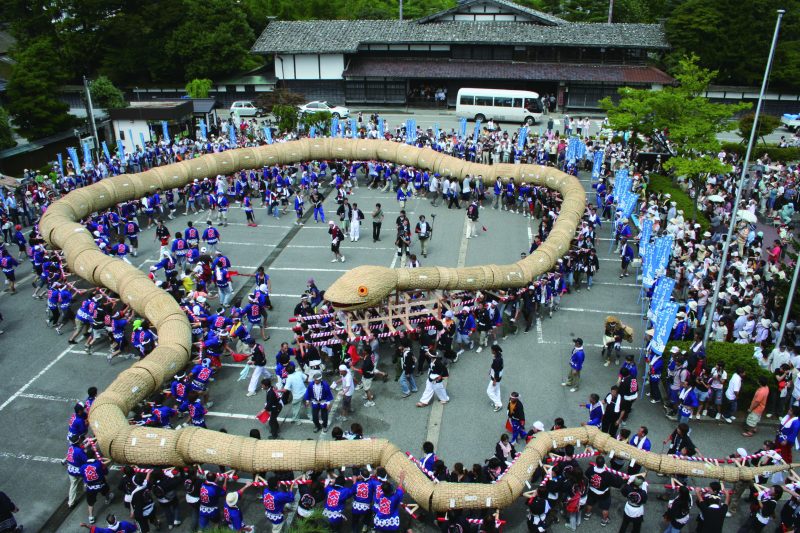 Sekikawa, a village located in the north part of Niigata ken, has been holding the annual great serpent festival since 1988 as a way to warn others against the dangers of floods. As the locally-made gigantic bamboo straw snake measures 82.8 metres and weighs about two tons, it requires the strength of 500 people to carry the creature around. The closing event is marked by the serpent coiling up at the village office, symbolizing unity and harmony.
Event period: Late August every year
Hours: [The Serpent Parade] 9:30am-12pm, ending the parade with the serpent coiling finale in front of the Sekikawa Village Office.
URL: www.sekikawa-kankou.com/feature/taishitamonja2017/ (Japanese)
The Castle Town Shibata Festival:
Shine the spotlight on goldfish floats in this parade
The Castle Town Shibata Festival is a major summer event in Niigata, featuring kids pulling colourful goldfish floats around town. On the last day of the festival, teams that march portable shrines called daiwa jostle at and shove each other. The festival reached its climax. Experience the charm of this 280-year-old tradition by dropping in for a visit.
Event period: Mid to late August
URL: shibata-info.jp/archives/3311 (Japanese)