Make the most of your winter holiday by getting away with friends and family on transportation methods exclusive to Tohoku. Every winter, local operators run old-fashioned rides that bring Tohoku's rich cultural heritage to life. Enjoy the nostalgic atmosphere on a stove train, kotatsu train or kotatsu boat as they tour along some of the most scenic routes in Japan.
Stove Train (Tsugaru Railway): A Heartwarming Journey Through Tohoku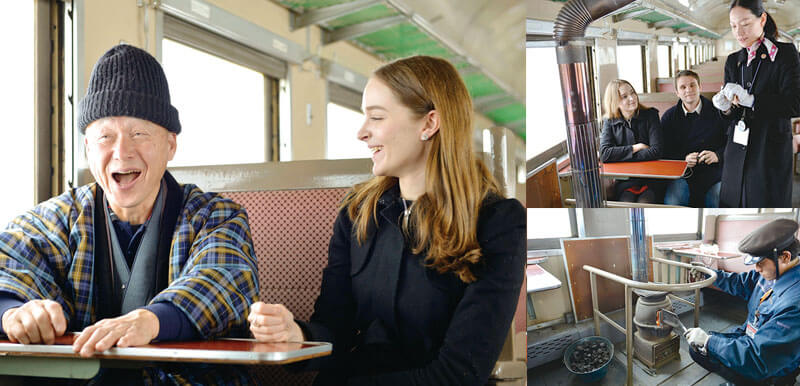 Equipped with two fully- red potbelly stoves, each train car boasts a warm, cozy atmosphere where travelers can mingle freely while winding through the vast snowfields of the Tsugaru plain. Dried squid, a traditional snack from centuries ago, is cooked on top of the stoves and served comfortably warm. Be prepared in advance, though: The train operates only three roundtrip rides from December to March, so be sure to check the schedule.
Stove Train
Date: Dec. 1 – Mar. 31
Access: 1-min walk from JR Goshogawara Station (Gono Line)
Price: To ride the Stove Train, 500 JPY is added to the regular ticket fare.
*The train operates three round trips per day, so make sure to check the schedule.
Geibikei Boat: A Cozy Kotatsu Cruise in Tohoku

Geibikei, a 2-kilometer gorge surrounded by towering cliffs, is famous year-round for its 90-minute sightseeing boat ride. December through February is an especially popular time to visit because traditional foods, such as hot pot and rice cooked in iron pots, is served on kotatsu, a Japanese wooden table that comes with a blanket and a heater underneath. Huddle around the kotatsu, listen to the guide hum folk songs and immerse yourself in scenic splendor—life doesn't get any better!
Kotatsu Boat Ride
Date: Dec. 1 – End of Feb
Closed: New Year's Holidays
Access: 5-min walk from Geibikei Station (JR Oofunato Line)
Price: 1,800 JPY (Adult), 900 JPY (Children), 200 JPY (Infant)
*Reservation is required for the boat ride with meals.
Kotatsu Train (Sanriku Railway): Tohoku Comfort and Cuisine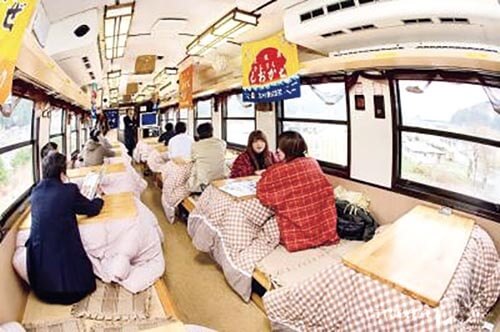 The Sanriku kotatsu train was forced to shut down temporarily after the railway was severely damaged in the Great East Japan Earthquake in 2011. Reopened in 2014, it not only allows you to relax while enjoying mouthwatering bento lunches—made with fresh sea urchin, abalone and scallops caught from nearby coasts—but also offers panoramic coastal views of Iwate Prefecture.
Kotatsu Train
Access: Train starts either from Kuji Station or Miyako Station
Date: Dec. – Mar. Operates on Sat, Sun & Holidays
Price: 1-Day Free Pass (Area limited)-Sakari ~ Kamaishi (all day): 1,500-yen,  Kamaishi ~ Miyako (all day): 2,400-yen,  Miyako ~ Kuji (all day): 2,600-yen
The train operates one round trip per day, so make sure to check the schedule.