Together with the Eitai Bridge and the Kiyosu Bridge, Kachidoki Bridge is recognized as an important cultural property of Japan. Kachidoki Bridge is part of Harumi Street. This street goes on all the way to Ginza 4-Chome, where you will find famous landmarks such as Kabuki-za (Tokyo's Kabuki theater) and department stores such as Ginza Mitsukoshi and Wako. A walk from Ginza to Kachidoki Bridge might be a nice thing to do on a sunny day!
The history of Kachidoki Bridge over Sumida River
An international expo was scheduled for Tokyo in 1940, whose main venue would have been in Tsukishima. This expo was planned to celebrate Japan's 2,600th anniversary. According to historical document "Nihonshoki" written in the Nara era (710-794), Japan's first emperor Jinmu took the throne 2,600 years earlier in 660BC.
Before the year this expo was scheduled, the Sumida River had to be crossed by boat in order to reach Tsukishima. To make it more convenient to access, Kachidoki Bridge was built and completed in 1940.
The bridge was completely designed and constructed by Japanese staff only, in order to showcase Japan's advanced technology to the world.
However, when the Sino-Japanese War broke out in 1937, the expo was cancelled. While still under construction, Kachidoki Bridge was already known as "the entrance to Sumida River", given its downstream location.
Kachidoki Bridge: The No. 1 Movable Bridge of the East
At the time Kachidoki bridge was under construction, marine transport was still more important than land transportation, which is why it is a moveable bridge. It was often referred to as "The No.1 Moveable Bridge of the East". As today marine transport is no longer common in Tokyo, the bridge is not moveable anymore today.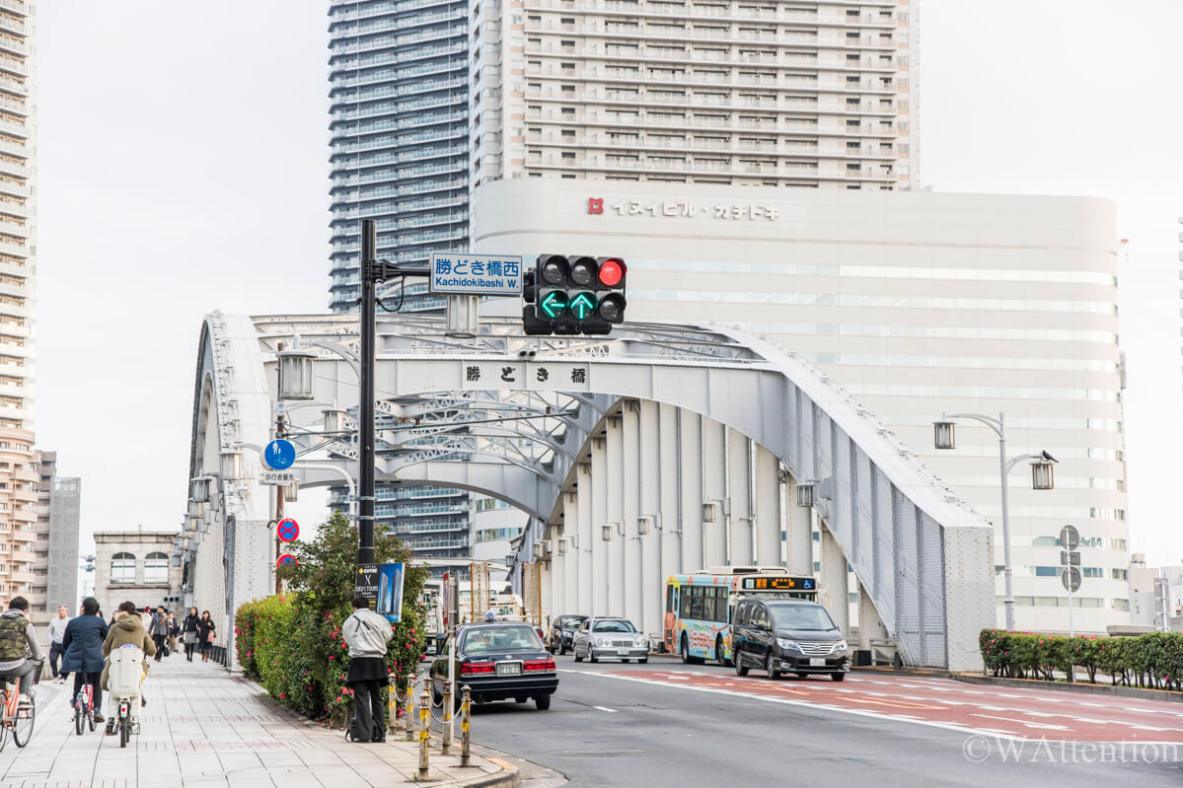 On the bridge are four rooms which were used for control operations, surveillance and as a dormitory for the staff.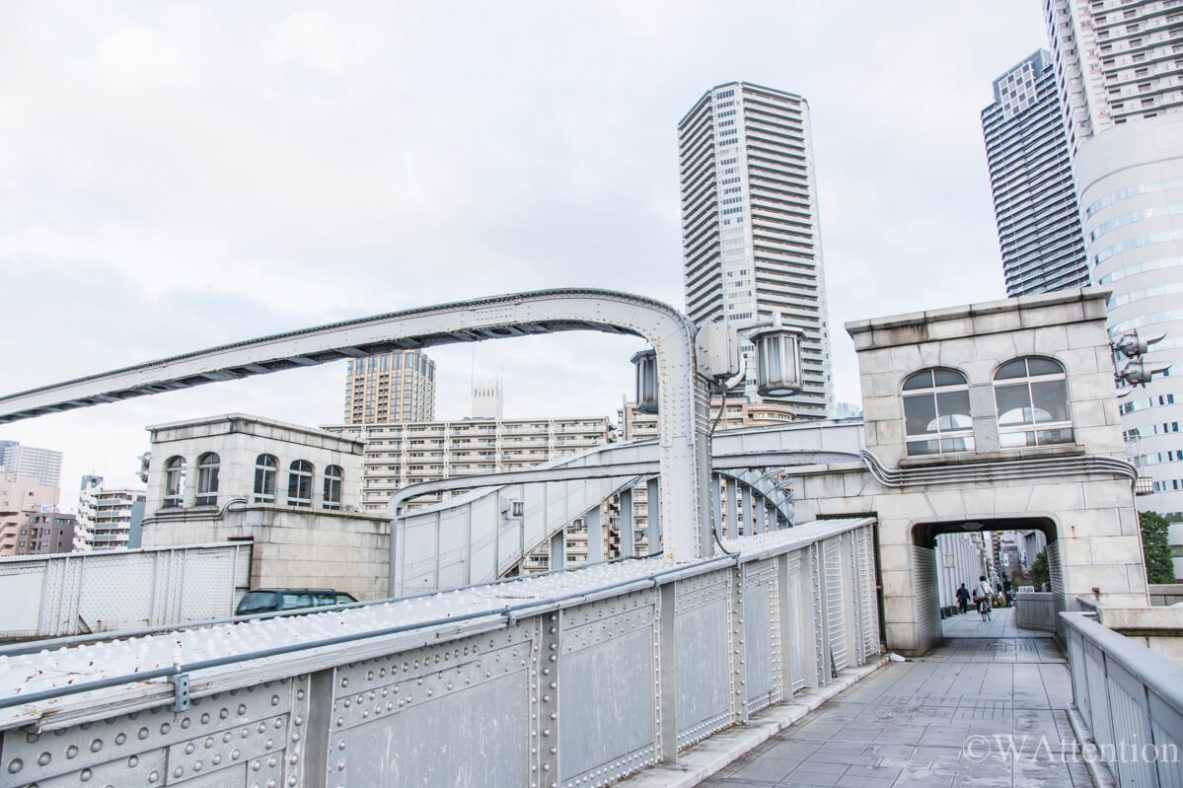 It is surprising that such a large steel-frame constructed bridge was capable of moving up to 70 degrees within 70 seconds!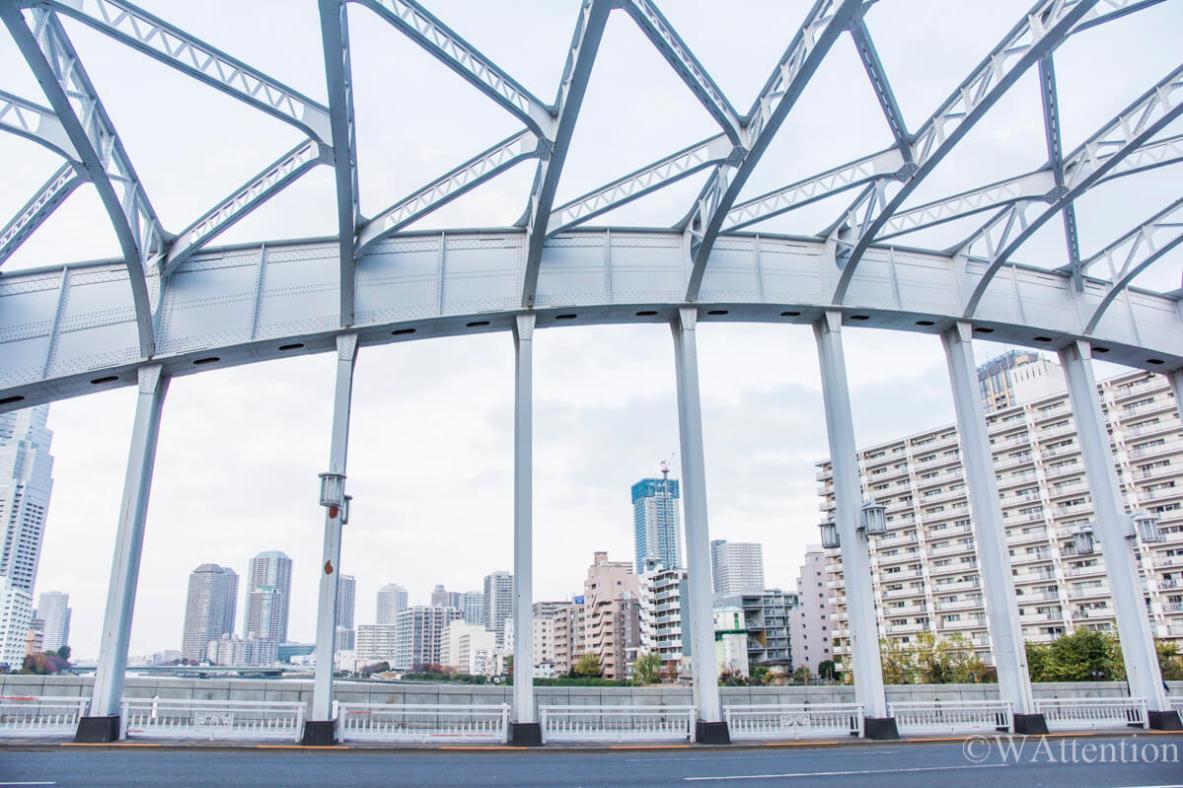 Views of Tokyo from Kachidoki Bridge
From the Kachidoki Bridge, you can see the Tsukiji Bridge on your right, Tokyo Tower in the center, and the Tsukiji fish market on the left.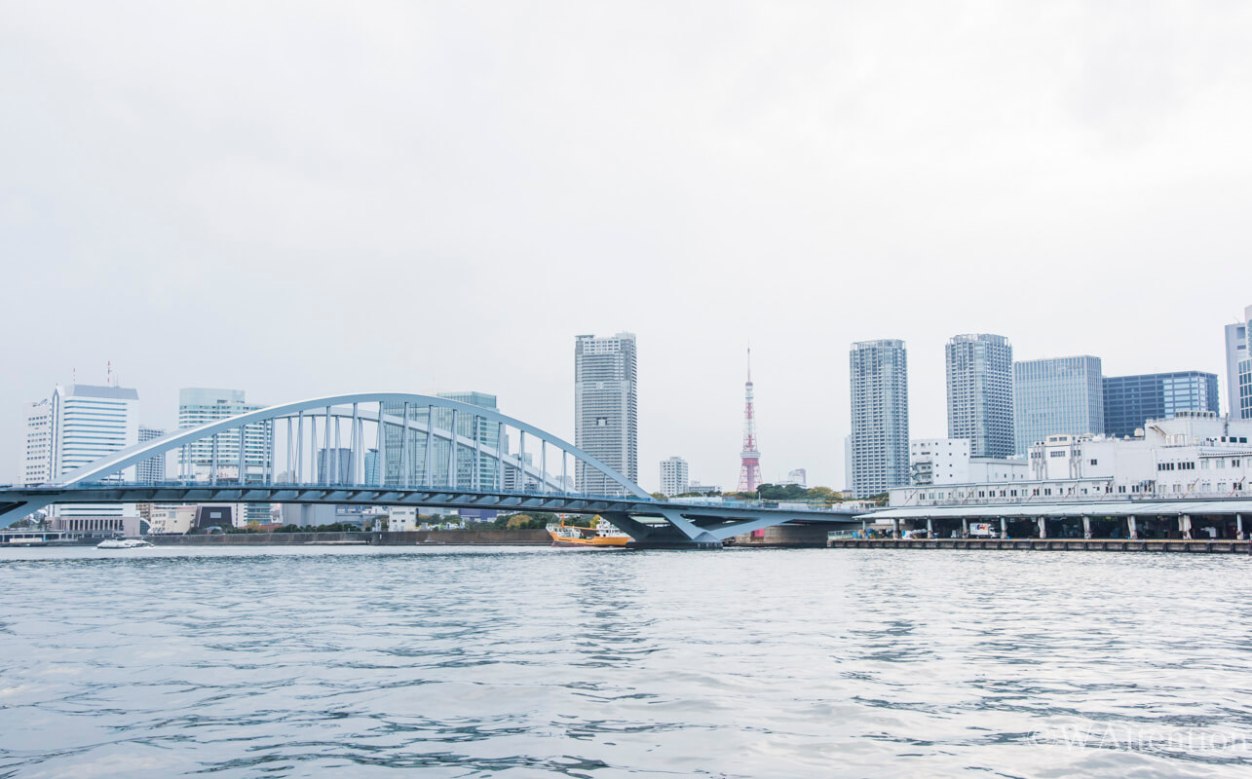 Colorful Kachidoki Bridge Night Views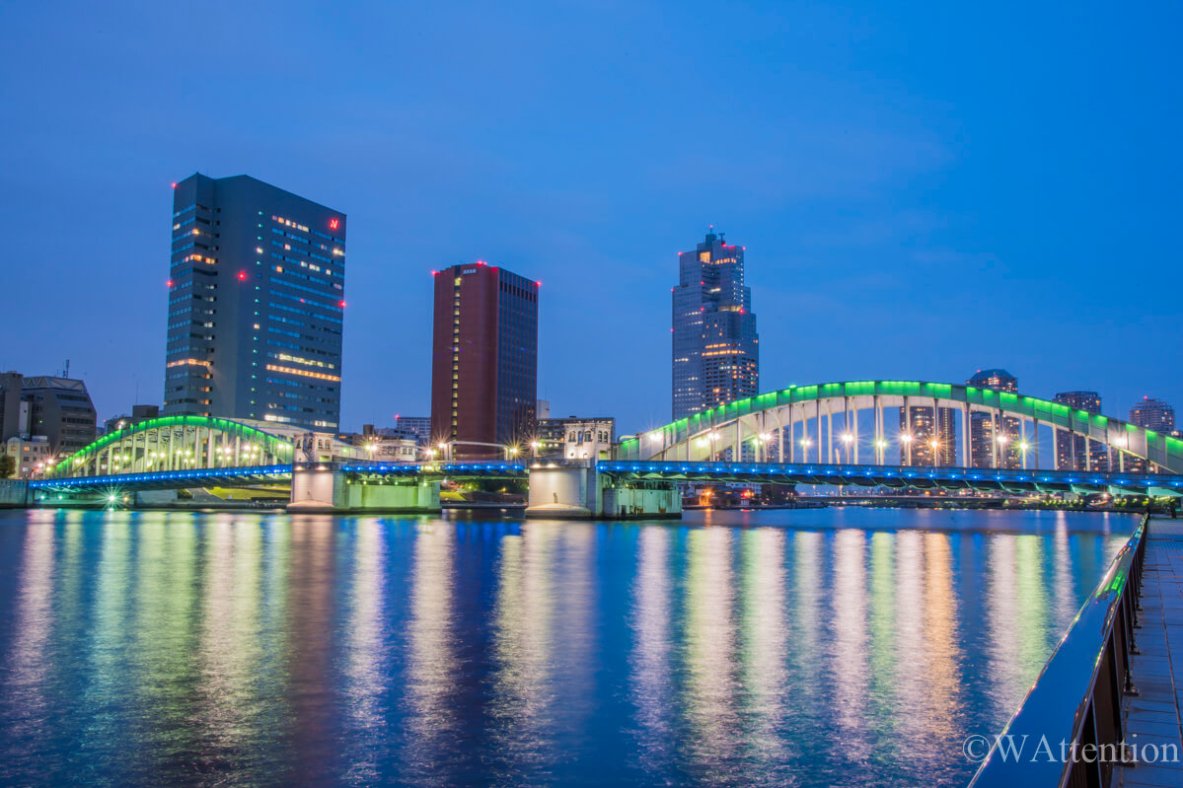 If you look at Kachidoki Bridge from the right angle near Tsukuda Bridge, you can see Tokyo Tower standing behind it.Due to the Sumida River Terrace (a waterfront terrace along the river), Kachidoki Bridge's surroundings are pleasant to go for a walk. Behind Tsukuda Bridge you look at Chuo Bridge, with Tokyo Skytree standing in the back. Kachidoki Bridge shining at dusk with Tokyo's skyscrapers in the backdrop.
Tokyo History at the Kachidoki Bridge Archives Museum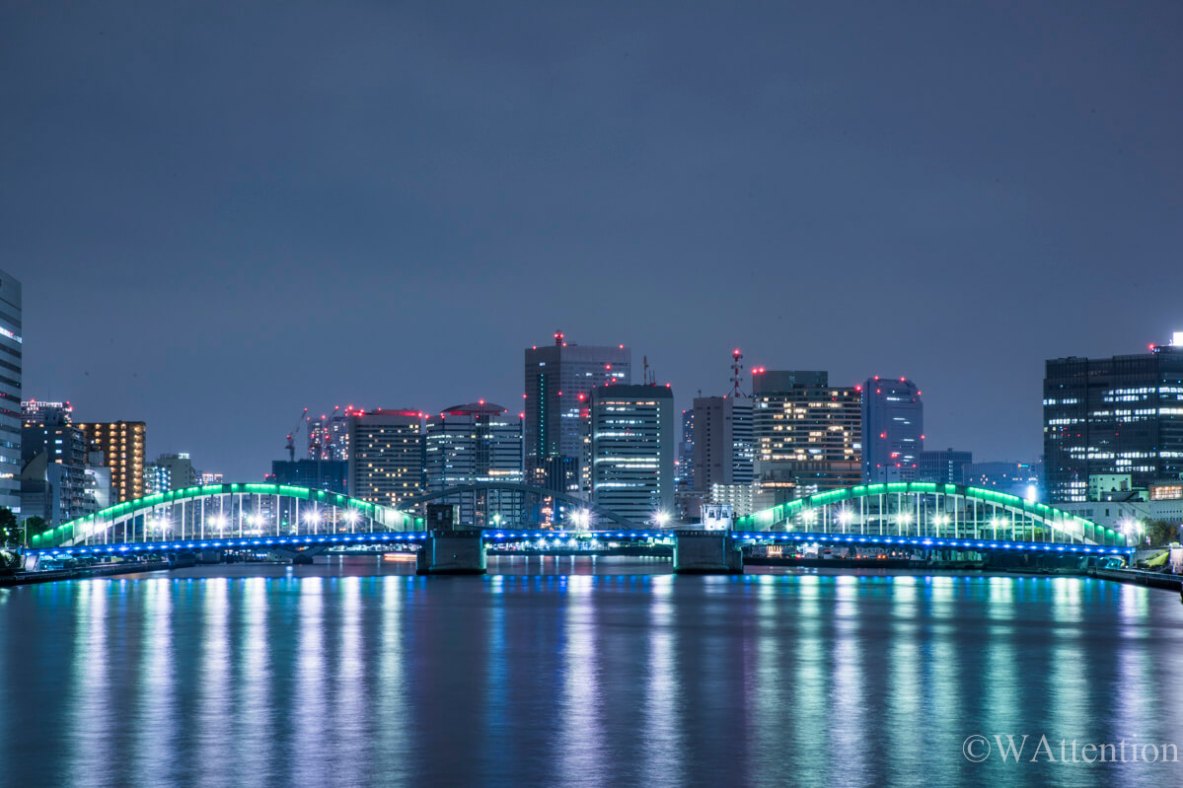 At the bridge's Tsukiji side, you will find the Kachidoki Bridge Archives Museum. The building of this museum used to be Kachidoki Bridge's transformer station. You can enter for free, and observe generators, switchboards and old photos of the bridge opening and closing. Although you might feel tempted to push the switchboard's buttons, please be aware that none of the objects here can be touched.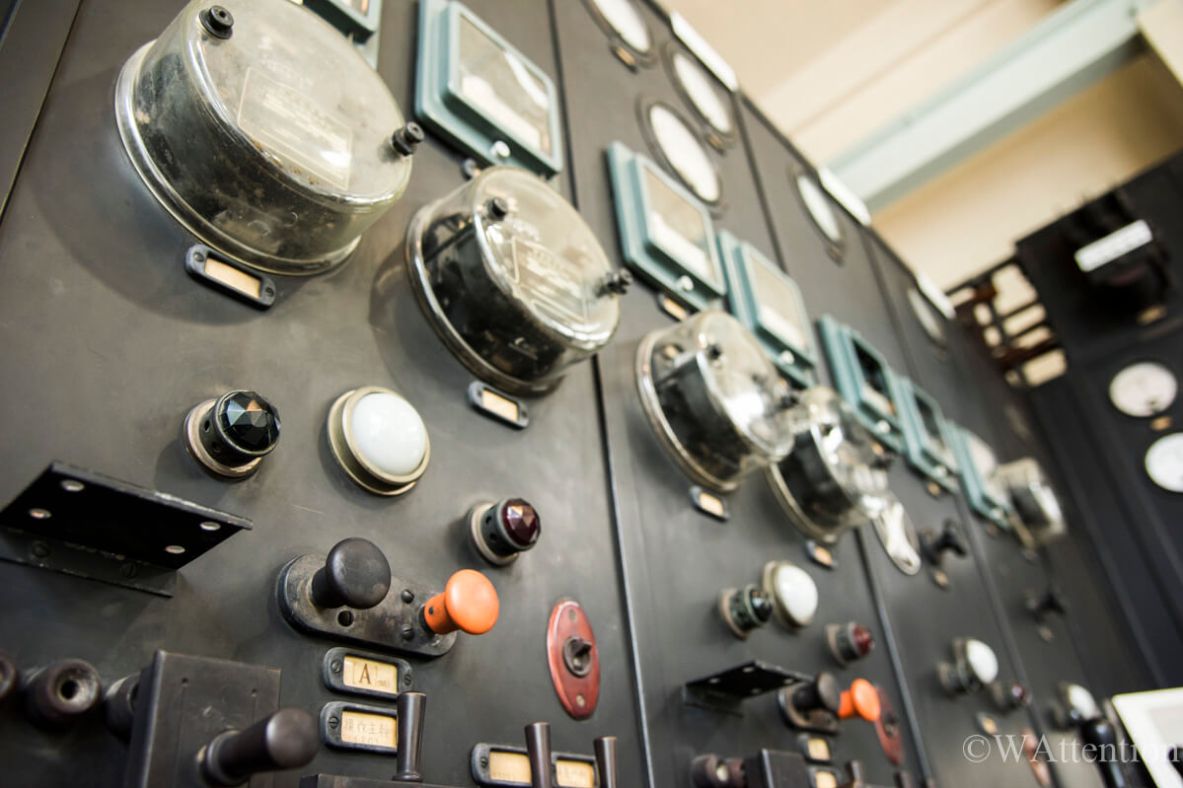 Kachidoki Bridge Archives Museum
Location: Tsukiji 6, Chuo-Ku, Tokyo, Japan
Entrance Fee: Free
Open: Tue, Thu – Sat
Hours: 9:30am – 4:30pm *During Dec – Feb 9 am – 4 pm
Holidays: Dec 29 – Jan 3
Nearest Station: Tsukijishijo Station, Kachidoki Station (Toei Oedo Line)
URL:www.kensetsu.metro.tokyo.lg.jp/jigyo/road/kanri/gaiyo/kachidoki/index.html (Japanese)