New limited express train "Laview"

to make its first appearance
Designed by world-renowned architect Kazuyo Sejima, Laview features a distinctively round front, spacious cars, luxury seats that come with electrical outlets, and free Wi-Fi throughout the train. Passengers can sit back and relax whilst taking in the scenic, panoramic views through large windows.
* The limited express train will run between Ikebukuro Station and Seibu-Chichibu Station
*Supplementary limited express charge is required
Red Arrow

offers premium traveling experience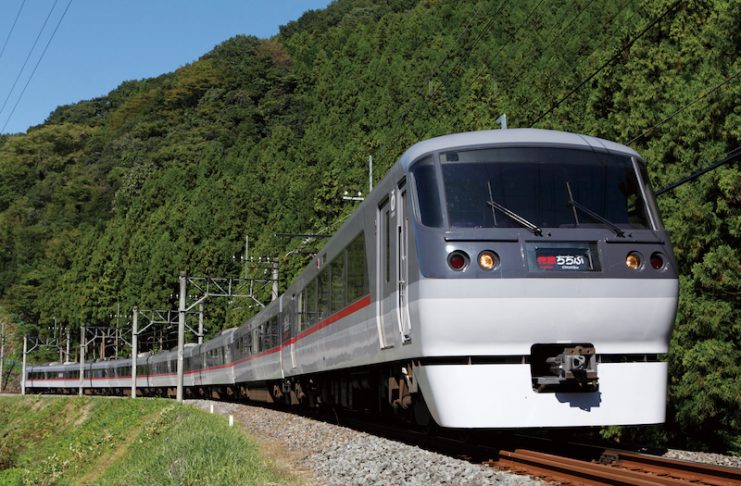 This limited express train to Chichibu is a convenient, reserved-seat service with spacious carriages and full-fl edged facility. From Ikebukuro in Tokyo, it takes just 78 minutes to reach the natural haven and getaway of Chichibu. For those interested in visiting Kawagoe, which is a scenic town filled with nostalgic charm, the ride from Shinjuku is only 44 minutes. Red Arrow is your best bet when traveling to the outskirts of Tokyo.
*Supplementary limited express charge is required
Traveling Restaurant-

fifty two seats of happiness
Famous architect Kengo Kuma designed the interior for the "Traveling Restaurant – fifty two seats of happiness" that runs between Ikebukuro Station – Seibu-Chichibu Station, Seibu -Shinjuku Station – Seibu – Chichibu Station and Seibu-Shinjuku Station – Hon-Kawagoe Station. Be in a state of pure bliss riding the luxurious wagon with gourmet meals using seasonal ingredients while observing the beautiful scenery.
Price: Brunch Course 10,000 yen, Dinner Course 15,000 yen *Includes train fare and course meal (tax included)
Operation Schedule: Temporary train, scheduled to operate 100 days per year mainly on holidays and weekends
Reservation:For more information, please visit www.seiburailway.seiburailway.jp/railways/seibu52-shifuku/en/