Sacred temple leafs
As one of Kyoto's best spots for autumn foliage, Tofukuji temple should be high on the list of anyone that calls him/herself a "maple leaf hunter".
You will be overwhelmed by the myriads of maple trees that stand on an area equivalent to 5 baseball stadiums, and enchanted by the Japanese harmony they create together with one of Kyoto's most picturesque temple complexes.
Especially famous is the Tsuten bridge, which connects the main temple to the Kaisando temple that stands at the foot of Mt. Higashi.
From the viewing point at the middle of this bridge, you look out at the stunning maples from both sides.
However, don't expect to be the only visitor as this is a really popular destination during the autumn foliage season. But even with the shutters of photographs that go on like summer crickets, the magnificent view on tons of golden and crimson maple leafs take away your breath anyway.
For photography, also check out the Ga-un bridge and Engetsu bridge, which are two smaller bridges located next to the Tsuten bridge.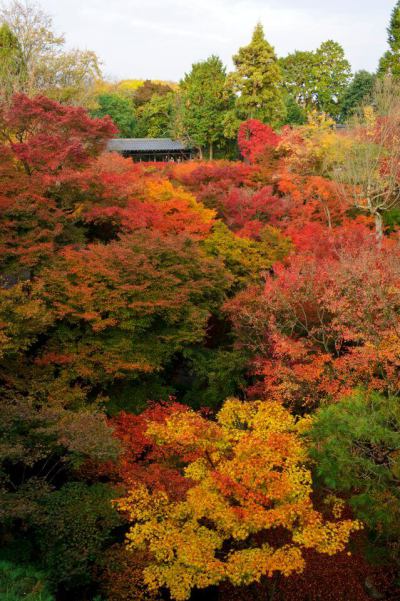 Tofukuji temple is also renowned for its 4 artistic gardens laid out by acclaimed Japanese gardener Mirei Shigemori. Each garden has a completely different style, ranging from the southern traditional Japanese rock garden to more eccentric gardens such as the northern garden with its check pattern of moss and square-cut stones.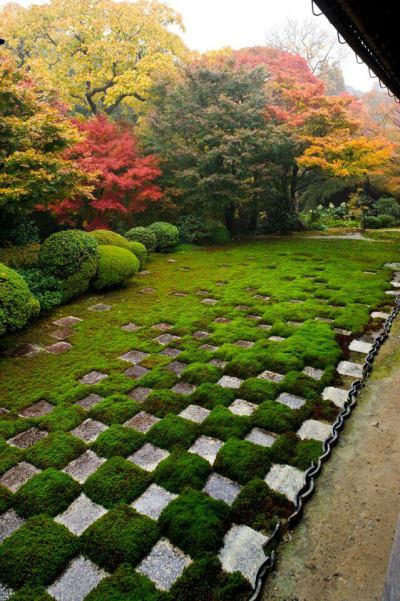 While most tourists only come to visit the Tofukuji temple, it is only the start for the devoted maple hunter! A walk from Tofukuji temple to Sennyuji temple is highly rewarding, with tons of hidden maple spots on the way. Spots like the Raikoin temple and the Imakumano Kannnonji temple are just as picturesque and breathtaking as Tofukuji temple, but without the crowds!
Tofukuji
Best period for autumn foliage: End November – Begin December
Location: A 10-min walk from Tofukuji Station (JR Nara Line, Keihan Main Line)
Access: Honmachi 15-778, Higashiyama, Kyoto