The City
There are many interesting things to see in the reconstruction of the Ichijodani. Actors walk around in historical costumes and mannequins are set up inside the homes to reenact historical scenarios.
For safety reasons, the Asakura family built the city in a very interesting and unique way. The streets have a slight curve, making it possible to see every enemy no matter where you are standing in the street. The same principle is applied in Narai Juku, Matsumoto.
You can see that the city has a built-in waterway that serves as a sewage system and to keep the area cool during summer. The walls are fortified with big rocks, protecting against floods and invaders. When you walk around the ruins it's difficult to imagine the grand buildings that once housed powerful samurai and lords.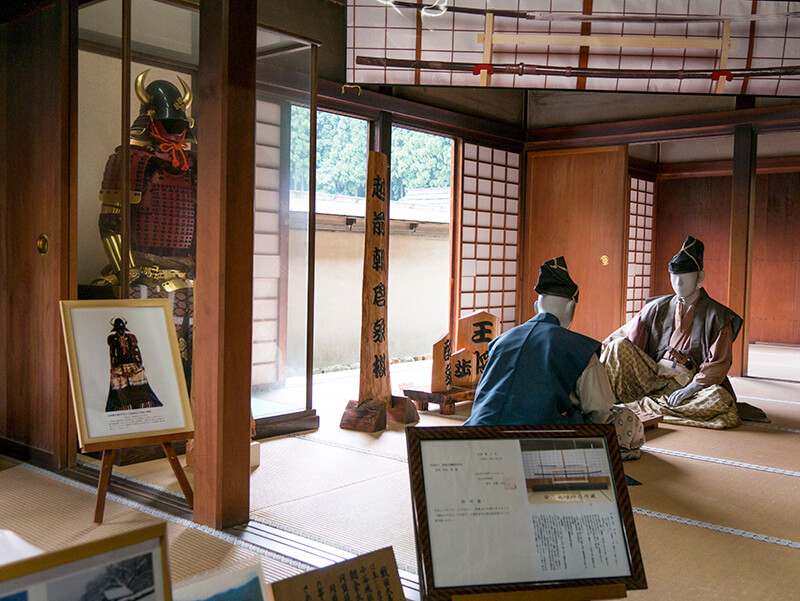 The Karamon gate is the entrance to the ruins of Yoshikage's house and used to be the entrance gate to a temple. Thanks to the good condition of the ruins an accurate image of the villa could be created.

The Karamon gate is still in good condition because it was built after the destruction of the Asakura clan and again reconstructed during the Edo period. If you look closely, the gate bears both the mark of the Asakura clan and of Toyotomi Hideyoshi. In 1570 during the Battle of Anegawa Hideyoshi fought in defense for the Asakura clan against Oda Nobunaga. This gate is thus dedicated to Asakura Yoshikage.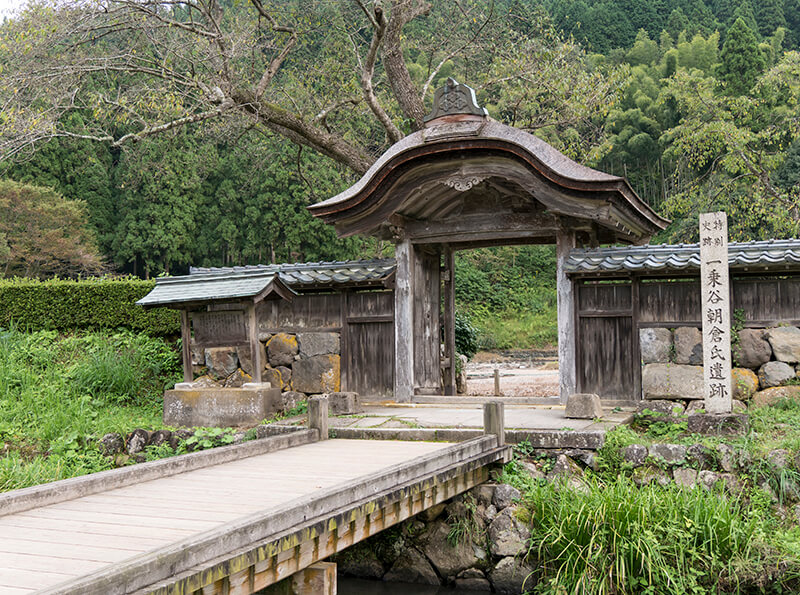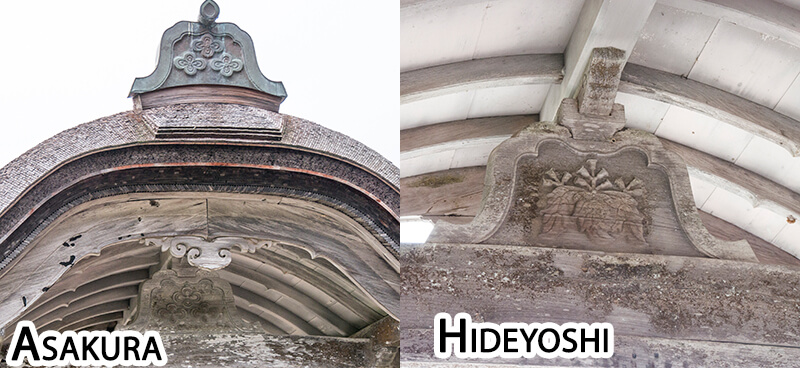 There are several gardens in Ichijodani and some are still waiting to be discovered. You can easily spend a full day in the area as it's surrounded by beautiful nature and there's so much history to absord.
Something the guide was really proud about is that telecom operator Softbank chose to do a commercial series in Ichijodani. Their trademark white shiba inu named "Otousan" ("father" in Japanese) has been around since 2007 and is the head of the Shirato family. According to the commercial series his hometown is Ichijodani.
Information
Hours: 9am – 5pm (last entry at 4:30pm) / Closed Dec. 28 – Jan. 4
Admission: 210yen (500yen for the virtual guide)
Location: Ichijodani Asakura Family Ruins
Address: 910-2153 Fukui-ken, Fukui-shi, Kidonouchichō
Access: From Fukui JR Station go to Ichijodani Station on the JR Kuzuryu Line (15min) and walk for 25min / Take a bus from JR Fukui Station to Jokyouji and get off at Bukeyashiki-mae (35min) / 30min by car from central Fukui.
URL: http://www3.fctv.ne.jp/~asakura/ (Japanese only)