What do priest trainees eat?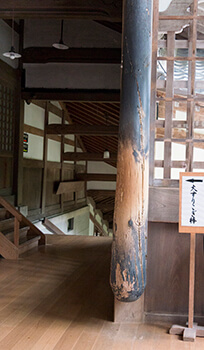 With more than 200 people living under one roof there must be a very complex system for cooking, right? On the contrary, the monks prefer to keep the sober lifestyle dictated by their teachings and still use the same kitchen, Daikuin, as during the old days. Of course most of the equipment has been updated to keep up with the times. These modern appliances are a great help to the eight monks who have to make all the meals every day for everyone else. The cuisine at Eiheiji is strict vegetarian and prepared with local ingredients. Meals are always sober and plain. "Upon flowing into the pure ocean of dharma, there are no such discriminations as delicacies or plain food; there is just one taste, and it is the Buddha dharma, the world itself as it is."
The kitchen building is a three-story cooking complex with some interesting features. There is a shrine dedicated to swiftness and protection from fire. Praying here will give you the strength to deliver meals quickly and to warn everyone in case of fire…which hopefully won't happen if you prayed hard enough. The nearby wooden pillar is as old as the temple itself and it's said that if you rub it three times you become better at cooking. Rub it six times to become better at flattering.
Holy places
Every hall, room and space in Eiheiji is a place of worship. Even when going to the bathroom one has to respect the rules written in the Senjo, a special chapter in the Soto Zen book stipulating rules for going to the toilet. Some of the other important places include the official entryway with statues of the Four Heavenly Kings who protect the Buddha (sadly, no direct photos allowed of the deities), the main temple called "Hatto" and the mausoleum of the founder Dogen Zenji. This mausoleum is officially called "Joyoden" and not only houses the ashes of Dogen Zenji but also the ashes of several of his successors. They are respected as if they were living teachers. There are living quarters near the mausloeum for the priests who are assigned to maintain this holy area. The framed kanji character means "shouyou", roughly translates to "receiving the sun", and was written by the Emperor Meiji.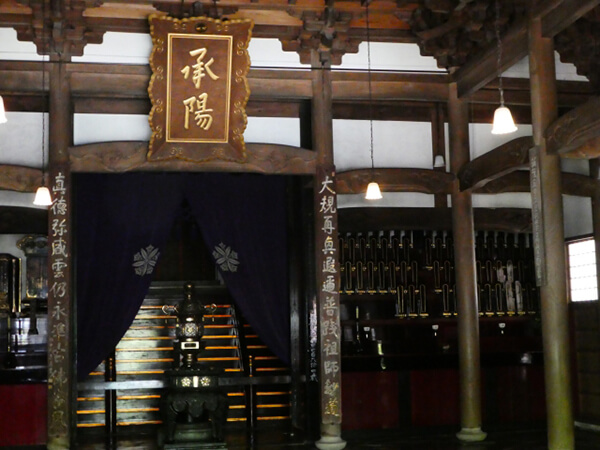 Stay overnight
If you want to experience Eiheiji life or start a training like Steve Jobs wanted to do, you can! You can do short overnight stays but if you want to sign up for the real deal you have to be affiliated with the Soto Zen Sect or prove your conviction. Of course there are also day courses to practice zazen Eiheiji style. If you're interested you can read all about it here.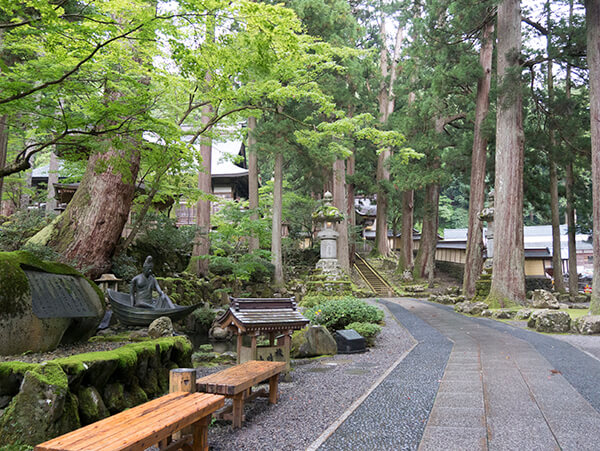 Information
Hours:4am – 5pm (5:30am – 4:30pm during winter)
Admission: 500yen
Location: near Fukui City
Access: Timetable for Eiheiji Liner bus
Address: 5-15 Shihi, Eiheiji, Yoshida District, Fukui Prefecture 910-1228
TEL:0776-63-3102
URL: https://www.jnto.go.jp/eng/spot/shritemp/eiheiji.html