The city of Odate, Akita-ken in northern Japan, is home to the breed of dog known as Akita Inu, beloved throughout the world for their cute, curly tails; pointy triangular ears; and fluffy fur. However, Akita Inu, recognized as a naturally protected species in their native Japan, are more than just cute companions; thanks to the breed's appearance in the 2009 film Hachi: A Dog's Tale starring Richard Gere, the story of the dog with a winning personality touched the hearts of audiences around the globe and helped introduce the region of Akita to the world. The dogs, originally used as hunting companions by the traditional winter hunters of the Tohoku region – known in Japanese as matagi – are resistant to the cold and are extremely loyal towards their masters. For those who would like to meet a real-life Akita Inu, Odate is definitely the place to do it. At "Akita Inu Fureaidokoro" (meeting point) in Odate, located at the JR Odate train station, visitors can meet the station's four-legged mascot: Asuka the Akita Inu. At the Akita Dog Museum, there's more to do than just see the dogs in person, you can learn all about their history, their territory, and their stories through the exhibits on display. Still, before you go to meet them, it's best to get a general understanding what kind of dogs they are. When touching the Akita dog, please take note of some of the precautions from the following site "Guide to interacting with "Akita Inu" (Akita breed of dog)."
Held on the second Saturday of February is another Akita draw: the Inukko festival where Akita Inu take center stage. Running for over 400 years, the festival in Akita's Yuzawa area features snow sculptures of dogs in appreciation of their loyalty. Visitors also have a chance to meet Akita Inu in person and see doggy parades.
Yuzawa: 40-min ride from Ōmagari Station (JR Ōu Line, JR Akita Shinkansen)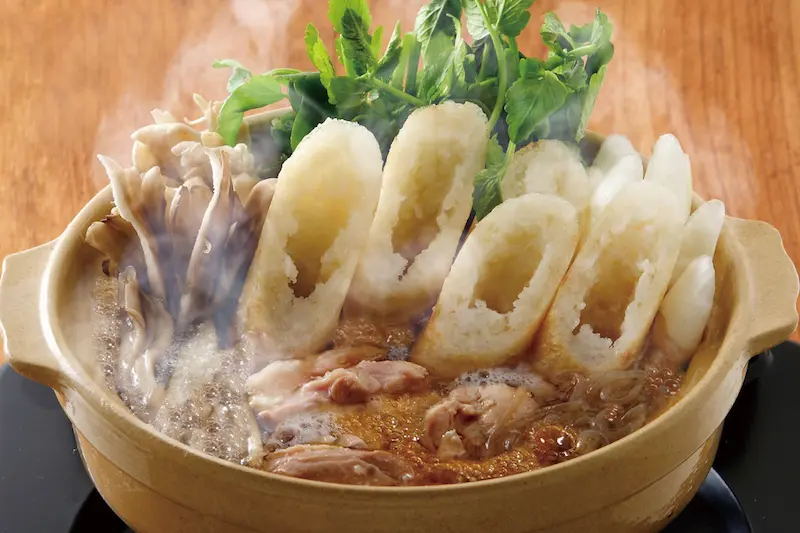 Almost as famous as their dogs is Odate city's renowned Kiritanpo-nabe.
Rice, first mashed, stuck onto a cryptomeria skewer, then roasted is added to a stew with chicken and vegetables like Japanese parsley. The origins of "Kiritanpo" came from hunters in the past who used to eat it as a staple in their mountain huts.Kiritanpo originated in Odate, so if you're heading up there, don't miss this local delicacy.