Blessed with the lightest and driest snow in Hokkaido, as well as great view of the Daisetsuzan Mountains, the Furano Ski Area attracts all levels of skiers in winter.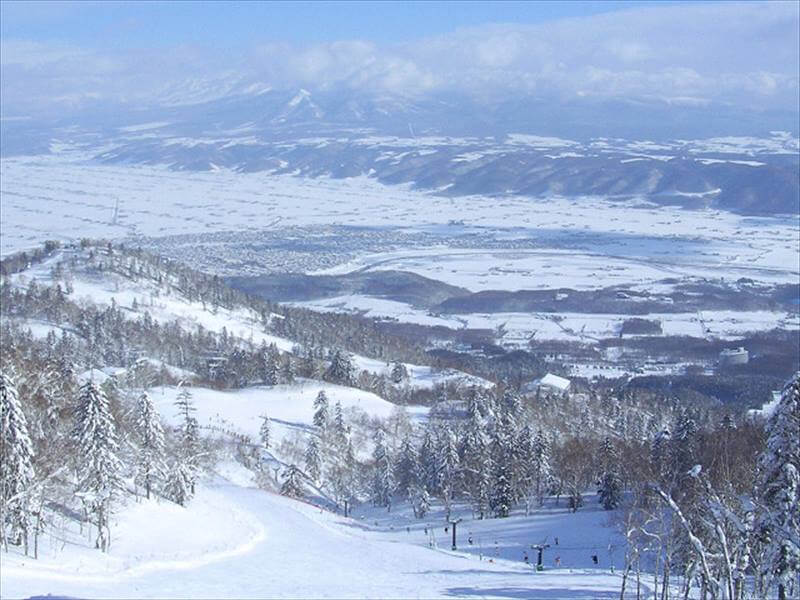 Situated in the center of Hokkaido, this area benefits from Siberian storm systems that pass over the Sea of Japan and dump powdery snow. Even though Furano gets relatively fewer snow than other ski areas in Hokkaido, it gets more days with fine weather and it still gets knee-deep and the occasional neck-deep snow in some areas.
The Furano Ski area even hosted the International Ski Federation Downhill World Cup 10 times. While Japanese top skiers choose this area as training base due to the great conditions, about 80% of areas are rated beginner or intermediate.
The resorts and ski schools there are also quite accommodating for families, providing child care and ski lessons for children in English. Furano is made up with two zones, the Kitanomine zone and the Furano zone with various accommodation options. Aside from skiing and snowboarding, you can also try snowmobiling and backcountry skiing.
Read also: Top 3 Hokkaido Resorts
[ Information ]
By train:
---
From Chitose airport or Sapporo, Furano can be accessed by JR train via Takikawa Station which takes approximately 2 hours. JR runs a "Lavender Express" from Sapporo Station to Furano Station too. Take taxi from Furano Station to the ski area which will take 5-10 min.
By bus:
---
Take Chuo express Bus from a bus terminal in the basement of Sapporo Station to Downtown Furano. Buses run hourly from 8AM to 7PM. (3 hrs., 2,260 yen one way). There are direct buses from the New Chitose Airport to the Furano resort (3 hrs., booking required), too.
Open: from Nov. 26, 2016 to May 7, 2016 (Dates are subjects to change)
Lift ticket: Adult 4,000 yen (From Nov. 28 to Dec.11 and Mar. 22 to May 5), Adult 5,200 yen (From Dec.12 to Mar. 21), Senior 3,500 yen (From Nov. 28 to Dec.11 and Mar. 22 to May 5), Senior 4,700 yen (From Dec.12 to Mar. 21)
[ Address ]
18-6 Kitanominecho, Furano-shi, Hokkaido