How to Make the Best of 3 Hours in Tokyo
It is the last day of your trip and you have three hours left before departing for the airport. Don't know what to do with the time? WAttention did the homework for you. Here is a three hour itinerary that will leave you entertained, refreshed and with lots of memories of Japan!
From Shinjuku to Iidabashi·Kudanshita 新宿・飯田橋・九段下
With spring just around the corner, this is the right time to take a flower viewing trip! If you happen to be Shinjuku, the most ideal place is the Iidabashi and Kudanshita area, which is a 5 to 10-minute train ride away. Some of the must-sees include: the moat of the Edo castle with plenty of cherry blossoms, shrines filled with legendary stories Our recommended walking course starts from JR Ichigaya Station, with the first stop being Sotobori Park.
Sotobori Park 外濠公園
Sotobori is the remains of the outer moat of the Edo castle. It was commissioned by Tokugawa Iemitsu, the third shogun of the Tokugawa dynasty in 1636 as the final construction of the castle. The moat is now transformed into a scenic park with a 2 km walking path between JR Yotsuya Station and JR Iidabashi Station. This curvy, stone lantern dotted path has a nice historical feel to it. Although known for a display of vivid shades of green all year round, it is most visited in spring when cherry trees stretch their branches into the moat and their petals are blown around by the wind. The park is quite crowded during the flower viewing season so take the chance to visit when you can.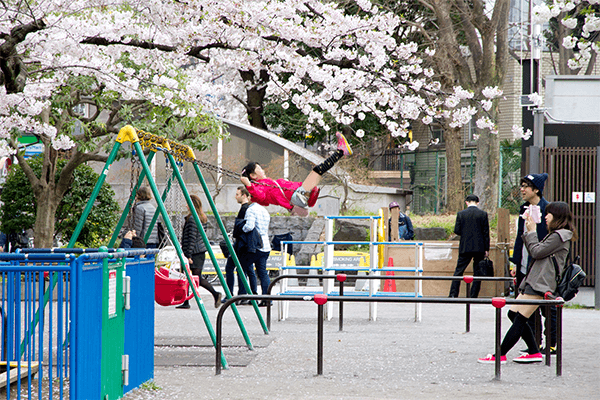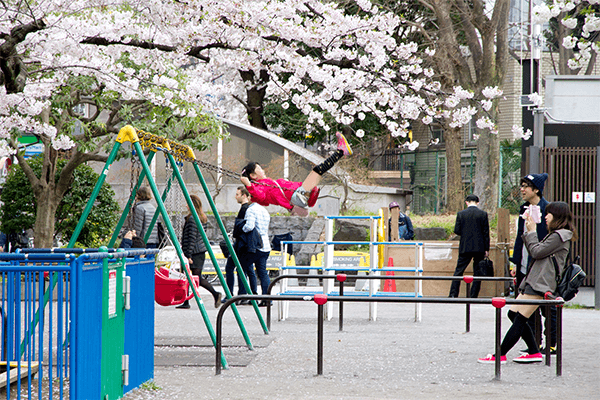 Access: 5-minute walk from JR Iidabashi Station, 5-minute walk from JR Ichigaya Station, 5-minute walk from JR Yotsuya Station
Address: 2, Fujimi, Chiyoda-ku
URL: http://www.kanko-shinjuku.jp.e.xm.hp.transer.com/spot/vi-40/article_396.html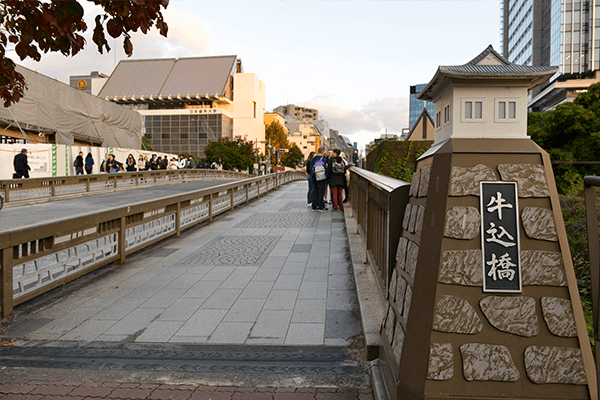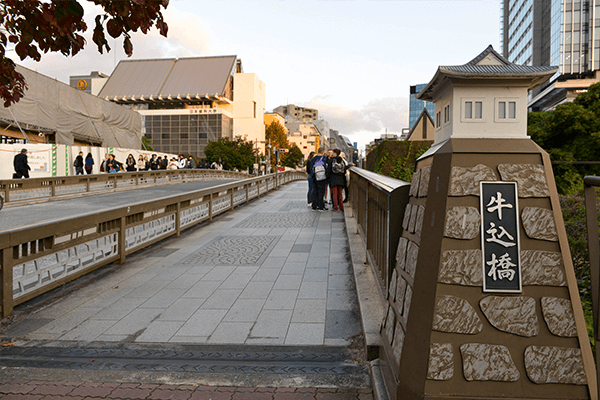 Ushigome Mitsuke & Ushigomebashi Bridge 牛込橋
Sotobori Park ends at the West Exit of JR Iidabashi Station, but this marks the entrance to the Ushigome neighborhood. During the Edo period, Ushigome Mitsuke used to be one of the roads approaching the gate of the Edo castle. For security reasons, guardhouses were set up to check on pedestrians crossing the Ushigomebashi Bridge. The other side of the bridge used to be a samurai residence area, can you imagine that?


Tokyo Daijingu Shrine 東京大神宮
Tokyo Daijingu Shrine was built in 1880 to worship Amaterasu, a deity related to the divine origin of the emperor, and other deities enshrined in the Ise Jingu Shrine. Tokyo Daijigu Shrine functions as a "yohaiden," or hall for worship from afar in Japanese, for pilgrims who were not able to travel all the way to Ise Jingu Shrine in Mie Prefecture. As the shrine is the first in Japan to hold a Shinto wedding ceremony, it is especially popular among women wishing to get married.
Access: 5 mins.-minute walk from JR Sobu Line Iidabashi Sta.
Address: 2-4-1, Fujimi, Chiyoda-ku
URL: http://www.tokyodaijingu.or.jp/english/index.html


Nellie's Book Store ネリーズブックストア


Not far from Tokyo Daijingu Shrine is Nellies English Books, a unique bookstore that provides a wide range of English language teaching materials. It recently published a 416-page English guidebook on Japan. For English readers with a heart for exploration, this is a must-have!
Hours: 10:00 – 18:00, Closed on Sat & Sun
Access: 5-minute walk from JR Sobu Line Iidabashi Sta.
Address: Kenkyusha Fujimi Bldg. 3F, 2-11-3 Fujimi, Chiyoda-ku
URL: http://nellies.jp/indexen.html


Tsukudo Shrine 築土神社
Walk in the direction of Nigohanzaka from Tokyo Daijingu Shrine and you will come across a rare sight: a western architecture with a cross on it. Built in 1937 as the first seminary for Tokyo Lutheran Church, the building's significance lies in that it is the only western chapel in Japan before World War II. From here, it might be a little bit difficult to spot Tsukudo Shrine, whose entrance is located next to a modern building called Kudan Airex Building. Tucked away from the bustles of the city, the shrine is as cozy as a secret garden. However, as the head of Taira-no-Masakado, a samurai who died in a battle in the Heian period (794-1185), is enshrined here, the shrine has quite a few ghost stories to share.
Access: 10-minute walk from Iidabashi Stations (Sobu Line and Chuo Line, Namboku Line, Yurakucho Line)
Address: 14-21, Kudan-kita, Chiyoda-ku
URL: http://english.tsukudo.jp/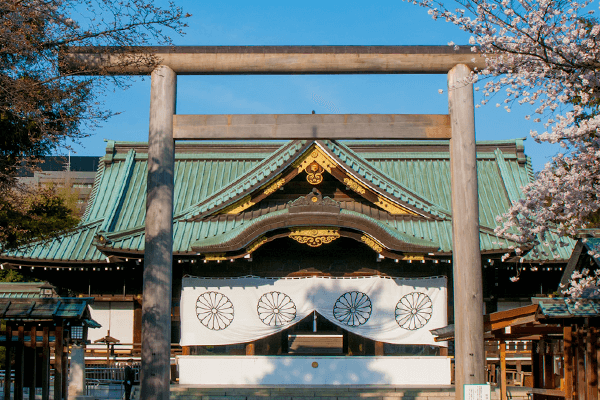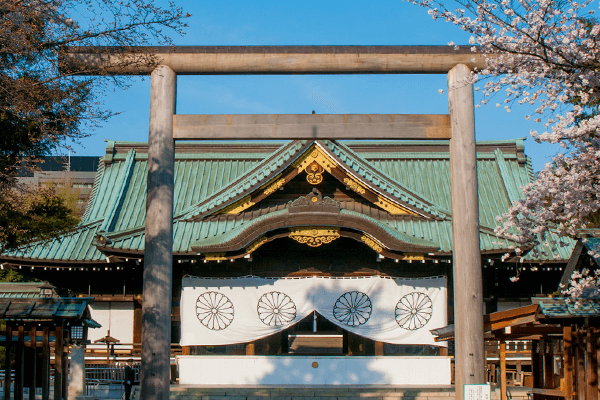 Yasukuni Shrine 靖国神社
After touring Tsukudo Shrine, walk pass Kitano-Maru Square until you reach Yasukunidori. Continue for another 5 minutes with Nippon Budokan arena on your left-hand side and you will see a gigantic torii gate that marks the entrance of Yasukuni Shrine. The shrine is one of top places for cherry blossom viewing in Tokyo and attracts tons of visitors in spring. The walk to the main hall takes about 10 minutes, you will surely remain entertained with full-bloomed cherry blossoms along the way.
Access: 10-minute walk from Ichigaya or Iidabashi stations (Sobu Line and Chuo Line, Namboku Line, Yurakucho Line) 5-minute walk from Kudanshita Station (Tozai Line, Hanzomon Line, Toei Shinjuku Line)
Address: 3-1-1 Kudankita Chiyoda-ku
URL: http://www.yasukuni.or.jp/english/


Horaiya Honten 宝来家
Horaiya Hoten is a confectionary shop that has been making and selling traditional Japanese sweets since 1868. Located next to the premises of Yasukuni Shrine, the 130-year-old shop has a different menu every month, with flavors that reflect the change of season. Drop in for a feast for the eye and taste buds!
Hours: Mon-Fri 9:00am-6:00pm, Sat 10:00am-4:00pm, Closed on Sun
Access: 10-minute walk from Iichigaya Sta. (Sobu Line and Chuo Line, Toeishinjuku Line)
Address: 2-4-15 Kudanminami Chiyoda-ku
URL: http://wagashi.houraiya.co.jp/(Japanese)


Kudan-imoaraisaka さかぐち
Another shop worth mentioning is a rice cracker shop called Sakaguchi. Take the Yasukuni-dori, walk in the direction of Ichigaya Station and you will be greeted with this specialty store. Lovers of rice crackers beware, as there are no other branches, you have to visit in person for a taste of these crunchy snacks. Choose from a variety of flavors from the display cabinet or pick up all the 10 flavors of their star product "Itoguchi Arare" for your friends back home.
Hours: Mon-Fri 9:30am-7:00pm, Sat 9:30am-5:00pm, Closed on Sun
Access: 10-minute walk from Iichigaya Sta. (Sobu Line and Chuo Line, Toeishinjuku Line)
Address: 2-4-15 Kudanminami Chiyoda-ku
URL: http://www.stage9.or.jp/sakaguchi/(Japanese)