Hachinohe Enburi : Dance Parade for Good Harvest
Aomori's Hachinohe shi holds an enburi festival every year from February 17 to 20 to celebrate the arrival of spring. The Hachinohe Enburi, with a history of 800 years, is said to have been invented by a farmer named Fujikuro. As the story goes, he promoted the substitution of singing and dancing for excessive drinking and quarrels during the New Year's holiday.
An enburi parade, led by a dancer representing Fujikuro, features people playing cymbals, drums and flutes and performing dances representing scenes of farm work such as planting, sowing and praying for a good harvest. There is another type of enburi dance, too, which is more bold and lively: Dancers knock the ground with wooden sticks in an effort to wake the Rice God from hibernation.
Hachinohe: Hachinohe Station (JR Tôhoku Shinkansen)




Somin-sai : the Spirited Battle of Half-Naked Men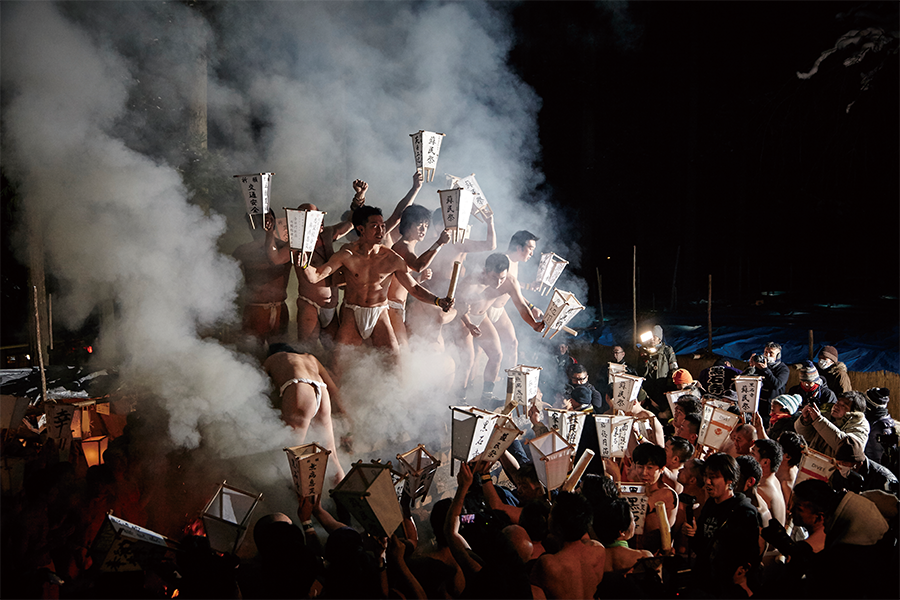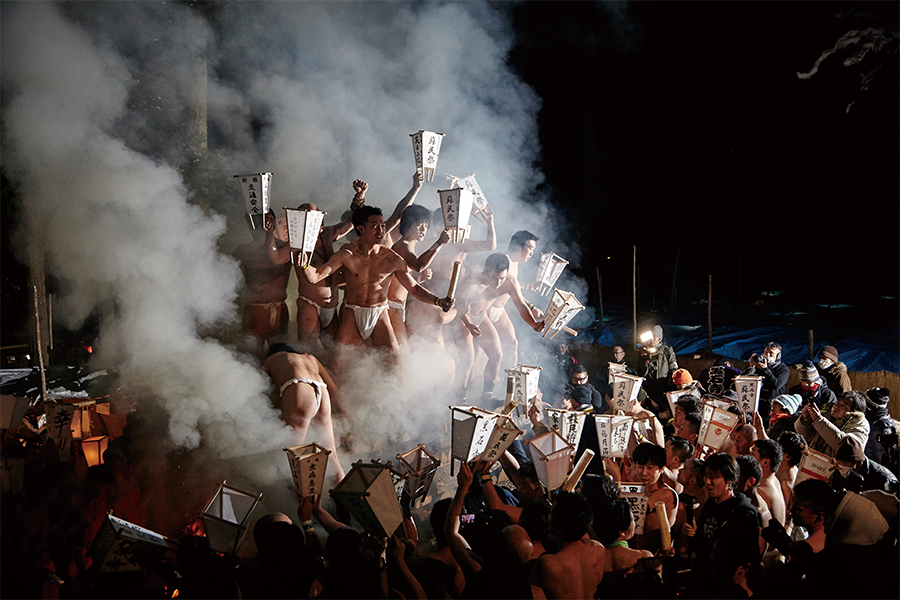 The Kokuseki Temple in Iwate's Oshu city holds the Somin-sai every February. With a history of more than 1,200 years, the festival features enthusiastic men wearing only fundoshi (thin loincloths).
With torches in hand, the group starts from the temple at midnight and treks to the Ruritsubo River for cleansing, shouting "Jasso! Joyasa!" along the way. A bonfire shaped like a pound key is set up in front of the main hall of the temple. Participants can climb the 150-centimetre tall bonfire tower and bathe in the fire's smoke, which some believe removes bad luck. Enduring harsh winds and ice-cold temperature, the men perform several other rituals to pray for health and a bountiful harvest. The long event ends with a competition for a "somin bag" (hemp sack), which is full of amulets and thought to be sacred. The person who seizes the bag is believed to receive good luck and happiness, and the competition lasts until early in the morning!
Kokuseki-ji Temple: 20 min from Mizusawaesashi Station (JR Tôhoku Shinkansen) by car
Kishu Kasedori : Not Your Ordinary Bird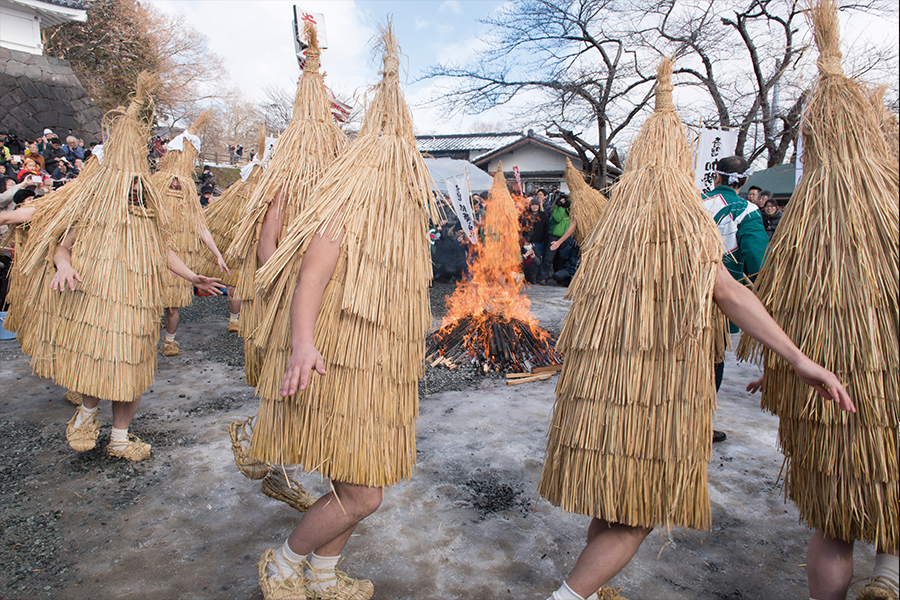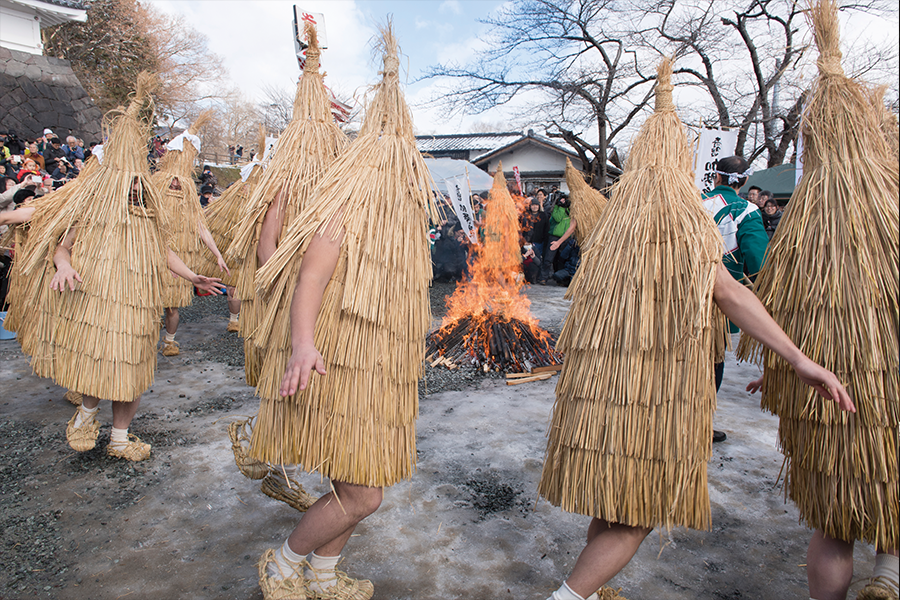 On February 11, the annual Kishu Kasedori is celebrated in Kaminoyama (Yamagata ken). This unique and mysterious New Year's ritual features people strolling through the streets dressed in kendai (plaited clothes made from rice straw, worn over the head and body like a giant conical hat). The costumes are shaped like cones so they grab the curious attention of crowds immediately. Wrapped in the enthusiastic atmosphere of this water-splashing event, the Kishu Kasedori Festival captivates everyone in this freezing area. It is said that Kasedori is the incarnation of the deity of abundant harvest and household safety. This festival has its roots in the beginning of the Edo period when local residents invited the deity down from the mountains to offer prayers for the new year.
Participants acting as Kasedori dance in circles and raise their voices singing "ga-ga!" as they visit local shops and pray for prosperous business and fire protection. While doing so, they are splashed with water from the audience. In addition, locals tie towels around the conical hats and pray for one year of family peace and thriving business.
People think of Kasedori as a bringer of good fortune. In fact, some say that women's hair will become beautifully black after tying it with a rice straw fallen from the costume of the deity!
Kaminoyama: Kaminoyama Onsen Station (JR Tohoku Shinkansen)
Aizu Erousoku (Painted Candle Festival)
Painting candles, a traditional craft in Fukushima's Aizu area, boasts a history of over 500 years. This festival is held in early February each year in Aizuwakamatsu shi's Tsuruga Castle and Oyakuen Garden. A total of 10,000 painted candles decorate the venue and different corners of the city. Seeing them burning in the wind is like watching fireflies dance flittingly through the winter evening.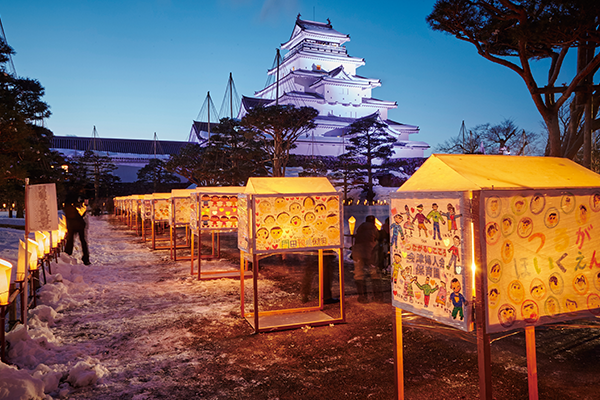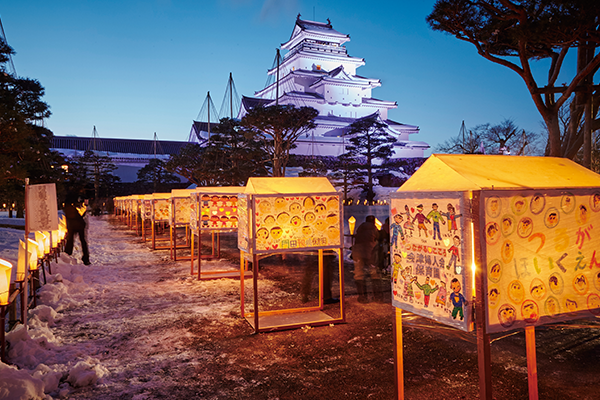 Aizuwakamatsu: 65 min from Kôriyama Station (JR Touhoku Shinkansen)to Aizawakamatsu Station by Train (JR Ban-etsu- West Line)
Sendai Pageant of Starlight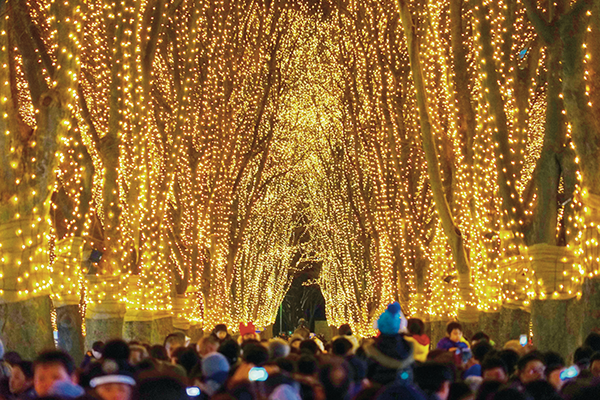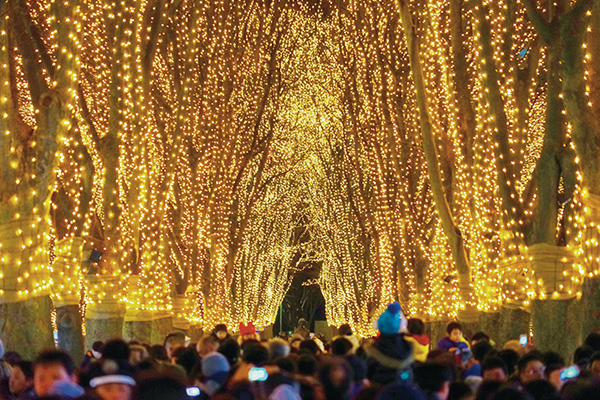 Every December, the beech trees on both sides of Aoba Street in Sendai are decorated with more than 100,000 LED lights, giving the city a soft, warm glow at night. Sendai's most popular winter festival, it is an absolute treat for the eyes!
Sendai: Sendai Station ( JR Tôhoku Shinkansen)
Hirosaki Castle Yuki-Doro Festival (Snow Lantern Festival)
The Snow Lantern Festival, held in early February at Hirosaki Castle, is one of the five biggest snow festivals in Tohoku, featuring 300 snow lanterns handcrafted by locals, large snow structures based on historical architecture and gigantic slides. Dim candlelight glowing in miniature igloos adds a tinge of winter romance to the peaceful atmosphere.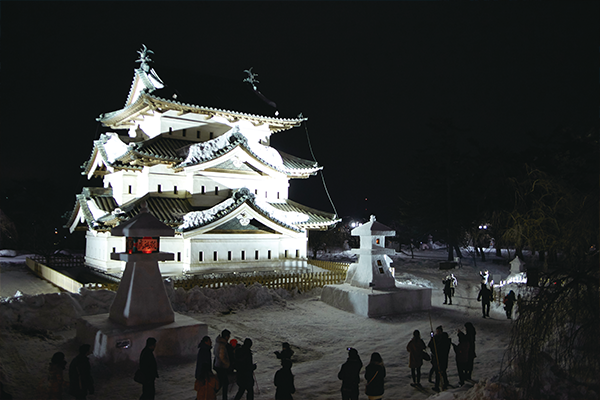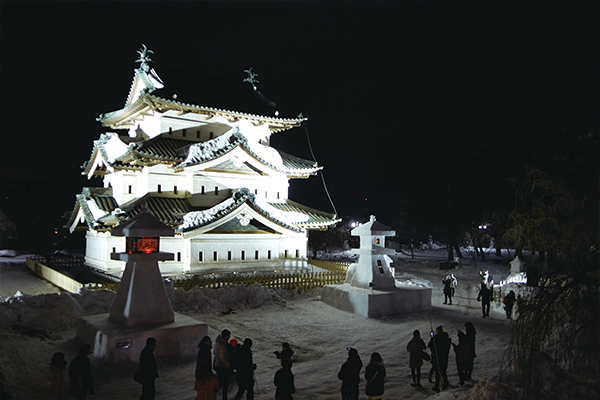 Hirosaki: 30 min from Shin-Aomori Station (JR Ôu Line) to JR Hirosaki Station by Tsugara Limited Express