All over the world people tell ghost stories. Some are famous worldwide and others are only famous within the country. But why do Japanese people love telling ghost stories during summer? Some have speculated that it is because ghost stories "send shivers down your spine" and make you cool down. However, the real reason is very different.
Returning spirits at Obon
Ghost season peaks during the summer because Japanese celebrate the "Obon Festival" in the month of August or July (depending on the region). During Obon the Japanese believe that their ancestral spirits return to visit their descendants. The spirits are not here to cause mischief but to celebrate with their family. With so many ghosts visiting from the afterlife there can be no better time to tell some good ghost stories.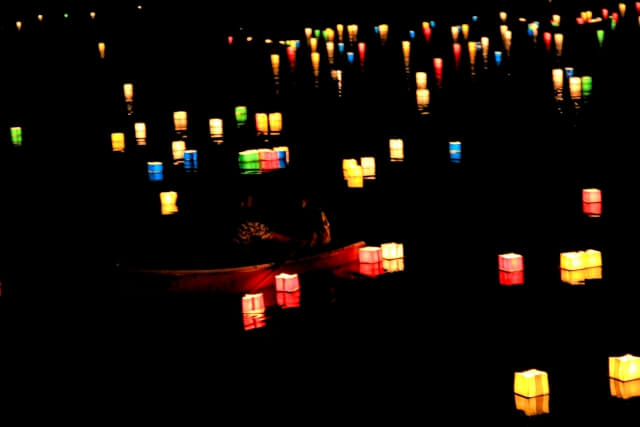 What's so special about Japanese ghosts?
There is a big difference between Western ghosts and Japanese ghosts. For starters, Japanese people believe that not all ghosts are evil and some can even bring good luck. This is because the Japanese word for ghost, "yuurei (幽霊)" , can also be translated into "specter", giving it a more neutral meaning. During the 10th century, seeing a yuurei was even considered to be a good omen.
Buddhist Traditions around the Obon Holiday in Japan
Because of these beliefs, anyone who died could become a yuurei and wander around bringing good luck to people. This changed when Buddhism became more prevalent in Japan and now yuurei could also become malevolent beings. According to Buddhist beliefs, when a person dies he or she has to wait for a proper funeral to be guided into the afterlife. If a person dies peacefully their yuurei becomes a protector for the house, but if they die a sudden and unnatural death the yuurei becomes evil.
The Golden Age of Ghost Stories in Japan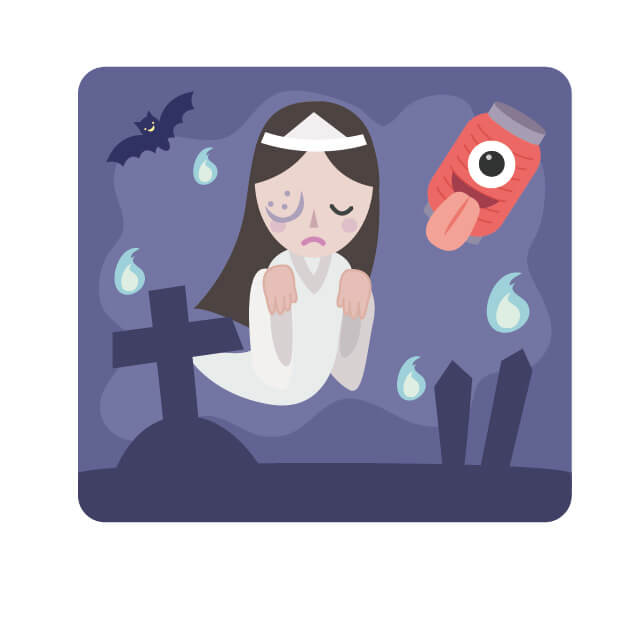 During the Edo period (1603-1868), ghost stories flourished due to it being an age of creativity and relative peace. These old Japanese folktales were called "kaidan (怪談)." Nowadays people simply use the word "kowai hanashi(怖い話)" or "scary stories."
The old kaidan almost always contain the following elements; the concept of Karma, vengeance for misdeeds and ghosts of women and servants. Vengeful spirits were much stronger than regular spirits and humans. This gave birth to the many youkai (妖怪), "demon", stories. These stories served a didactic purpose and gave birth to the image of the "Japanese Ghost" as we know it today; black hair, white funeral clothes and floating bodies.
Popular Japanes Ghosts
Rokurokubi (ろくろっく首). You will most likely encounter this ghost in a traditional Japanese haunted house. They can appear as regular humans, almost always as women, but can stretch their necks to abnormal lengths. At night, the head extends or leaves the body to scare animals, humans and feed on their blood. This creature can also appear as a "youkai", Japanese creature of folklore, but because it is a vengeful spirit it is mostly seen as a yuurei. 
The Black Hair (黒髪). This is one of the most popular stories in the kaidan.  It tells the story of a samurai who abandons his wife to go on a quest for his master and takes another lover with him. When he returns home after years of absence he goes home to embrace his wife and promises to never leave her again and that he made a mistake. When he wakes up the next morning he discovers his wife had died years ago from sorrow.
Teke-Teke. This is an urban legend, but still considered a ghost. One day a girl fell from the train platform and was cut in half. Now her upper body roams the night.
Sadako (貞子). When talking about popular Japanese ghosts Sadako can't be left out. The famous ghost from the Ring franchise is based on an old Japanese ghost story about a girl who died in a well. She was pushed down by the suitor she turned down many times.
Kayako (伽椰子). Another popular vengeful spirit from a movie franchise. Kayako first made her appearance in the movie Ju-On and has continued to stay alive in popular culture.
How to Exorcise Evil Japanese Spirits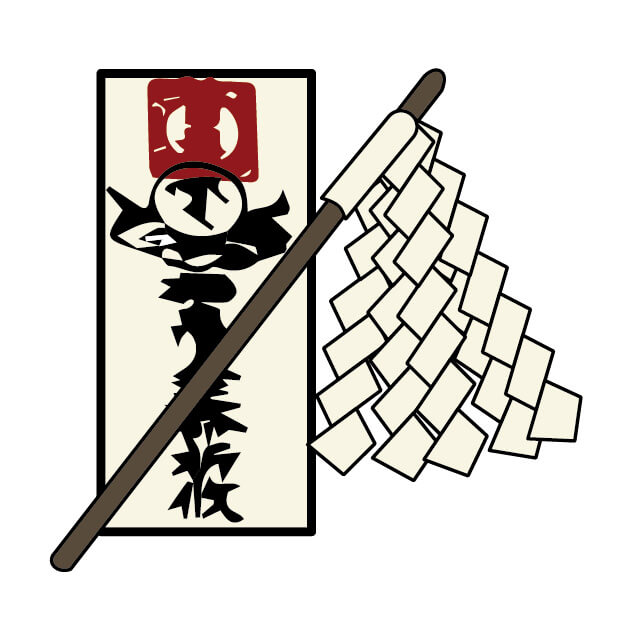 With so many ghosts around, there must be some sort of professional to help the people in need. If you ever encounter a Japanese ghost remember that your holy water, crucifix or spellbooks are useless. Yuurei are vulnerable to a different type of object and that is…paper!  These strips of paper are inscribed with Buddhist sutras and called ofuda (御札). If this doesn't work you can go to a Shinto shrine where they will perform a purification ritual.
Ghost Hunting in Japan
Ghost Hunting is also best done during the summer when Obon comes around. But if you want to be 100% sure you will encounter a ghost you can visit a haunted house or take a "trial of courage". In both cases it won't be real ghosts but dressed up actors. But be honest, it's a better way to cool down with those chills down your spine than to be haunted by a vengeful yuurei.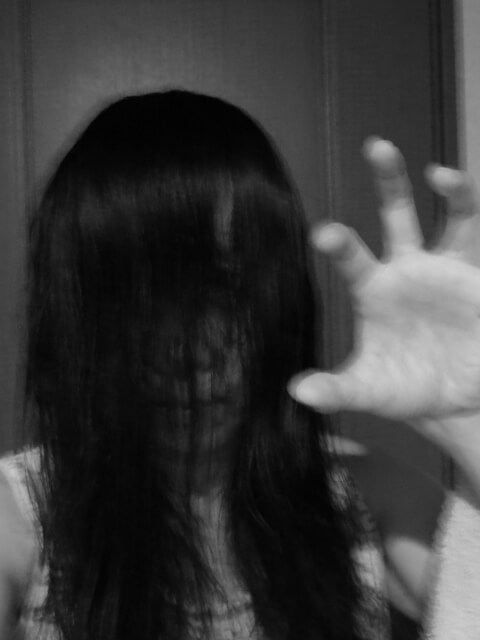 ---
WATTENTION NINJA WRITER PROFILE

Ilse Montald
From popular culture to traditional culture, I've immersed myself in both. I love writing about tradition, history and sharing fun discoveries. If I'm not outside watching a festival parade I'm leisurely reading manga in kimono.MORE ARTICLES BY THIS WRITER | ABOUT WATTENTION NINJA