Niigata is located in the region of Chubu, on the main island of Japan, Honshu. It is the third largest city with direct access to the sea of Japan. And it opened to international trading in 1869. Nowadays, a quarter of Niigata's land is designated as natural parks, with a tourism industry centered around skiing in Muko and Yuzawa alpine regions.
Agriculture is the main industry in the region making Niigata also the main rice producer in Japan, famous for its great quality and subsequently great quality of Japanese sake.
Niigata's House of Light: Hikari no Yakata
Our first stop was at the house of light "hikari no yakata", a house mixing both tradition and modernity in its astute use of LED that reveals the house's true potential at night. The house is located high up in the mountain with a great view of the nearby city and mountains. It is available for rent if you wish to spend a night there, with several rooms available for group stay, a fully equipped kitchen and onsen that also uses LED lights. The movable roof revealing a perfectly square piece of sky was the highlight of this visit.
House of Light hikarinoyakata.com/eng/
Fun Winter Activities in Echigo-Tsumari
Next stop- Echigo Tsumari, a mountainous region, spanning over 760 square km, an ode to nature and known for its heavy snowfalls. This area is also the home of archeological artifacts of the Tengu civilization.
Here you can enjoy snow activities that will make any child rejoice, or at least the child in you! You can practice your sliding and sledding skills on a luge, as well as walk on a path drawn in the snow by artists who also visited here, with a giant wooden sled shaped like an animal straight out of local folklore. Last but not least, you can put a pair of kanjiki (snowshoes) and go for a walk in the hills with a local guide.
Satoyama Snow Activities www.echigo-tsumari.jp/eng/calendar/event_20190223_0332
Modern Japanese Architecture at Echigo-Tsumari Satoyama Museum of Contemporary Art, KINARE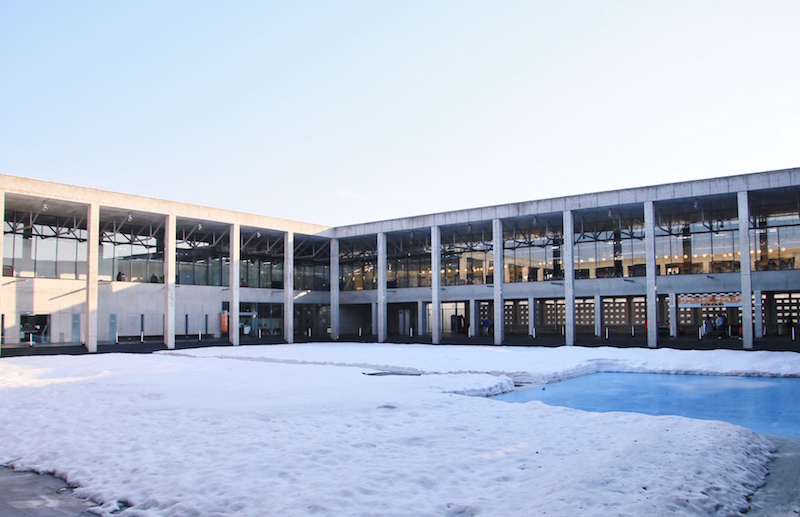 Niigata also has some stunning architecture. If you have been to Kansai you probably have seen the iconic "Umeda sky building" in Osaka or if you hopped in the bullet train from Kyoto Station you've seen the station's architecture: these are the works of architect Hiroshi Hara. Another of his creations can be found in Echigo-Tsumari Satoyama Museum of Contemporary Art, KINARE. Designed in 2003, the building design was updated in 2012 to be a better match for artist exhibiting their work.
The squarely shaped building is ideal for letting the light shine through and appreciating the exhibition under the best conditions for viewing. This year various artists from Europe invited the visitors to reflect on the value of art and its meaning with a minimalistic project where each visitor can put the missing piece with their own imagination.
Echigo-Tsumari Satoyama Museum of Contemporary Art, KINAREwww.echigo-tsumari.jp/eng/artwork/echigo-tsumari_kouryukan_echigo-tsumari_exchange_center
Otherworldly Atmosphere: Tsumari Snow Fireworks and Frozen Village
The real highlight of the trip was the moment preceding the Echigo-Tsumari Snow fireworks/Gift for Frozen Village 2019 where we were all given a LED that we had to plant under the snow Tens of thousands of participants each planted one of a different color resulting in an otherworldly atmosphere, a surrealist trip in the dark where the only guidance would come from under your feet a minimalist melody was being played on the piano in the background, before the fireworks lit up the whole place with loud music. 
Echigo-Tsumari Snow Fireworks / Gift for Frozen Village 2019 www.echigo-tsumari.jp/eng/calendar/event_20190302_01
Snow Viewing from Relaxing Hot Springs in Niigata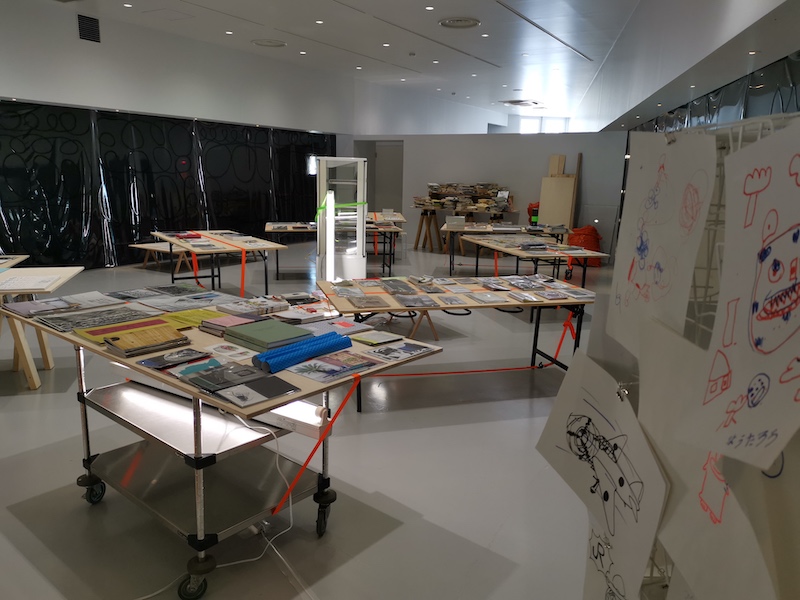 A truly remarkable experience that was concluded by a visit to the local onsen, a welcome ending of the winter day after the refreshing time spent in the snow. Is this event yearly? Is it a festival? Can we visit? Well deserved rest. Sansho house is located in the area of Matsunoyama in Niigata prefecture, famous for its heavy snowfalls, with an average depth of winter snow exceeding three meters. The traditional pattern of life in this mountainous area has resulted in a distinctive landscape of terraced rice fields, celebrated as one of the 100 must-see rural landscapes in Japan. Hauntingly beautiful beech forests, such as the Bijin-bayashi, are home to rare birds, including the Ruddy Kingfisher and the Dollarbird (each room in the dormitory is named after a bird). The Matsunoyama Onsen, with its famed soothing waters with their natural mineral salts, is one of the three famous medicinal hot springs in Japan.
A Unique Schoolhouse Stay in Niigata at SANSHO HOUSE
Sansho Public Elementary School, located in Matsunoyama Town, was established in 1875 as an elementary school for children from the three villages in the Sansho District (Kotani, Mizunashi, and Oarato). In 1945, the school served a total of 247 students. However, the number of students started continuously decreasing starting in the 1960s, ending the school's 114-year history in 1989. After the closure of the school, residents in the district sought a way to keep the school building, full of memories, and find another practical use for it. With the opportunity given by the Echigo-Tsumari Art Triennale in 2006, the school began a new history as a unique accommodation. Five classrooms have been renovated into guestrooms and each of them accommodates 16 beds. Two classrooms are combined into one space where guests can share meals and conversations. Residents in the area enjoy seeing the windows lit up in the school building which looks over the villages.
Guests can enjoy meals cooked by locals, experts in preparing hearty foods for their families, working in the fields. Enjoy Satoyama treats such as rice harvested from the terraced rice fields in the area, winter Miso, Shoyuno-mi, and home-made pickles.  Feel the seasons of Matsunoyama from the outdoor terrace in summer and gathered around a stove in winter. Gym, library and a school playground (covered with snow entirely in winter) are all available for seminars, lectures, and sports events.
Sansho House www.sanshohouse.jp/e_index.html
Niigata Fantasy Light Cave: Kiyotsukyo Tunnel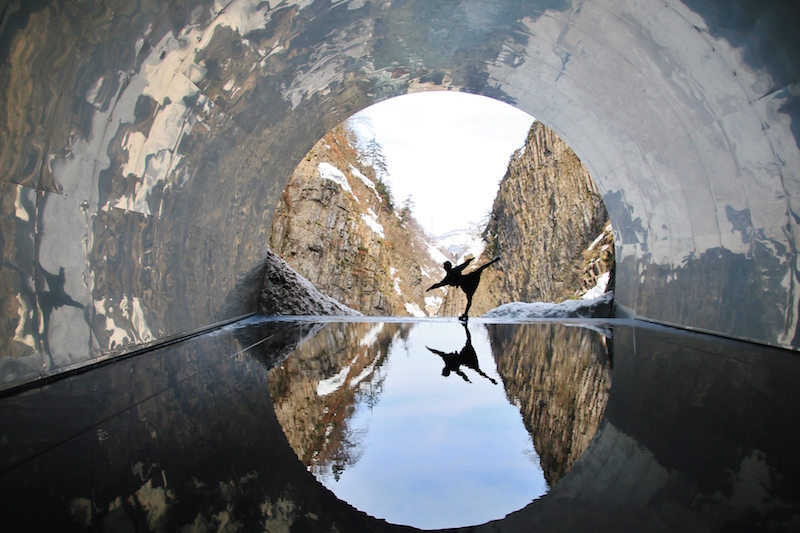 Kiyotsukyo Tunnel, one of the must-visit places in Echigo-Tsumari, has been redesigned by MAD Architects (lead by Chinese creator Ma Yansong) who have created a new entrance to refurbish the adjacent facility. The design regards the tunnel as a submarine, insulated from the external environment, and the entrance facility as a periscope overlooking the outside world. This periscope acts as both a reception and cafe space on the ground floor as well as an ashi-yu (foot-bath) on the upper level. Looking up while sitting in the foot-bath, you will see the natural landscape through the periscope above.
A lookout platform in the middle of a 750m-long tunnel presents a magnificent scenery of the gorge, while the panoramic station at the end of the tunnel presents works by MAD Architects. A wondrous view of the inverted landscape of Kiyotsukyo reflected in a pool awaits visitors at the end of the tunnel. 
Kiyotsukyo Tunnel nakasato-kiyotsu.com/
At the end of the trip you will probably realize that, as in every country, the real beauty and wealth of a country doesn't come from within concrete cities filled with shops and entertainment but from outside where there is still abundance and nature, where people still live in harmony with the natural cycles of life. In less than a couple of hours you can be out of- the concrete jungle of Tokyo to breathe the fresh air of Niigata, appreciate the diversity of landscapes in Japan  where water has been digging its way through the rocky mountains for centuries, and where the white snowy blanket is removed every spring to let the green lush forest enchant you. Niigata prefecture is certainly one of the best places to recover from stressful city life. I would definitely recommend it to anyone willing to try something not every tourist has done and especially to all nature enthusiasts, snowsport lovers and those looking to find a peace of mind.
---
WATTENTION NINJA PROFILE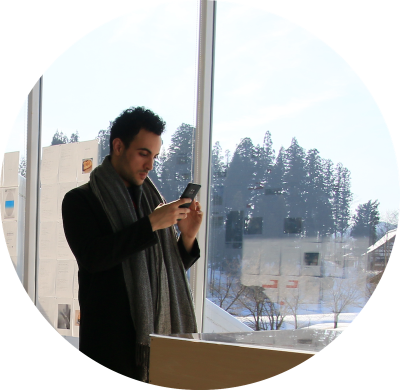 Mehdi 

Kinzi
Mehdi 
Kinzi
 from France is a language lover, Kanji brought him here, where he studied  Japanese in Osaka and then Tokyo for about 2 years; he is also a passionate guitar player, listening to all styles of music, as well as a Scholar passionate about history and geopolitics.
Language and music represent for him a universal way to create bridges between cultures, to promote peace with humility and curiosity, in a life quest to find the secret to never get bored and enjoy every second of our existence.
MORE ARTICLES BY THIS WRITER |