See the Eternal City tinted in the delicate pink of Spring and sigh at the fleeting beauty of the sakura. Here are the top spots to for ohanami (cherry blossom viewing).
1. Tenryu-ji Temple Sakura: Japanese Culture and Peaceful Cherry Blossoms in Kyoto
This is Kyoto's most famous temple, with the Arashiyama mountains as a backdrop and a Zen garden – Sogenchi-teien – that has been recognized by the Japanese government as a Special Place of Scenic Beauty. The weeping sakura tree at the Tahoden Sanctuary is a must-see.
2. Ouro Sakura at Ninna-ji Temple in Kyoto
This World Heritage Site is famous for its locally-cultivated sakura trees, called the Omuro sakura,  which  are  shorter  in  height  and  bloom  one  week  later  than  the  mainstream Somei  Yoshino  variety.  See  the  timeless  beauty  of  these 200 sakura  trees,  which  have been enjoyed here for over 400 years.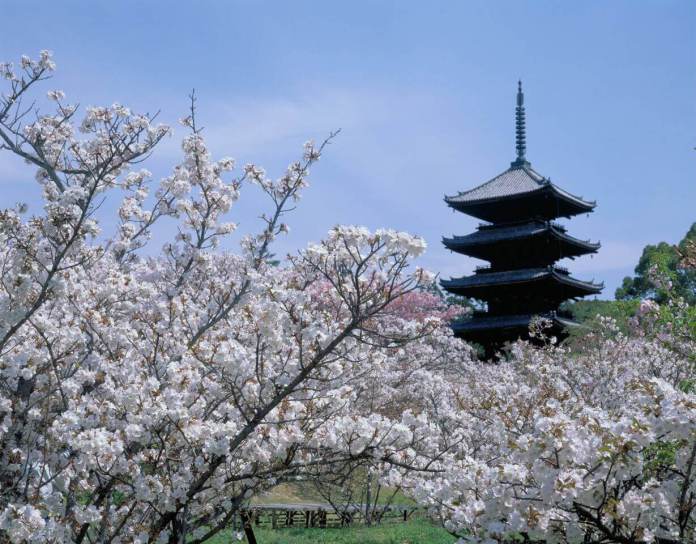 3.Hirano Shrine Sakura: Kyoto's Oldest Cherry Blossom Festival
See over 60 varieties of sakura trees here, particularly the early blossoming of the Sakigake sakura which  is  said  to  herald  the  start  of  the  ohanami  season.  The  shrine's  annual  cherry blossom festival is the oldest in Kyoto, dating back to 985 AD.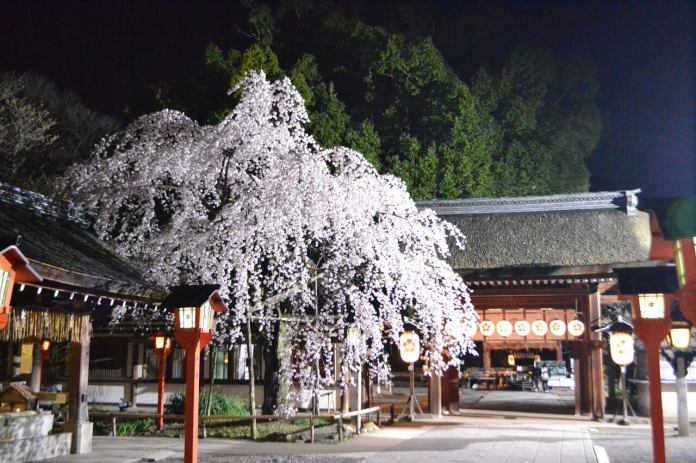 4. Rare Sakura at Nijo Castle in Kyoto
50  varieties  of  sakura –  including  Satozakura  and  many  rare  types –  are  scattered throughout  this  World  Heritage  Site,  built  as  the  Kyoto  residence  for  Japan's  first shogun. Evening entertainment such as taiko drumming, koto performances and tea ceremonies accompany the evening "light up" hours.
5. Flowing Cherry Blossoms at Maruyama Park, Kyoto
The  12m  tall "Gion  no Yozakura (Night Sakura of Gion)" weeping cherry tree here is a Kyoto sakura icon. The night illumination of this and some other 680 cherry trees in four varieties make Kyoto's oldest park (since 1886) a favourite night spot.
6. A Kyoto Sakura Fantasy at Keage Incline's Old Tracks
Once used as a ship-transporting railway between canals until the 1940s – the longest incline  rail  in  the  world –  this  582m  track  is famous  for  its  nearly  100 Yamazakura  and  Somei  Yoshino cherry  trees.  The  eastside  of  Niomon  Dori  is  the best viewing spot!
7. Philosopher's Walk: A Pensive Stroll under Kyoto's Ethereal Cherry Blossoms
Named  after  famous  philosopher  Kitaro Nishida  who meditated daily along  this path, the cherry blossoms here form a pink canopy over this 1.5km canal route, gently  sprinkling  petals  along  its  waters. Cited  as one  of  Japan's  Top  100 Walking Paths, there's no better place to ponder!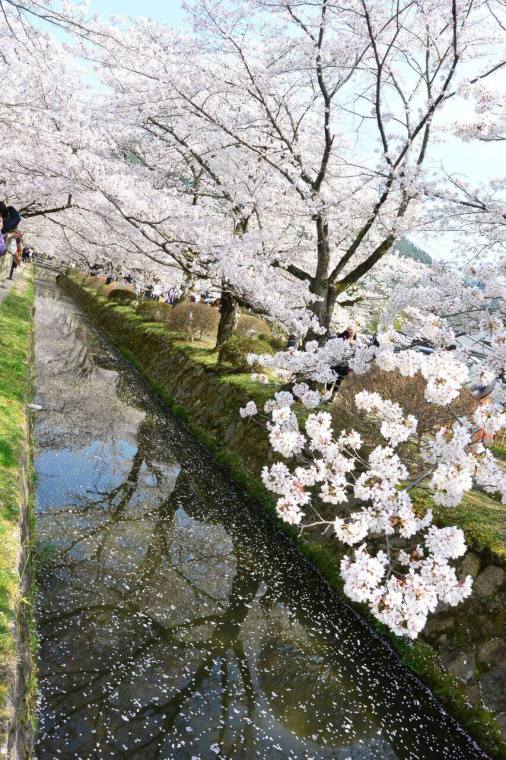 8. Follow Kamo River to a Sea of Cherry Blossoms in Tokyo
Stroll  along  the  river bank  or  have  a  picnic  under  the  cascade  of beni  (red) weeping  sakura  that  forms  during  full  bloom,  before  following  the  path  to  the  Kyoto Botanical Gardens'500 cherry trees consisting of 70 varieties, which are illuminated at night.
How to ohanami:
-Ohanami involves sitting under a sakura tree end enjoying its natural beauty with a picnic. So bring a mat or sheet to sit on for your ohanami session and a small blanket as it can get cold sitting in the open.
-Check the dates of the local ohanami festival, where plenty of food stalls and some public events or performances will be set up
-Go early if you want to get a good ohanami viewing spot!
-The start of the cherry blossom season varies from year to year, but is generally from late March to mid-April in Kyoto (depending on the region).