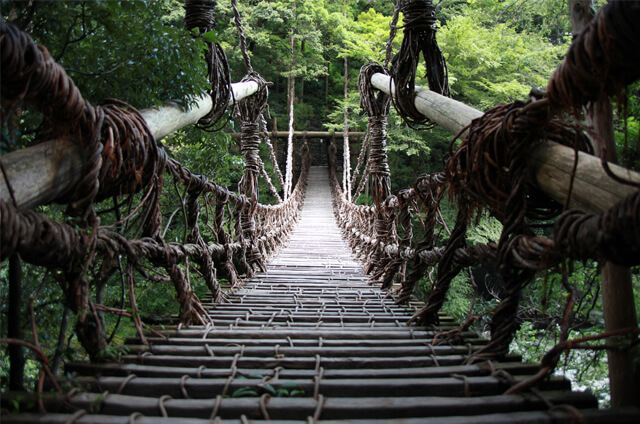 Would you care for some thrill-seeking while exploring Japanese nature? Like a crossing out of an Indiana Jones movie, this primitive Japanese suspension bridge made from vines hangs over a roaring river in the Iya region of Tokushima Prefecture.  In fact, about 5 tons of mountain vines make up this river crossing. Though appearing unstable, it is a popular summer trek for adventurous nature lovers and a symbol of picturesque Japan.
The History of Iya Kazura Bridge in Tokushima Prefecture
This Japanese suspension bridge carries many stories. In fact, samurai who escaped into this area over 800 years ago built the Iya no Kazura Bashi with the intent of quickly cutting it to prevent pursuers from crossing. Now, it is a national important tangible cultural asset – and you'll be relieved to know the 45 meters long and 2 meters wide bridge is completely replaced every three years to ensure its sturdiness.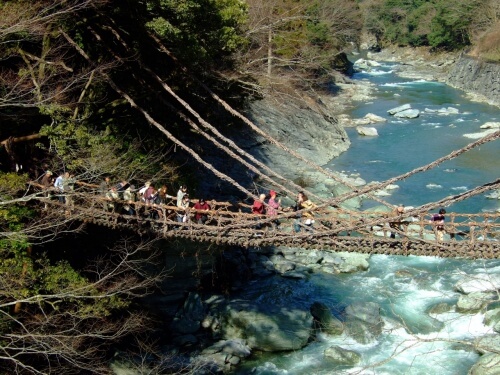 Do You Have the Courage to Cross Iya Kazura Bridge?
That said, it will still take some courage to cross this bridge, as it rocks with each step.  However, the view is worth it! Look down, and you can see the river coursing through some 15 meters below! In addition, this historic Japanese suspension bridge puts on a light show every night from 7:00pm to 9:00pm. Throughout the year, the Iya region attracts guests with the natural beauty of Tokushima in all seasons. Especially in autumn, the rich colors of the fall leaves create a breathtaking scene. Truly, it is a fun way to experience the nature and history of Tokushima.
Where to find Japanese suspension bridge Iya-no Kazura Bashi
Name: Iya-no-Kazura Bashi
Address: 162-2 Nishiiyayamamura Zentoku, Miyoshi-shi, Tokushima Prefecture
Access: Fly into Tokushima. Then take the Shikoku Kotsu Bus from JR Oboke Stn, bound for either Kazura Bashi or Kubo. Get off at Kazura Bashi Bus stop and walk 5 minutes to Iya-no-Kazura Bashi.
Next in this series: Picturesque Japan: The Great Seto Bridge