Far-removed from the Tokyo lifestyle, the Yanaizu area in Fukushima prefecture is a little-known place filled with unforgettable sights and untapped Japanese cultural history. Even the trip there is something straight out of a Ghibli movie, the type of place where civilization feels like a far-away dream, and reality is something greener and more mysterious. From the highway, miles of uninterrupted forests can be seen, and far in the distance, ice-capped mountains still persevere against the hot summer heat. There's an untouched wildness impossible to ignore, and Fukushima's initial charm appears to be exactly that —its pure unspoiled nature.
Who is the Japanese Legendary Cow Akabeko?
Lovers of nature and animals can enjoy more than just hopes of sighting wildlife; in fact, even the folklore pays homage to it. References to the legend of Akabeko, the red-haired cow, can be seen everywhere in the town of Yanaizu. The legend claims that in 1611 the Aizu region was hit by a huge earthquake which greatly damaged the area and resulted in many deaths. Upstream villages donated materials for reconstruction, which was carried on the backs of normal, black cows.
However, suddenly, appearing out of nowhere, red-haired cows arrived and assisted with carrying the load, only to disappear immediately after. Since then, the area has honored these cows who helped them in a time of great need. Akabeko's legacy can be seen throughout town, as gift stores offer various red-cow themed products. (In fact, even one of the head town officials features Akabeko on his business card).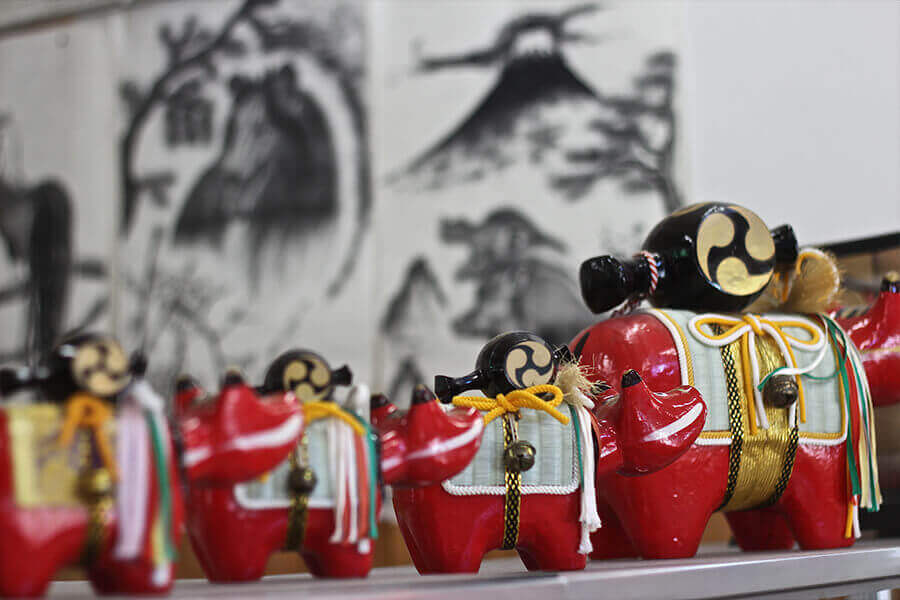 Fukuman Kokuzo Bosatsu Enzo-ji Temple: A Top 3 Japanese Temple
However, the cows are a lot more than a souvenir, ancient temples feature them as well. Fukuman Kokuzo Bosatsu Enzo-ji temple is one such place. One of Japan's three most famous Kokuzo Bosatsu temples, established over 1200 years ago, mainly mirrors the average Japanese temple in style and design, yet offers its own interesting aspects, including a deep appreciation for Akabeko.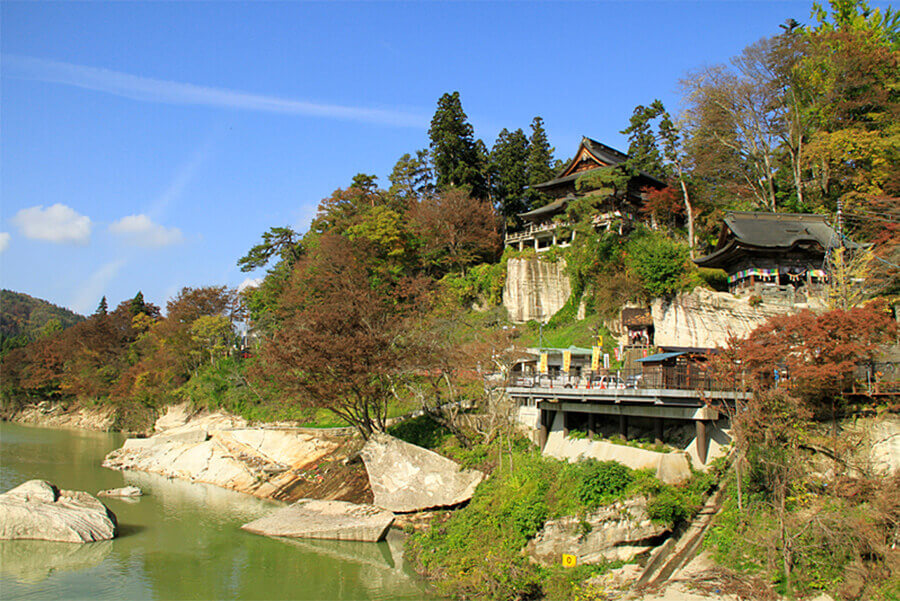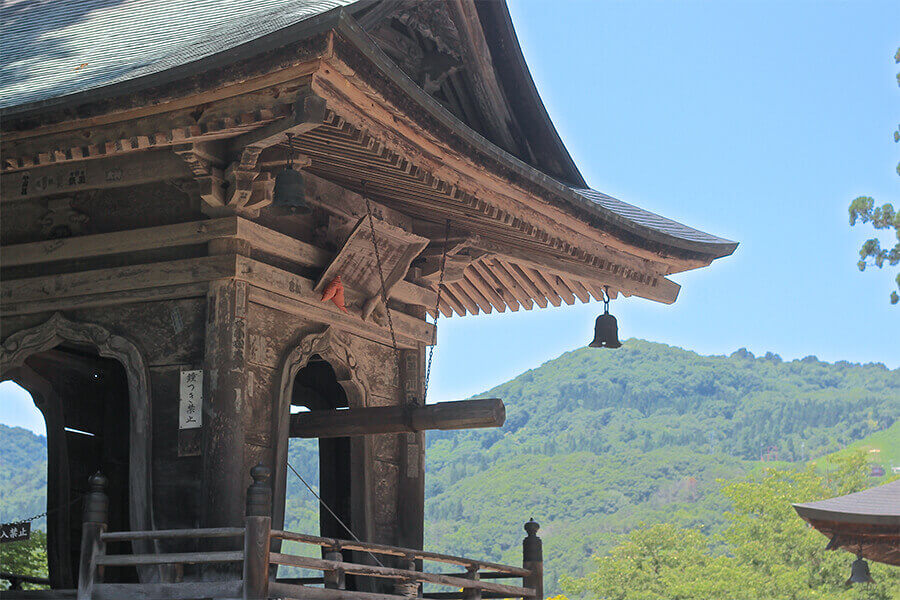 At this temple, in addition to traditional Buddhist buildings, statues of cows dot the courtyard, which also boasts a stunning hillside view of the nearby bridges and a river.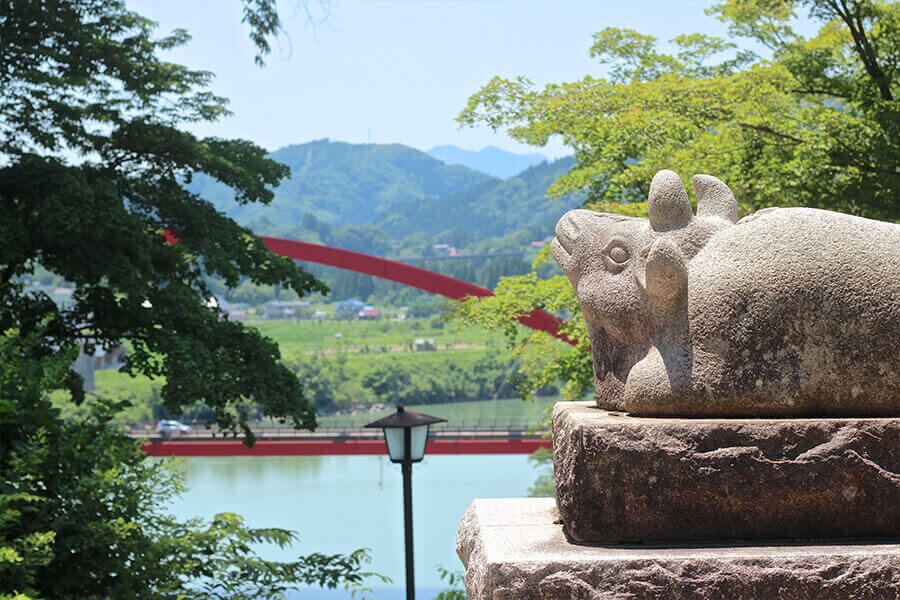 Red Japanese Bridges Over Tadami River in Yanaizu
The Tadami River is a presence in this area that cannot be ignored, stretching leisurely throughout the town and trailing along the mountains, covered by striking red bridges which cut sharp against the landscape and even feature a sightseeing train.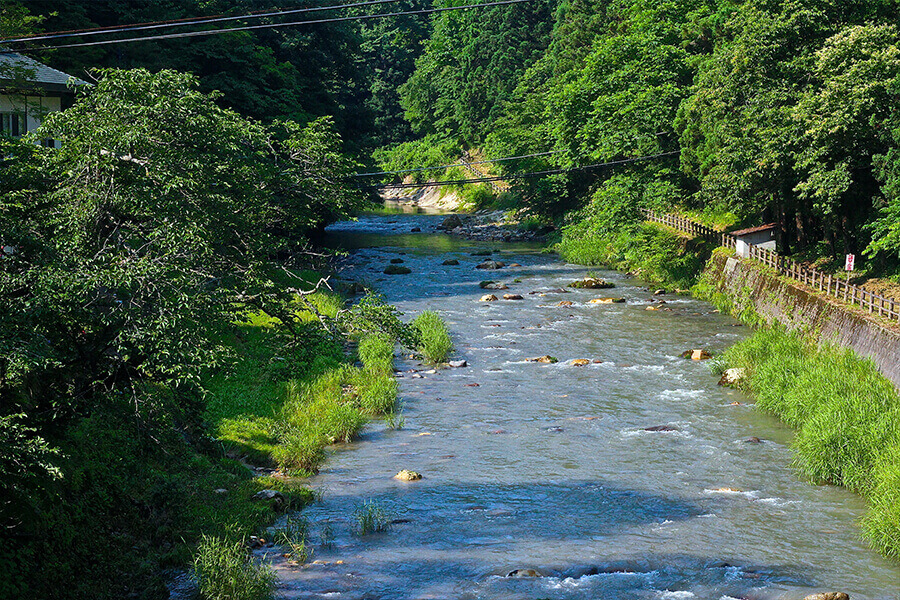 Trying Delicious Japanese Food in Yanaizu, Fukushima
The area's specialty dishes are abundant, full of flavor, and undeniably Japanese, making good use of hearty ingredients such as meat and soba for a maximum impact. One such dish is Aizu Yanaizu sauce cutlet rice bowl, a variety of Katsudon, a well-known staple on any Japanese menu; however, this dish is thicker and juicier than its counterparts found elsewhere. This particular meal has thick cuts saturated by the signature sauce and a savory aftertaste, as well as a layer of egg between the meat and rice.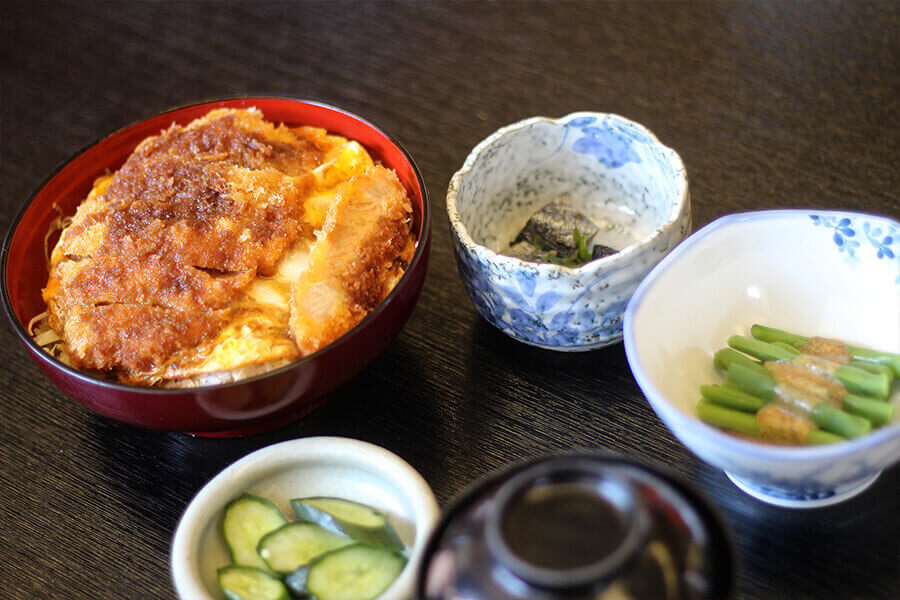 Specialty Fukushima Soba Noodles and Japanese Sweets in Yanaizu
Soba is also a specialty in the Fukushima region; Hakase soba is made entirely from buckwheat raised in the nutrient dense Mt. Hakase area. If just eating soba isn't enough for you, the local tourist center offers workshops instructing travelers on how to make their own handmade soba.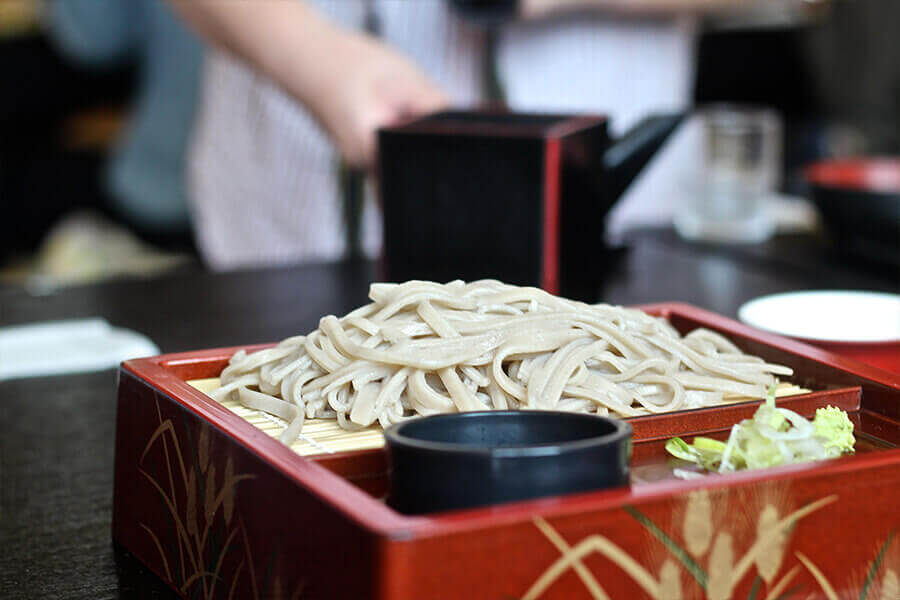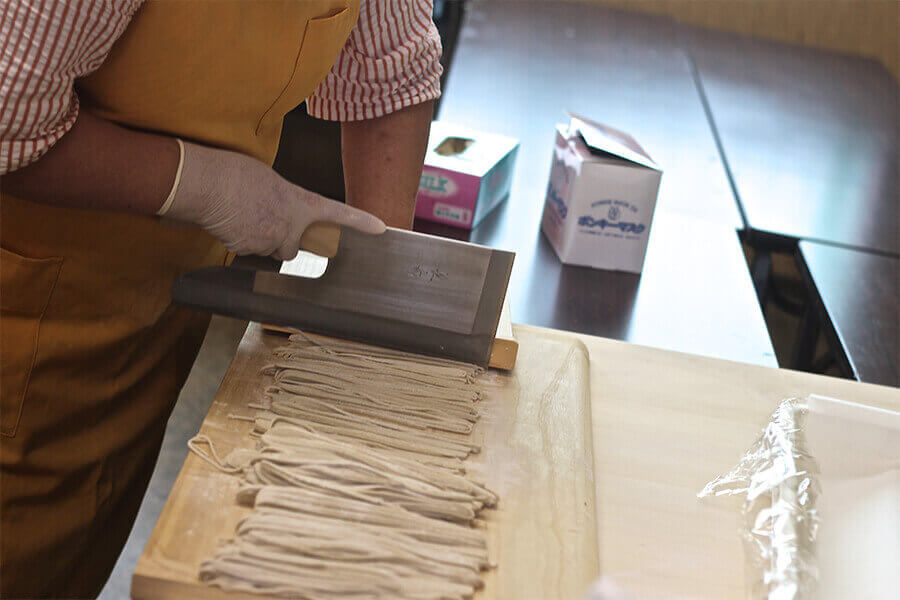 Soba isn't the only cultural activity featured in Yanaizu; visitors can also make Awa Manju, a sweet and savory dessert made with sweet bean paste wrapped in millet dough. The workshop is offered at the building directly opposite the visitor's center.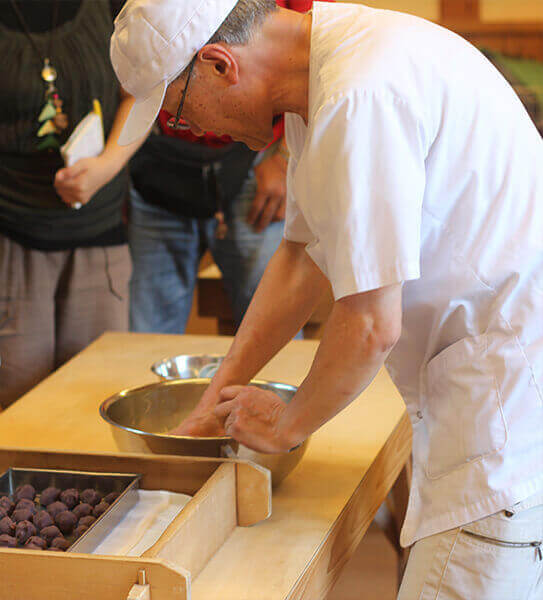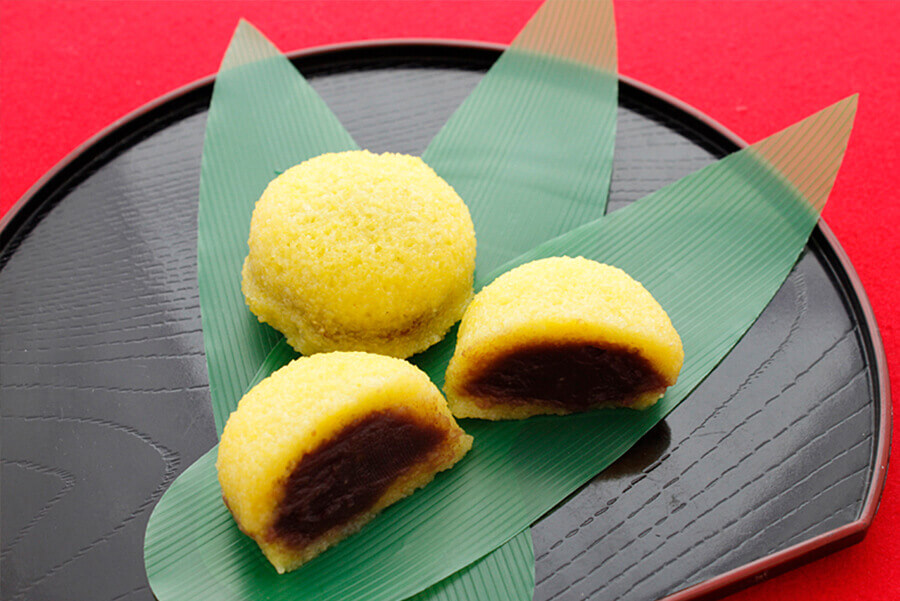 What Traditional Japanese Crafts Is Yanaizu, Fukuoka Known For?
Other craft making workshops offered in the town include making woven wooden trinkets as a memory of the time spent in Fukushima. When wet, the wood can be manipulated and folded into a variety of intricate designs, strengthening as it dries, and is a traditional craft from the area. The Saito Kiyoshi Art Museum also offers a respite from nature and traditional Japanese lifestyle, featuring modern art in a building whose architecture is just as beautiful as the paintings inside.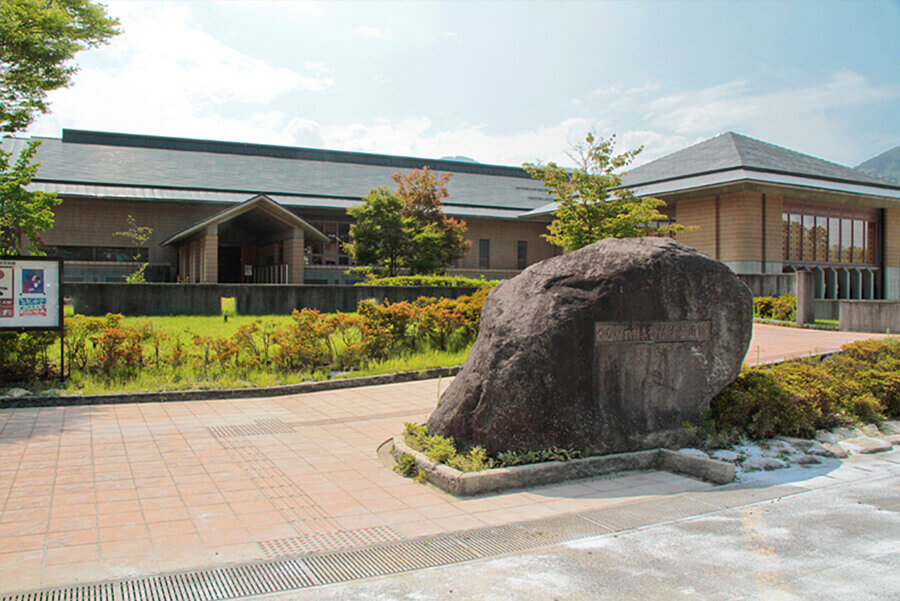 Nishiyama Onsen: A Soothing Japanese Hot Spring in Yanaizu, Fukushima
Naturally, the onsen in the area also possess a traditional Japanese flavor, having existed for over 1300 years. In fact, it seems to be largely unchanged since that era. Instead of a well-manicured, recently constructed onsen, the Nishiyama Onsen area in Yanaizu town offers an authentic and isolated mountain retreat far away from civilization with lots of character and a large assortment of both indoor and outdoor baths. In fact, lots of them feature a stunning view of nature.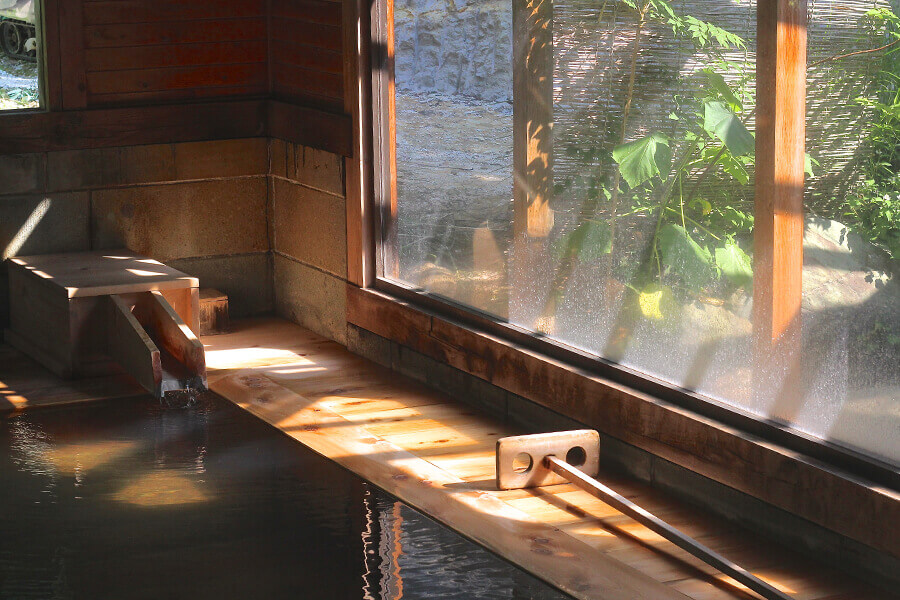 Why You Should Visit Yanaizu, Fukuoka
The Yanaizu town is still very much a place shrouded in intrigue, isolated deep in the mountains in the north of Japan's main island, where animals roam the forests freely and the sight of the river feels like a constant presence no matter where you are in Yanaizu. It's a place of untouched serenity and wilderness, yet also offers cultural experiences. It's a place of mystery —a mystery that can only be solved by visiting it.
---
WATTENTION NINJA WRITER PROFILE

Taylor Bond
Taylor Bond is a freelance writer and photographer. By day, she writes, but by night, she visits as many tabehodai restaurants as she can find. Despite what her visa says, her true ambition in Japan is to become a professional eater.MORE ARTICLES BY THIS WRITER | ABOUT WATTENTION NINJA