Designated as one of Tohoku's top three festivals, the Kanto Matsuri is a sight to behold. The name "Kanto Matsuri" does not mean that it is in the Kanto region, "Kanto" is the name for the wooden poles with lanterns attached to them. Every year from August 3rd till August 6th in Akita City, Akita prefecture, young men parade with poles full of lanterns that can weigh up to 50kg (110lbs)!
The kanto is eight meters high with 46 paper lanterns shaped like rice bales. The decorative paper streamers on top of the pole, which are often seen in Shinto rituals, drive away evil spirits. Kanto are always in the shape of an Akita cedar tree.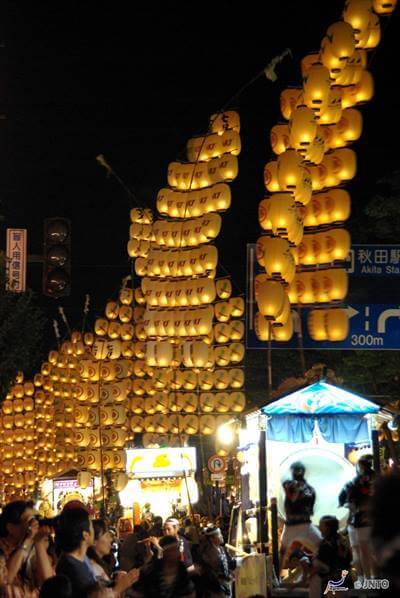 More than 200 kantos are paraded through the city, turning the streets in the an amazing lit-up spectacle. Some members of the parade perform amazing tricks such as balancing the poles on one hand or on their face. This is because it is actually not allowed to hold the pole with your hands. While ensuring that the paper lanterns do not go out, men try to impress each other by showing off one amazing trick after another.
The origin of this festival can be found in the more quiet and serene Tanabata festival. In some parts of Japan it is celebrated in August rather than in July because August is closer to the 7th month of the old Lunar calendar.
More Information
Access: 10 min walk from JR Akita Station, Akita City in Akita prefecture
Location: Kanto O-dori
(between the Sanno Jujiro Crossroads and Nichomebashi Bridge)
Dates: Aug. 3 – 6, 2016
Hours: 9:20am – 3:20pm (Day Parade, Aug. 4 & 5), 6:15pm – 8:35pm (Night Parade, Aug. 3 – 5)