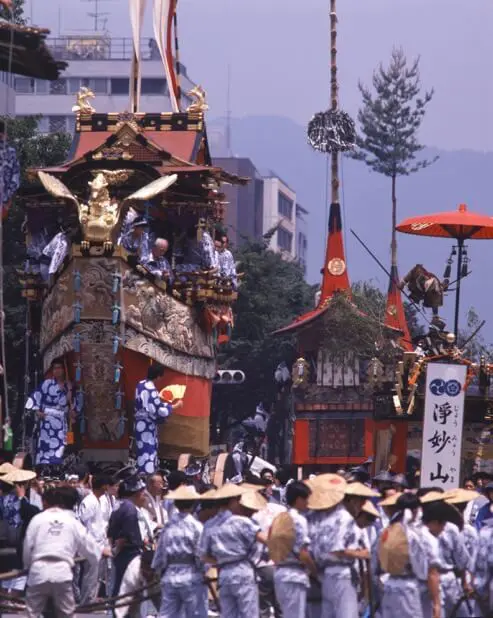 A Kyoto summer without the Gion Festival would be like imagining the ancient capital without all its beautiful art and architecture. Fortunately, at this festival – one of Japan's three biggest – you can gaze upon a procession of towering two-story floats so elaborately decorated with ornate tapestries they're called "moveable art museums"!
Centered around Yasaka Shrine and the nearby streets just west of the Kamo River in Kyoto, this month-long festival (July 1-31) includes parades, mikoshi (portable shrine) processions, theatre and music performances, as well as the displaying of these beautiful floats, known as yamaboko. The two yamaboko parades are the highlight of this annual festival, as 23 of them appear for the parade on July 17th, as well as 10 more for the one on July 24th.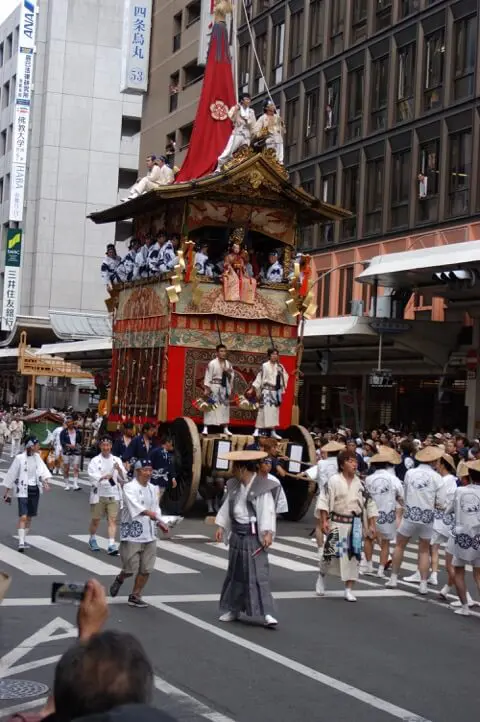 Be especially amazed at the larger hoko variety of these floats, having massive two-meter tall wheels, and weighing up to 10 tons. With entire musical ensembles sitting on the second story, it's no wonder these hoko require up to 50 people to pull! And in case you're wondering what's on top, these long spear-like poles are raised to appease the gods of disease and calamity, which was the original purpose when this festival began as a purification ritual in the 9th century. 
Yet the true beauty of these gigantic floats is in the detail of the woven fabric, dyed textiles, and vivid colors of the the artwork that adorns these yamaboko. Seeing them on the street isn't close enough? Head to the Yoiyama evening festivities starting three days prior to both parades, where these floats are stationed for you to gaze upon leisurely. Of course, with the appetizing aroma from food stalls nearby, along with crowds of celebrating festival participants, you just might get drawn away into the evening excitement!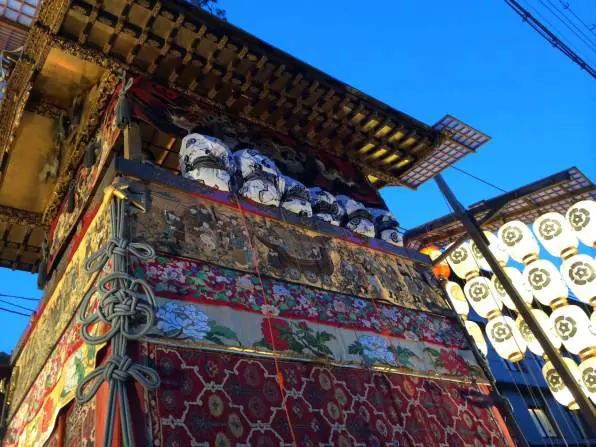 Gion Festival:
Dates: Jul. 1 – Jul. 31, 2016
Time: Hours vary depending on the events of the day.
Yamaboko parades on July 17, 9am – 11:30am; July 24, 9:30am – 11:30am.
Yoiyama festivities take place on July 14-16, 6pm-11pm; July 21-23, 6pm-11pm.
Access: JR Tokyo Station to JR Kyoto Station via Tokaido Shinkansen, Kyoto Station to Shijo Station via Kyoto City Subway Line. Festivities (including the parades), and the Yasaka Shrine are located along Shijo Dori, connected to Shijo Station.