With the end of October coming up, department stores and sweets shops are preparing their new special Halloween treats.
Here's Wattention's pick from this season's lineup.
Halloween Bunny Parfait (1,810 yen)
This parfait brings you all the best Autumn has to offer! Nicolas House in Harajuku is known for the best bunny themed sweets in Japan such as bunny cream puffs and cakes. The Halloween parfait is a combination of choux cream, maple jelly, kabocha(Japanese pumpkin) cream, ginger jelly, marron cream, purple pumpkin ice cream, chocolate sauce and a bunch of other ingredients. If a cute Halloween is your thing, head on over to Nicolas House!
Dates: Sept. 20, 2016 – Oct. 31, 2016
Hours: 10am – 8pm (last order at 7pm)
Location: Harajuku
Address: 4 Chome-26-5 Jingumae 426 building 1F-2F, Shibuya-ku, Tokyo-to 150-0001
"Matthew the ghost" cake (2,800 yen)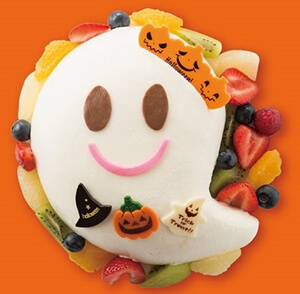 The Osaka Bay Tower Hotel is bringing Halloween to their restaurant with this specially made ghost cake. The cake features plenty of fruit toppings and a white marshmallowy ghost filled with cake and strawberries. Who says Halloween can't be sweet. You need to make a reservation 3 days beforehand, pickup available.
Dates: Oct. 1, 2016 – Oct. 28, 2016
Hours: you can decide a pickup time yourself
Location: Hotel Osaka Bay Tower lobby
Address: 552-0007 Osaka-shi, Minato-ku Benten 1-2-1
Halloween Gateau Nantes (389 yen)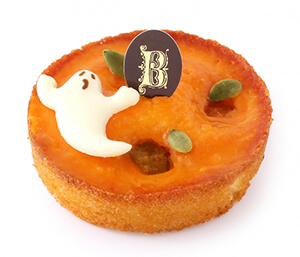 Introducing a Halloween cake made in the traditional Fench way. The main features of a cake made in the "Nantais" way are plenty of sugar and almonds. Bretonne added plenty of pumpkin paste, pumpkin seeds and white chocolate. Now this French style cake got Halloween'd.
Dates: Oct. 1, 2016 – Oct. 31, 2016
Hours: 10am – 8pm (Sun – Thurs) / 10am – 9pm (Fri – Sat)
Location: Bretonne shop, Osaka Hankyu Umeda department store
Address: 30-8350, Osaka-shi, Osaka, Kita-ku, Kakuda-cho 8-7 Hankyu Umeda head office underground first floor
Purple Pancakes (1,400 yen)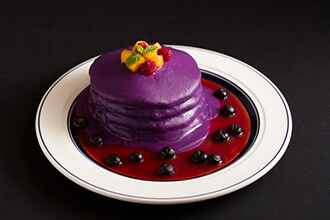 Don't let the purple scare you. The color comes from plenty of sweet purple potatoes combined with a delicious custard cream. Raspberry sauce and blueberries complete the overall spooky look of this dessert. Be sure to add Eggs'n Things to your Halloween must-do list.
Dates: Oct. 1, 2016 – Oct. 31, 2016
Hours: Depends on the location
Location: Check all Eggs'n Things locations here: http://bit.ly/1hqLxKi(Japanese only)
Shiseido Halloween Chocolate Parfait (1,620 yen)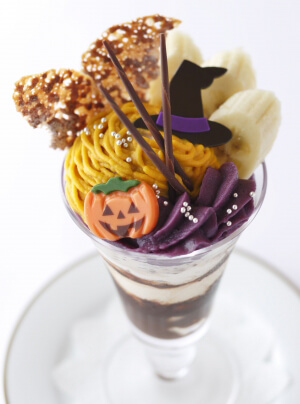 The Shiseido Parlour has been offering quality food since 1905 and continue to do so. This year's featured Halloween item is a chocolate parfait topped with candy. The parfait's base consists of chocolate and pumpkin cream. This parfait is only available at the stores in Nihonbashi, Yokohama and Nagoya.
Dates: Oct. 1, 2016 – Oct. 31, 2016
Hours: Depends on the location
Location: Nihonbashi Takashimaya, Yokohama Takashimaya, Yokohama Sogo, Nagoya Central Towers 12F
Address: Check all locations here: http://bit.ly/2dnqeNr