Some of the best hiking trails in all of Japan are in the Japanese Alps in Nagano Prefecture. You can make it as adventurous as you want, climb a high mountain or take a long leisurely walk in the forest. Be prepared for raw nature, as the Kamikochi area is forbidden for personal vehicles. Access is only possible by bus or taxi. Special buses are arranged to take you to Kamikochi.
Most hikers start from the Bus Terminal near a wooden suspension bridge called Kappabashi (the Kappa bridge). A Kappa is a mythological water creature that lives under bridges. Near this suspension bridge are several hotels, souvenir shops and restaurants. Besides these facilities and the Visitor Center, the whole area is without human interference. The trails along the Azusa river provide you with the most scenic views as you see the Japanese Alps reflected in the crystal clear water. This easy walking route is often very crowded in the summer and the best season to go is from mid May through July.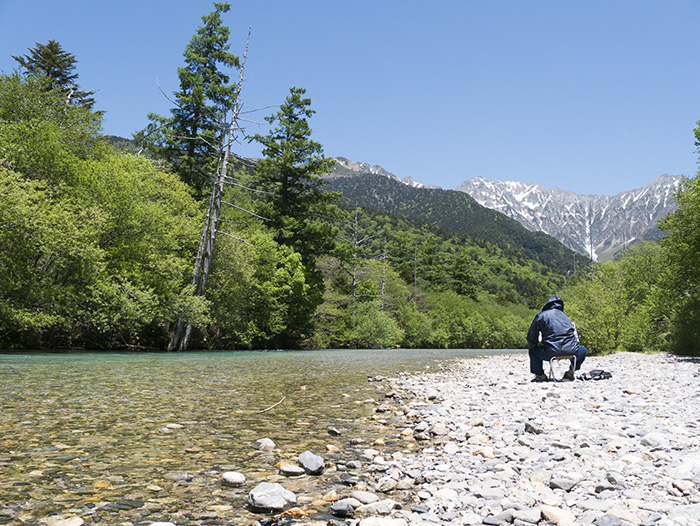 Along the way you may encounter some monkeys and various birds. Bears do live in the area but they are rarely spotted along the trails.
There are about ten kinds of willow species in the Kamikochi area. The higher you go the more the landscape changes and the dominant trees shift from willow to Japanese elm and Japanese larch trees. During Autumn these trees turn into beautiful hues of red and yellow, giving Kamikochi a completely different look.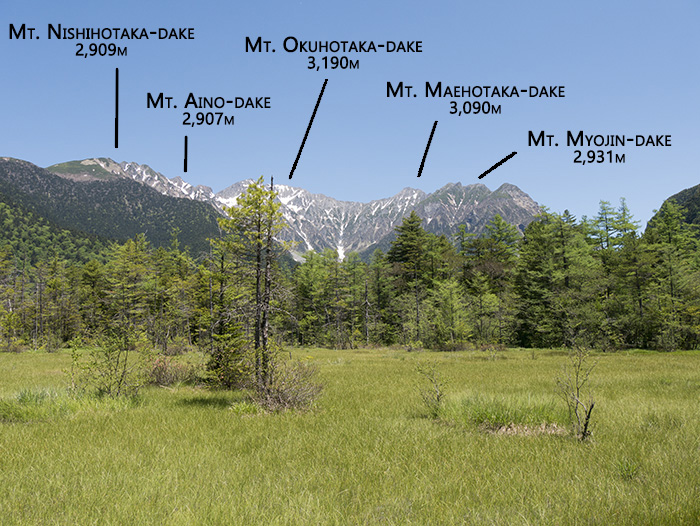 For the more adventurous hikers there are plenty of mountains to challenge. A popular mountain is Mt. Okuhotaka-dake, the third-highest mountain in all of Japan. In 2016 Kamikochi is scheduled to be open from April 15 to November 15, as it can be dangerous to climb the mountains out of season. If you want to make your hiking trip longer than a day, there are mountain huts along the trails where you can stay for around 8,000 yen per person. No need to bring food or a sleeping bag as bedding and two meals are provided. It is advised to arrive at these huts before 3pm. Of course you can stay in one of the lavish hotels or relaxing ryokans where you can enjoy natural hot spring water. It is advised to make a reservation or check availability beforehand.
Access
There are many ways to get to Kamikochi. You can start from the nearest city, Matsumoto, but there are even buses from Tokyo, Nagoya and Osaka all the way to the Kamikochi area.
From Matsumoto Station, Nagano: A local bus takes about 90 min.
From Shinjuku, Tokyo: The highway bus takes about 4h 40min.
From Nagano Station, Nagano: With highway bus takes about 2h 30min.
2 Day Pass for sightseeing in Kamikochi, Norikura and Matsumoto: 
This pass allows unlimited travel by train & bus to/from Kamikochi, Norikura-Kogen, Norikura area and the local bus in Matsumoto within 2 days. This is the best deal if you want to sight-see not only in Kamikochi but also in Norikura and Matsumoto.
Price: 5,150 yen (adult), Children: 2,580 yen (children)
Pass is Available in the Matsumoto Bus Terminal.
Read also: Cool Summer Treks Around Tokyo (1): Kamikochi in Nagano Prefecture