Sendai's Tanabata Festival:
Wonders of traditional Japanese paper-making by shopkeepers
Sendai's Tanabata Festival is touted as one of the three major summer festivals in the Tohoku region, Held in Sendai from August 6 to 8, the lavish event draws over 2 million spectators each year. Local businesses in major shopping arcades would decorate their shop fronts by hanging colour ful paper decorations, including 5-metre-long gorgeous streamers on bamboo poles. The sound of Japanese paper streamers flying in the wind, along with the noise of crowds, constitutes a unique tanabata melody you can only hear in Sendai.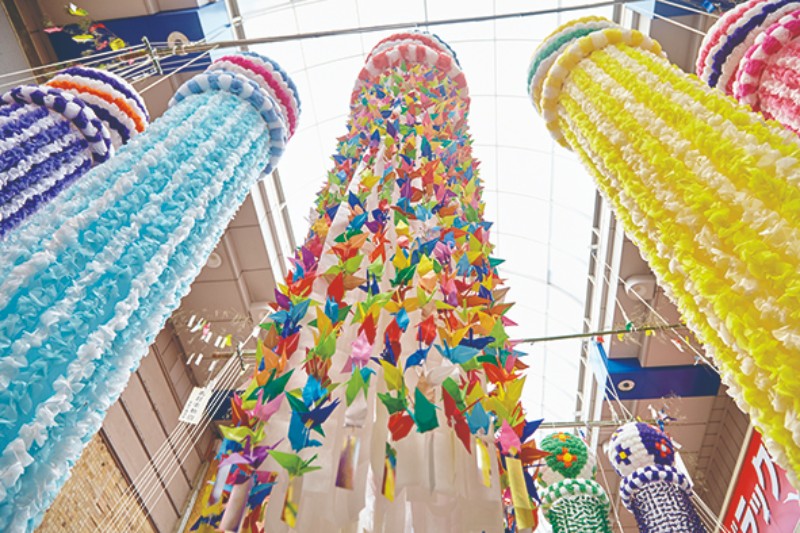 The impact of economic development on culture preservation
The Tanabata Festival has been one of the biggest annual events since Sendai's first feudal lord Date Masamune (1567-1636) ruled the region. The Tanabata Festival spirit is very much alive in today's Sendai, thanks to the hard work of the locals.The 1930s was a period of economic growth for Japan and high-rise buildings were being built in metropolitan areas all over the country, including Sendai. Ms. Yamamura Ranko, a senior staff at Narumiya Kamishoji's (Paper Trading Company) Tanabata Section with more than three decades of experience at making tanabata decorations, shared with us about how her team manages to transform tradition into a spectacular event.
One of the unwritten rules about opening up a store in Sendai's shopping arcade is active participation in the Tanabata Festival. "All of the Tanabata Festival decorations were handmade by each store in the early days," said Yamamura. "But some shop owners from outside the region did not know how to make them so they asked us to do it for them. Most shops decided to outsource the job to us afterwards." Today, half of the Sendai Tanabata Festival decorations are made by Yamamura and her team.
Seven types of must-have auspicious ornaments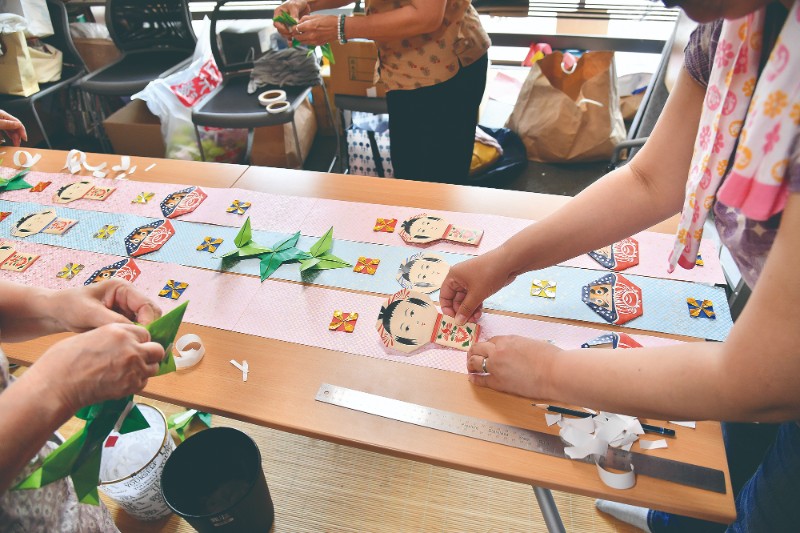 Instead of using plastic ornaments, all of Sendai's Tanabata Festival decorations made with Japanese paper dyed using a century-old technique called yuzen. The seven essential decorations include fukinagashi (colourful streamers), orizuru (cranes symbolizing longevity), tanzaku (rectangular strips of paper which people write their wishes on), kamigoromo (paper kimono symbolizing the removal of ill fortune and improvement on sewing skills), toami (cast nets representing harvest), kuzukago (waste baskets showing the importance of staying neat and tidy) and kinchaku (drawstring purses representing frugality and simplicity).
When making decorations for the Tanabata Festival, each artisan focuses on a single task, be it dyeing paper, making the frame or doing paper cutting. Hundreds of artisans work in harmony and around-the-clock to make wonders. Preparation starts as early as winter. Embodying the spirit of Date Masamune, Sendai's Tanabata Festival is not only a splendid annual festival but a part of life for locals.
Event period: August 6-8 every year
URL: www.sendaitanabata.com/en