Tokyo is not the only city that never sleeps in Japan. Osaka, the neon lit metropolis also offers a plethora of nightlife experiences. From classic bars to specialty bars, live houses and a whisky gallery, your choices are infinite.
Classic Bar
Bar Augusta Tarlogie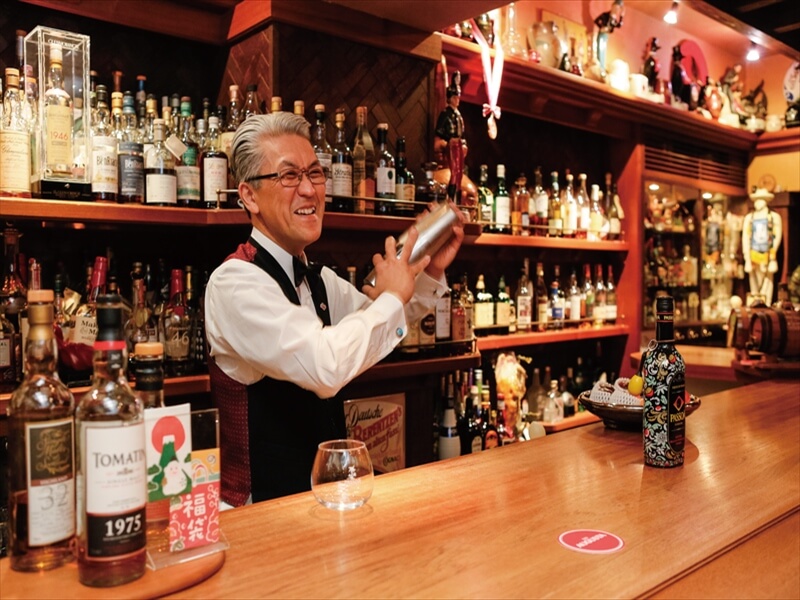 Behind the unassuming façade lies a whiskey bar brimming with character – and bottles of rare whiskeys, both Japanese and international.
While entering a small bar like this can be daunting for first-timers, veteran bartender and owner, Mr. Kiyomitsu Shinano, is ready to welcome you in refined English. Here, no effort is spared, from the preparation of hand-carved ice-balls to the choice of water used to mix drinks – spring water from Scotland for Scotch whiskeys and Japanese spritzers for local whiskeys.
Recently, visitors from Singapore, Malaysia, Hong Kong, Taiwan and Australia have come to sample various Japanese whiskeys, and the stock here is extensive with around 20 different labels.
Order a rare Japanese whiskey – such as a 1980's Nikka Miyagikyo single malt – that might set you back several thousand yen for a shot, or the frothily refreshing signature cocktail, Augusta 7, vigorously shaken up with passionfruit liquor, lemon and pineapple juice.
The menu is minimal, with just finger food such as nuts, cheese or parma ham, but the conversation with Mr. Shinano is sure to be free flow.
[ Information ]
Bar Augusta Tarlogie
Hours: 5pm – midnight
English Menu Available
Credit Card  OK
Access: 4-min walk from Hankyu Umeda Station
River Cruise
Kitahama Rumba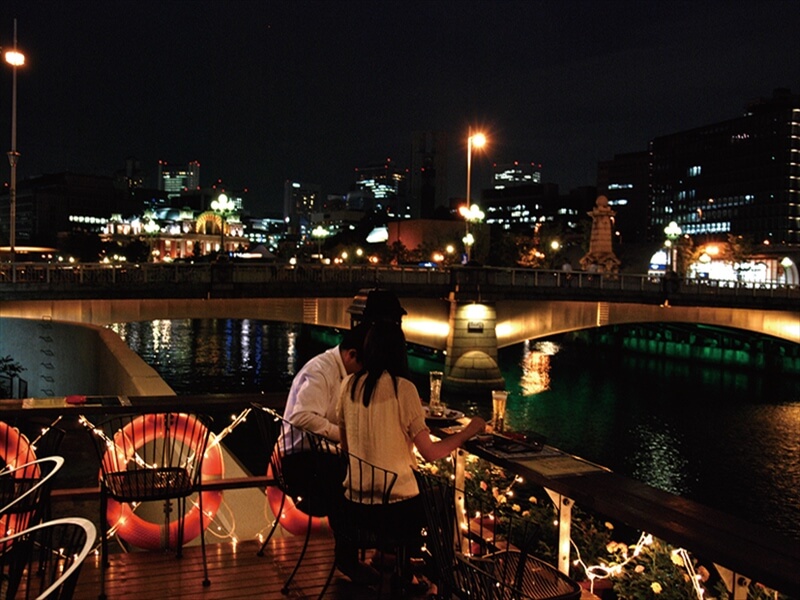 Enjoy a riverside meal of tapas with wine while enjoying the breeze on the open air terrace of this Spanish restaurant and bar that overlooks the Tosaborigawa River. From here you can also get a view of the Osaka's most famous bridge, the Naniwabashi Bridge, and the illumination of the Osaka City Central Public Hall. For an unforgettable night out, book a river cruise that sets off from the nearby pier.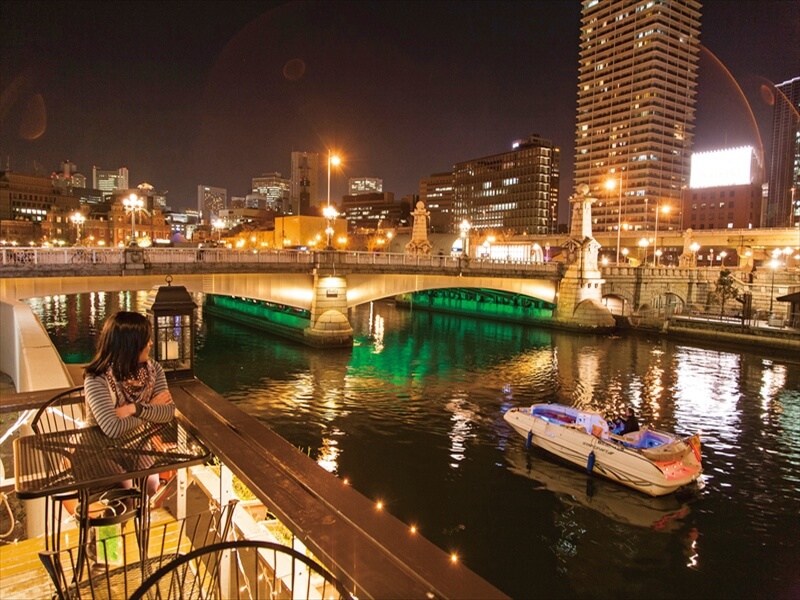 This is one of the restaurants that makes up the Kitahama Terrace. The riverbank is officially opened from end-March, when all the eateries open their terraces for dining.
[ Information ]
Kitahama Rumba
Hours: 6pm – 12 midnight (last order 11pm)
Cuirse Hours: Depart at 7pm, 8pm and 9pm
English Menu Available (partial)
Credit Card  OK
Access: 1-min walk from Kitahama Station (Keihan Line, Sakaisuji Line) or a 2-min walk from Naniwabashi Station (Keihan Line)
Live House
Billboard Live OSAKA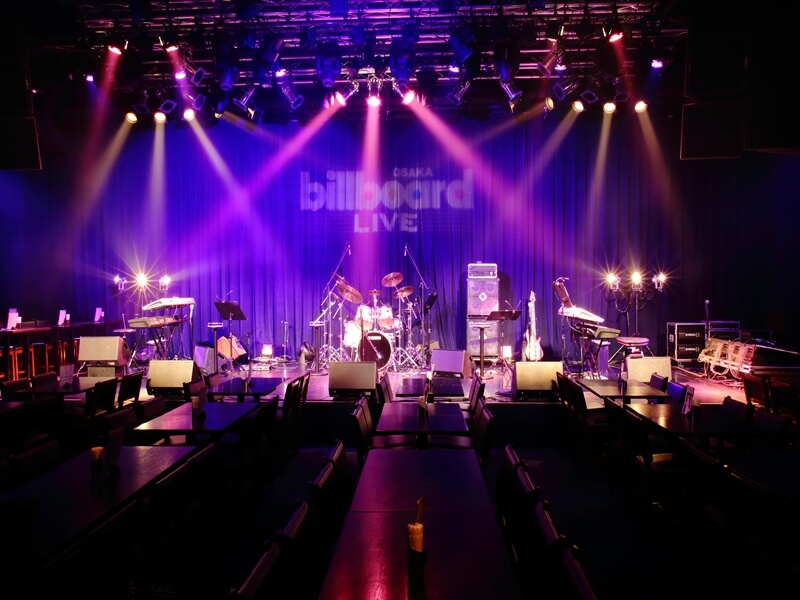 Entertainment brand Billboard – internationally known for charting the top artists and songs around the world – brings you its selection of the hottest international and domestic artists. Catch acts ranging from Jazz and J-Pop to reggae and rock, live on stage at this centrally located underground theater.
Expect fine dining to accompany your first-class performance, with a gourmet seasonal menu and a drink selection featuring original cocktails and a wide array of whiskeys and wines. Seat choices range from bar stools and standing room in the casual area, to table and counter seats, to spacious box seats with an excellent view of the stage.
Access couldn't be easier, as the landmark Herbis Plaza Ent building is directly connected to underground public transportation.
[ Information ]
Billboard Live OSAKA
Hours: 11am – 10pm (Weekdays), 11am – 8pm (Sat & Nat. Hols), 11am – 7pm (Weekdays with no shows scheduled), Closed Sun.
English Menu Available
Credit Card: Accepted
Access: 3-min walk from Nishi-Umeda Station (Yotsubashi Line)
Bar
Rooftop Bar OO
If you're with a crowd that can't decide whether they want to go clubbing, have a good restaurant meal, or chill at a bar, this is the perfect place to go.
Away from the throngs of tourists at Dotonbori, find an international party crowd here on the 7th floor of the New Japan Sauna complex. Rest your feet at one of the plush sofas at the lounge area (and even play some board games!) or watch what's on the 500-inch projector screen outdoors by the pool – great for watching sports matches at!
Events are held regularly with DJs mixing up house, club, hip-hop, trance and the lot to keep party people on a constant high. Otherwise, the usual BGM makes for a relaxed resort atmosphere.
The menu features seasonal buffets (eg: oysters in winter) and an extensive a la carte menu serving pizza, pasta, salads and bites that go with beer.
[ Information ]
Rooftop Bar OO
Hours: 6pm – 3am (Closed Tues)
English Menu Available
Credit Cards Accepted
Access: 4-min walk from Midosuji Line Namba Station
Specialist Bar
SUNTORY WHISKEY HOUSE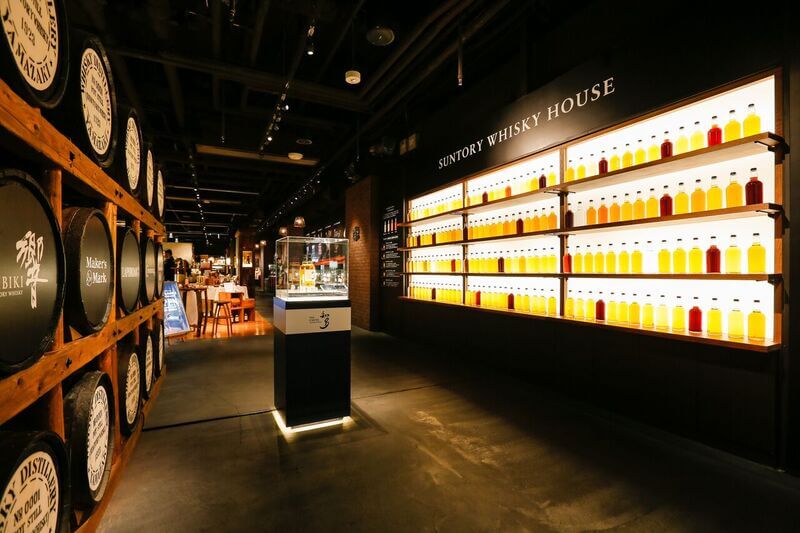 If you haven't already discovered Japanese whiskey, this is the place to do so. Suntory, recognized as one of the top whiskey makers in the world, originated from Osaka, and this three-in-one concept store is the first of its kind, combining a Whiskey Gallery, Whiskey Dining WWW.W and Whisky Bottle Bar.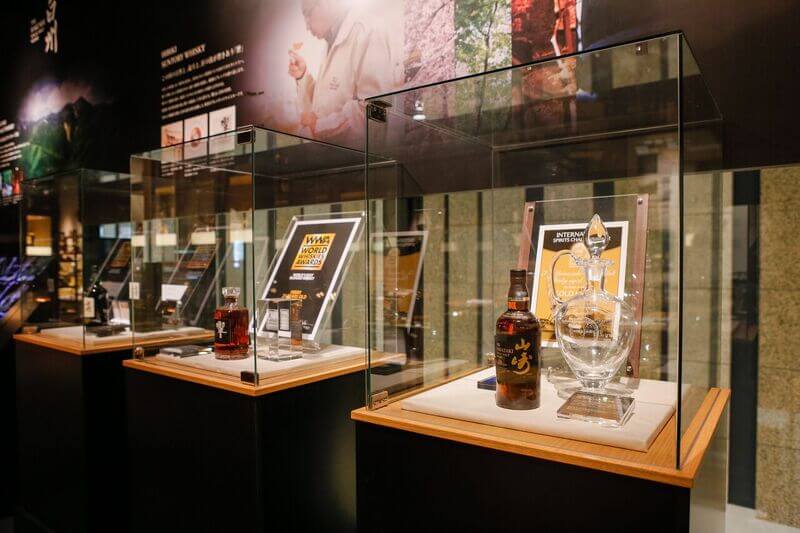 Whisky Dining WWW.W is the only dining establishment in Japan where you can try five popular types of Suntory Japanese Whiskey in one set. You can also savor the much sought-after Hibiki 21 Years Old that clinched the International Spirits Challenge Trophy 3-years in a row. The Roast Beef Cutlet Sandwich is a must-try, or choose from a wide array of dishes created to go with whiskey.
*Note: Whiskey is not sold over the counter here, though bottle-keep services are available at the Whiskey Bottle Bar.
Complement your whiskey collection with tasteful furniture or household accessories made from the over century old white oak used to make whiskey casks, only available for sale at this gallery. Study the history of Suntory's award winning whiskey at the displays here as well.
[ Information ]
SUNTORY WHISKEY HOUSE
WHISKEY DINING WWW.W
Hours: 11:30am – 2pm (lunch)
5:30pm – 11pm (dinner)
English Menu Available
Credit Card OK
WHISKEY GALLERY
Hours: 11am – 8pm
Access: 5-min walk from JR Osaka Station, Midosuji Line Umeda Station