In Osaka, people are loud and things tend to get larger than life – especially their billboards.
These flamboyant and extravagant advertisements show how Osaka has always been a city of tradesmen that know no bounds when it comes to selling a product. It also seems as if it reflects the in-your-face, casual and tongue-in-cheek Osakans we know today.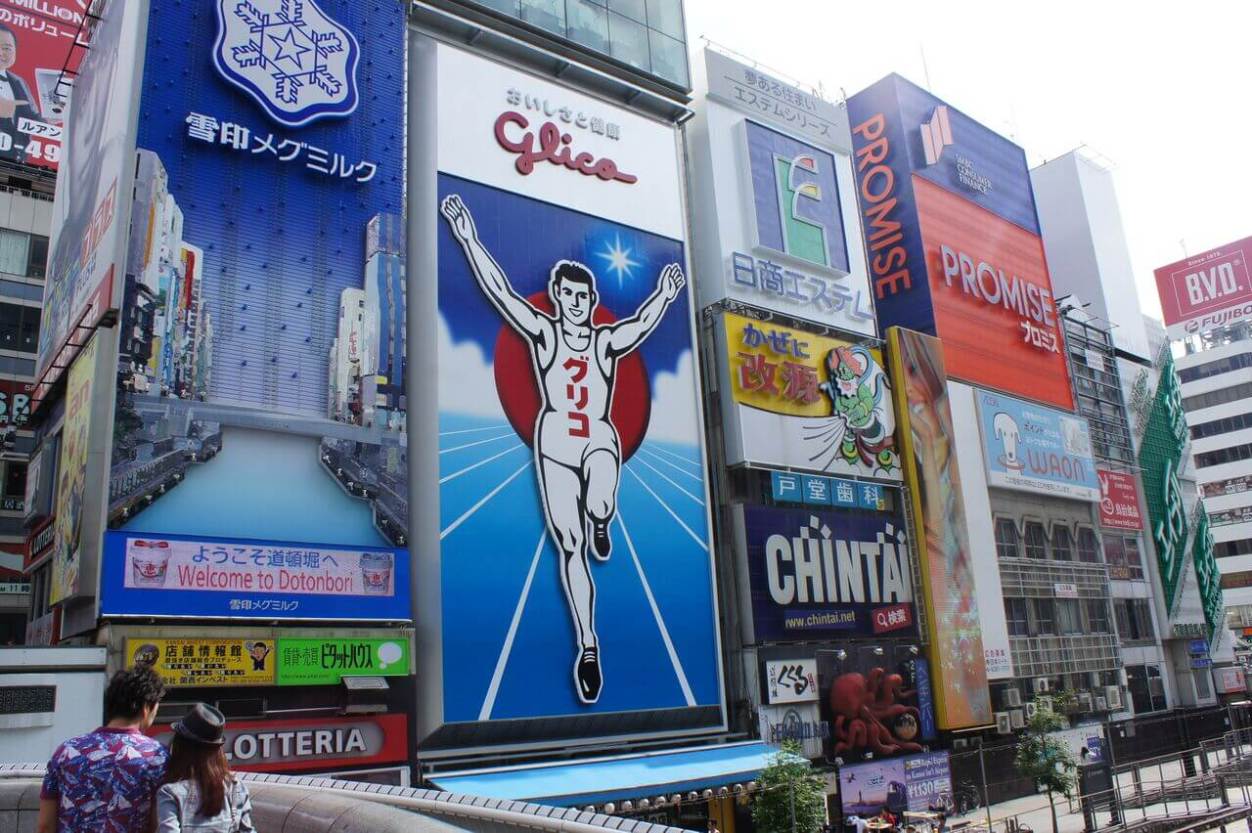 Glico's marathon runner has been iconic to Osaka ever since 1935. Over the last 80 years, the board was renewed many times. Right now we are looking at the 6th generation of Glico's marathon runners.
Glico is a candy and snack manufacturer based in Osaka, with long-time best sellers as Pocky, Pretz and Caplico.
Where to Find the Kani Doraku Osaka Billboard in Dotonbori
At Kani Doraku, you will know what to expect even if you can't read any Japanese.
Although this restaurant chain might have branches throughout the country, it's main branch in Dotonbori is so famous it would be hard to find a Japanese person that has never heard of it.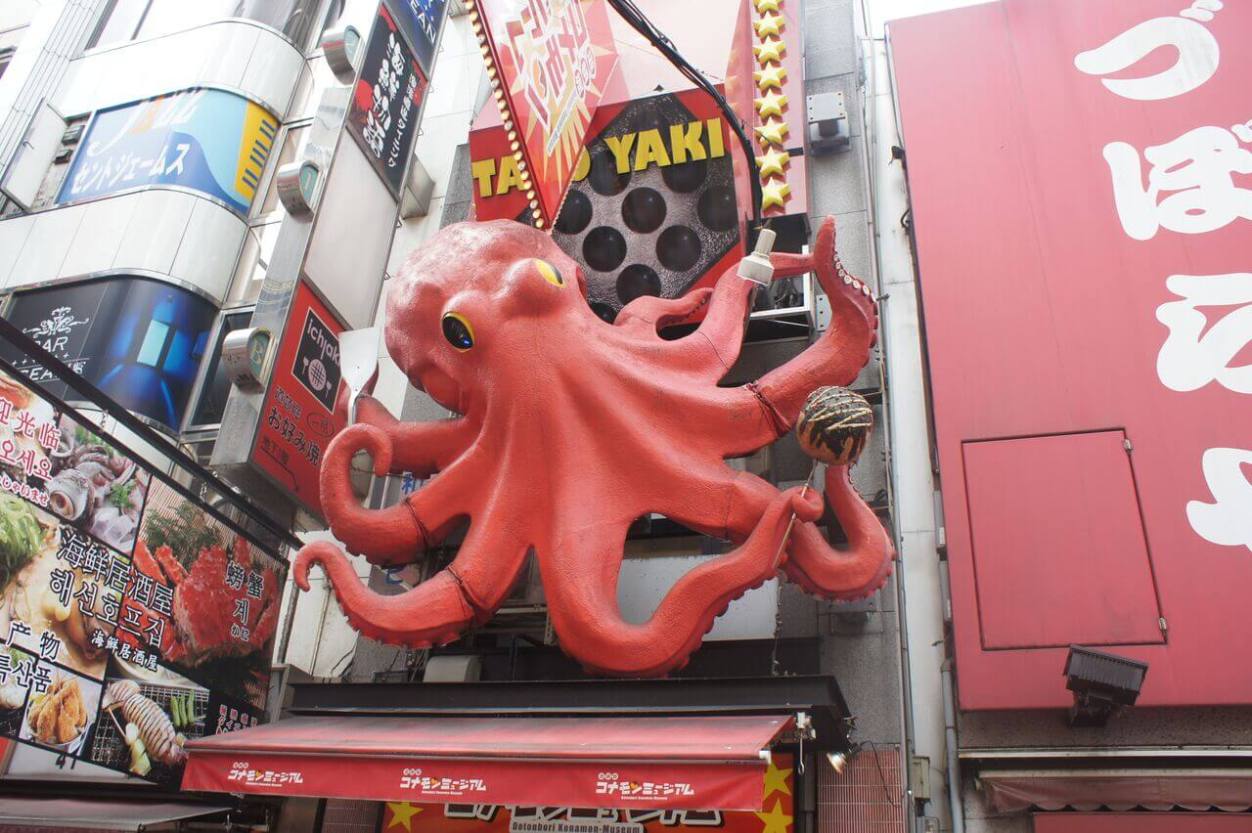 Where to Find the Konamon Museum Osaka Billboard in Dotonbori
Established in 2011, the Konamon Museum is relatively new, but its huge octopus ("tako" in Japanese) seems to feel quite at home here in Dotonbori already. At Konamon Museum, you can eat, make and learn about Osaka's most famous street-food, the Takoyaki.
Tokyo-based sushi chain Gansozushi decided to do as the Romans do for its Dotonbori branch!
Where to Find the Yokozuna Osaka Billboard in Shinsekai
Yokozuna in the Shinsekai district is not a sumo stadium, but if you want to eat like a sumo wrestler, you won't be disappointed. Yokozuna serves chanko nabe (sumo style hot pot) and kushi-katsu, which are fried skewers that originate from Osaka. Yokozuna's kushi-katsu skewers are three times the size of an average skewer!
Where to Find the Tsuboraya Osaka Billboard in Shinsekai
Long-established restaurant Tsuboraya makes sure you know where to try out arguably Japan's most notorious delicacy, fugu.
In the backdrop, you will see the famous Tsutenkaku Tower. Literally translated as "tower reaching heaven", Tsutenkaku was Asia's second tallest structure when it was originally constructed in 1912. With a mere 100 meters, Tsutenkaku might not be something to shout about today, but it has not lost its charm.
Where to Find the Uncle Karl Osaka Billboard in Dotonbori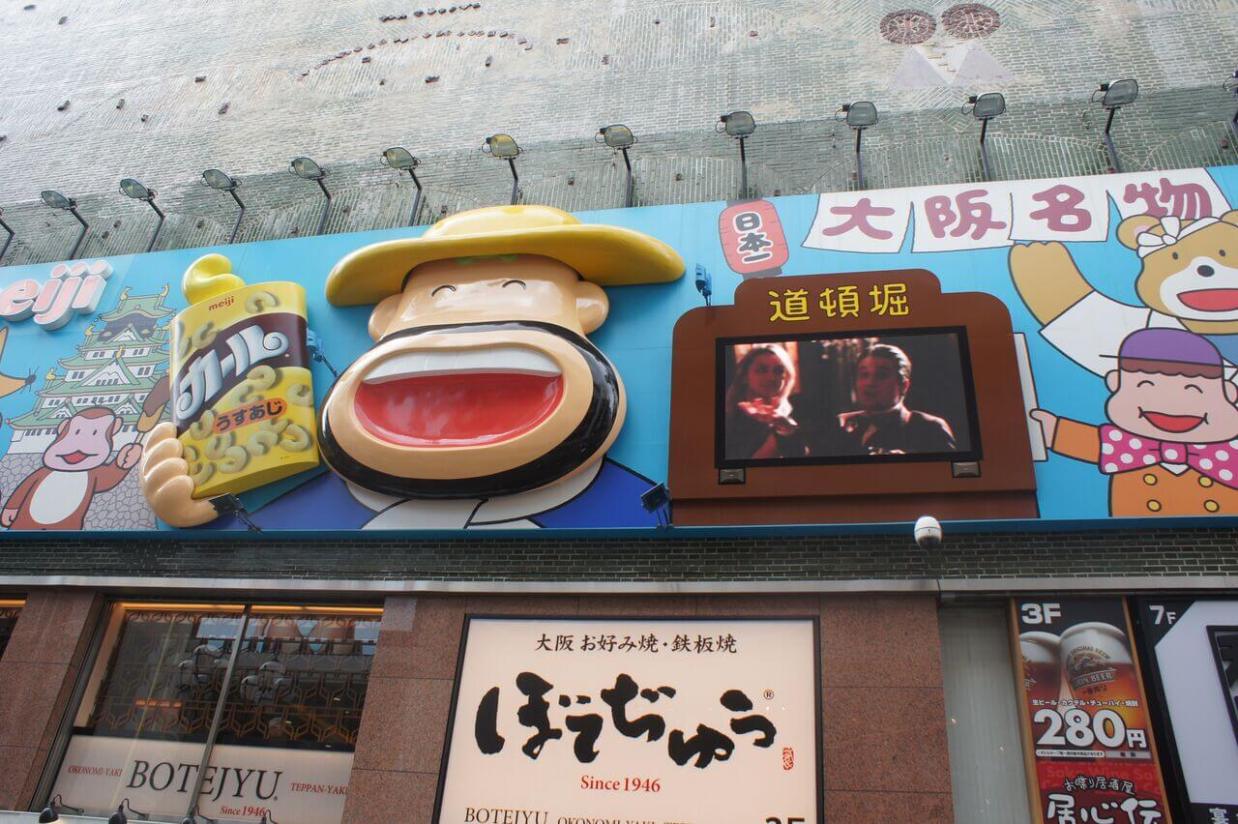 Uncle Karl has been the mascot character of Karl Cheese Puffs since 1982, and apparently Osaka is still crazy about him! This flamboyant billboard was created to celebrate Uncle Karl's 30th year as a mascot in 2012.
Thought that was all? Think again! We haven't even introduced "Kuidaore Taro" yet, a clown-drummer that has been a landmark in Osaka for over 60 years, and than there are tons of other crazy advertisements including a giant plate of gyoza, a ramen dragon, an angry kushi-katsu master and more, but we don't want to spoil everything for you before your visit!
Access: 
Dotonbori: A 5 min walk from Nanba station (JR Yamatoji Line, Nankai Main Line, Koya Line, Midosuji Line, Sennichimae Line, Yotsubashi Line, Kintetsu Namba Line, Hanshin Namba Line)
Shinsekai: A 5 min walk from Shin-Imamiya Station (JR Loop Line) or Dobutsuen-mae Station (Midosuji Line, Sakaisuji Line)