Kagoshima is a prefecture in the southwestern tip of Kyushu, and is Japan's third largest island. Its location lends itself to a warm climate with a geography ranging from Yakushima Island, Japan's first World Natural Heritage Site to coastal lines stretching hundreds of kilometres along white-sand beaches. Such picturesque scenery and landscapes allow for numerous excursions for visitors whether that be relaxing in the many onsen (hot springs) or enjoying seaside city life in the capital of Kagoshima, from where Sakurajima can be seen across the bay. In this Kagoshima travel guide, I'll explore several popular spots in the prefecture and when and how to visit them, as well as the local delicacies that can be enjoyed during your stay.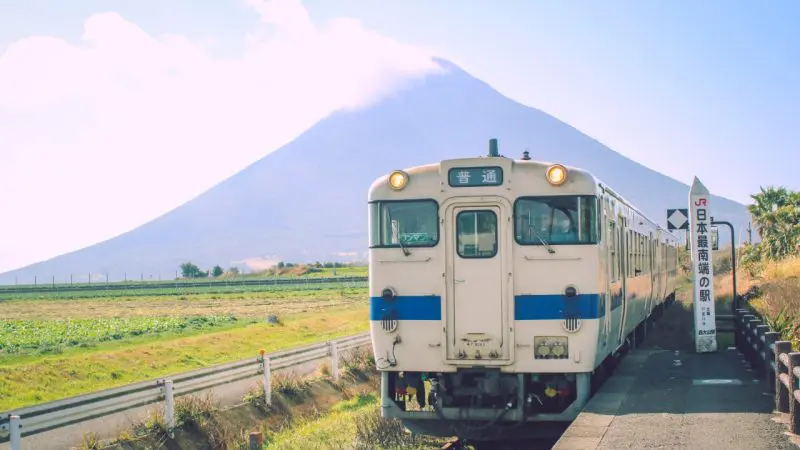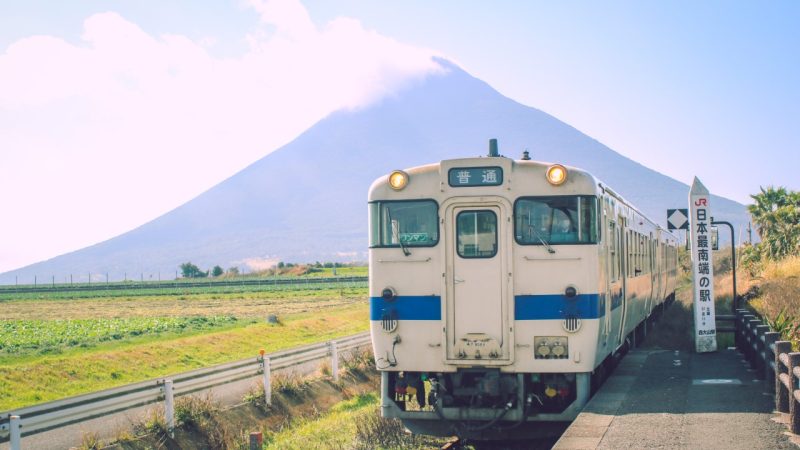 Kagoshima Travel Guide 1: Kagoshima City
Kagoshima city is the capital of Kagoshima prefecture. It's drawn comparisons to the Italian city of Naples due to its temperate climate and the omnipresence of Sakurajima, Kagoshima's version of Mount Vesuvius. Accessing the capital is easiest by bullet trains which are available from major cities across Japan. The fastest route from Tokyo is a two-hour plane via Haneda. From there, a 40-minute shuttle bus takes you to the centre of the city.
Depending on the time of your visit, there are various ways to enjoy the capital. Summer's tend to be more popular because of the weather and the proximity to the ocean. Among the beaches accessible from Kagoshima city, Iso beach is a favourite amongst locals and tourists for its relaxed atmosphere and numerous water sports which be enjoyed with Sakurajima looming in the background. Furthermore, Sengan-en, one of Japan's most famous traditional gardens, is nearby. It was made a UNESCO World Cultural Heritage Site in 2015.
Upon returning to the city, many restaurants and bars can be found. An example of this is a group of 25 stalls near Kagoshima Chuo Station known as Yataimura. Like the yokochō around Japan, Yataimura is a collection of small eateries selling delicious food and drinks. Traditional and modern twists on Kagoshima delicacies are offered, and hopping from each stall is recommended to experience the plethora of flavours. These reasons are why Kagoshima city is the first spot on this Kagoshima travel guide.
Kagoshima Travel Guide 2:Sakurajima
The next entry is Sakurajima, which is 15 minutes by ferry from Kagoshima city. The volcano is one of Japan's most active and is considered the symbol of Kagoshima. It's always smoking and small eruptions occur several times a day but those are harmless. Being the symbol of Kagaoshima, Sakurajima is a hotspot for tourists with various attractions located around the ferry terminal like a hotel with onsen, restaurants, and shops, as well as a hiking trail, park with seven life-sized dinosaur statues, and footbaths. Furthermore, there are numerous observation points located at a minimum of three kilometres away from the volcano's craters. These allows visitors to observe the eruptions from a safe distance and get a peek into the inside of one of Japan's most well-known volcanos.
Kagoshima Travel Guide 3:Yakushima
Yakushima is the third entry on this Kagoshima travel guide. The island is nicknamed the 'Alps of the Sea' as 90% of it is covered with forest. On top of this, the climate of the island is known to be the most diverse in the world with plants from subtropical zones and cold temperate zones growing in different areas. Accessing Yakushima is fastest by airplane at 35 minutes, however, there are also jetfoil and ferry options from Kagoshima Shinko Port. Travelling around the island is best using the buses which take visitors to popular sites from which hiking trails are available. Amongst the most popular sites are the Jomonsugi Cedar and Yakusugi Land. The former is a long hike ending at what is said to be the oldest Yakusugi cedar in the world at an estimate of 2,700 – 7,000 years old. Yakusugi Land is an easier hike allowing visitors a glimpse into the forest ecosystem of Yakushima. The cedars in this area are around 1,000 years old.
Kagoshima Travel Guide 4:Amami Ōshima
Amami Ōshima is in the East China Sea between Kyūshū and Okinawa. The island is characteristically similar to Okinawa due to its climate, white beaches, clear waters with opportunities for snorkelling and scuba diving, as well as natural landscapes populated with rich greenery like mangroves. The ideal time to visit Amami Ōshima is during the summer months of June – August, and it's best accessed by plane from Kagoshima city. Buses are offered for travel around the island, however, a rental car or bike is recommended for more freedom. Popular spots on the island are the Mangrove Forest and Amami Park. The former is located on the south side of the island and allows visitors to canoe through a forest of mangroves. Amami Park is a facility showcasing the nature, culture, and history of the Amami islands. There are works from painter Isson Tanaka on display, all of which are based on the nature of Amami. Finally, the island's local dish 'keihan' (chicken rice) can be enjoyed in the facility's restaurant as well.
Kagoshima Travel Guide 5:Kirishima City
The final entry on this Kagoshima travel guide is Kirishima, the second most populated city in the prefecture. The city holds a unique place in Japan's history as it's home to the volcanic mountain range Kirishima, said to be the site from which the grandson of the sun goddess Amaterasu ruled over Earth and began the lineage of Japanese emperors. This mixture of modernity and mythology make the city an interesting place to travel to.
Accessing Kirishima city is possible from overseas thanks to Kagoshima Airport. Otherwise, bullet trains are the best way to get there. For those wishing to visit Kirishima mountain range, bus, train, or car are the best modes of transport. Once there, hiking trails offer unparalleled views of lakes and lush mountainous landscapes said to be the start of the Japanese creation myth. After hiking, Kirshima and Kirishima-Jingū are two nearby hot spring villages known for their abundance of onsen. The latter surrounds Kirishima-Jingū, a shrine nationally recognized as a significant cultural property as well as a power spot. On top of these hot spring villages, Kirishima city boasts two more called Myoken/Anraku and Hinatayama. Both are near Amori-Gawa river with various options available such as open air, public baths, and family baths. After relaxing in an onsen, traditional inns serve delicacies such as Kagoshima kurobuta, a fatty pork highly regarded throughout Japan for its tender texture and delicious taste. The dish is popularly enjoyed as shabu-shabu (hot pot) and pairing it with the Kirishima delicacy known as Fukuyama Kurozu Black Vinegar is a delicious way of enjoying the two.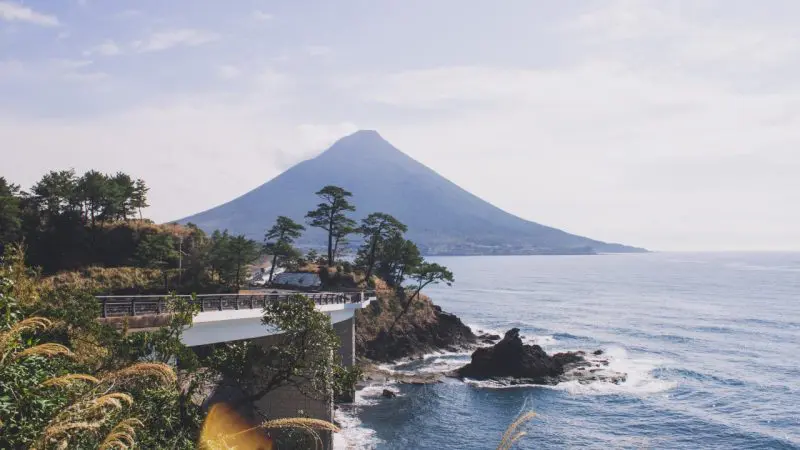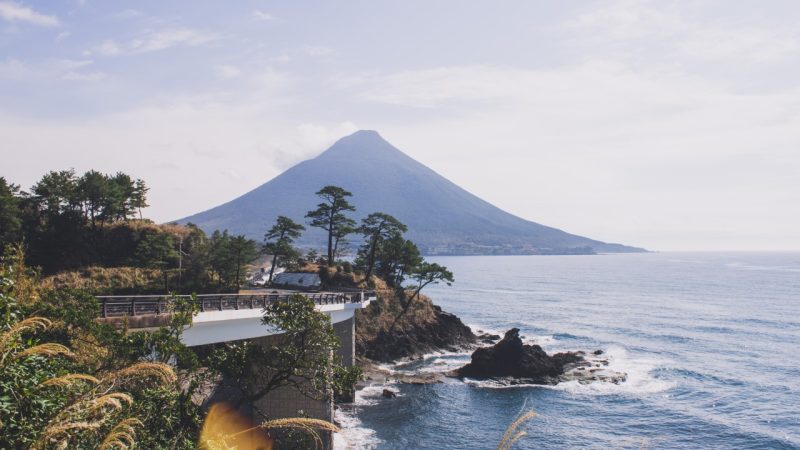 Kagoshima is a prefecture with a natural landscape as varied as it is breath taking. Hikes on picturesque mountains trails are as common as diving spots in clear water oceans, providing visitors with a never-ending list of attractions. Cities like Kagoshima and Kirishima make it easy to access and from there, travelling around the prefecture is simple. For those wishing to spend a summer away from the touristy bustle of Tokyo, Kyoto, or Osaka, Kagoshima is the perfect spot.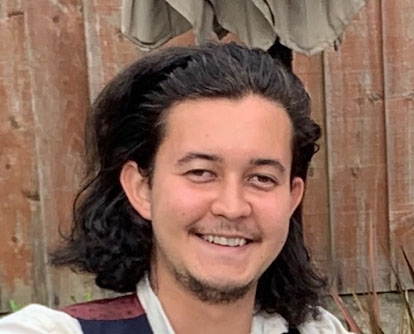 My name is Liam Langan. I'm English Japanese and currently living in Tokyo. Being from Liverpool and Tokyo, my favorite band is The Beatles. In my spare time I like to read, write, and cook.