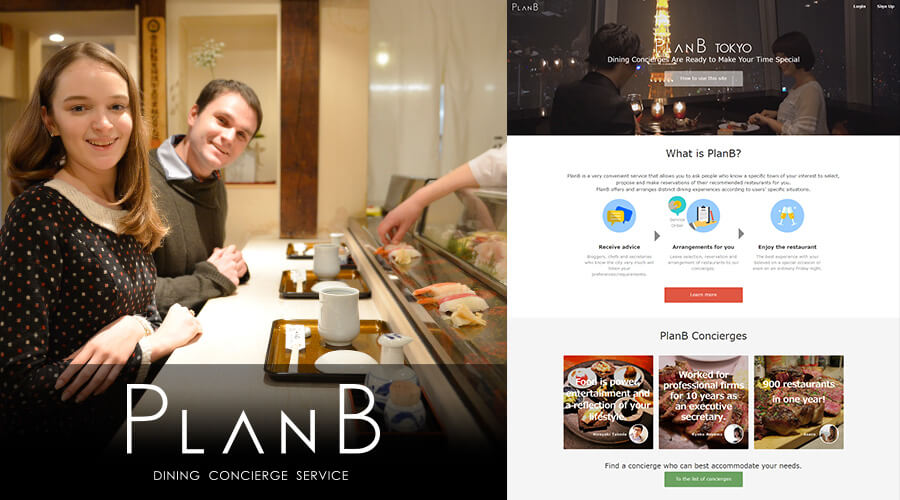 PlanB is a new website which offers a dining concierge service for those who are looking to get the best dining experience. A PlanB concierge will listen to your specific needs, propose dining options and make the reservation for you!
WAttention signed up as a PlanB concierge recently. With many years of publishing travel magazines, we have in-depth knowledge and information only locals know. We are here to help you get the best and truly authentic experience in Japan!
How PlanB works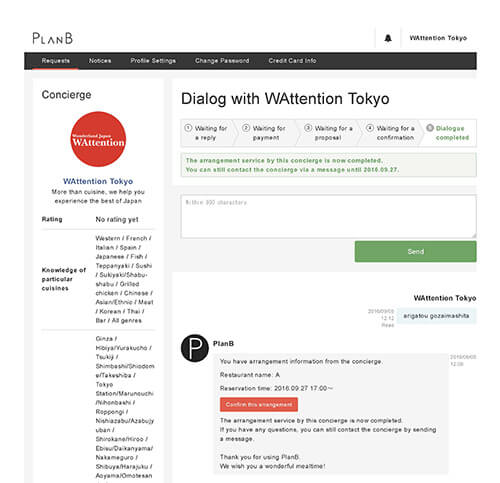 Everything is done in an easy-to-use PlanB messaging system.On their website, you can see a list of helpful and knowledgeable concierges. The concierges all have different experiences and specialties. You can also see their reviews from other users. After registering with the service, you can select the one you like and tell them your preferences and requirements.
Step-by-step: As easy as 1-2-3!

Customer A
My husband and I are planning on climbing Mt. Takao this coming October for our wedding anniversary. We want to end the day with some nice authentic Japanese food with exquisite service near there. Any recommendations?
Congratulations on your anniversary! We will select restaurants that are perfect for this occasion. Here are our selections! What do you think?

Concierge (WAttention)
---
Restaurant A
Located at the foot of Mt. Takao, Restaurant A specializes in char-grilled chicken. You will be seated in a traditional Tatami room with a picturesque view of a Japanese garden.
Link: http://www.restaurant-a.com/
Restaurant B
This restaurant serves a traditional Japanese course menu, using only fresh ingredients that are in season. They also offer a selection of premium local sake, which complement the meal.
Link: http://www.restaurant-b.com/details
Restaurant C
Surrounded by the bamboo garden, this secluded restaurant offers a quiet and serene atmosphere as well as exquisite Japanese kaiseki meals.
http://www.restaurant-c.com/en/#
---

Customer A
Wow, thanks! All of them seem so nice!
We absolutely love the Japanese garden of Restaurant A. Can you book a table for us on Oct. 25th at 7pm? Absolutely. We just made a reservation for you on Oct. 25th at 7pm!

Concierge (WAttention)

Customer A
A few days later…

Customer A

"We had a wonderful evening! The food was excellent and the service was superb. We would recommend this restaurant to anybody. Thanks WAttention for making our anniversary memorable."
---
It's that simple! With PlanB, you can easily get top-notch recommendations and reservations from local dining experts in Japan. That's why, if you ever need failproof dining plans, PlanB dining concierge services are truly worth a try.
Click here to check out PlanB's website