Think about night views in Tokyo and what first comes to mind is the city center's impressive skyline of towering skyscrapers. However, this time around, let's have a look at Tama, one of Tokyo's more suburban areas. The night view here might not be as spectacular as in Shibuya or Shinjuku, but it is a charming one nonetheless.
This picture was taken from Yuhi no oka, or Sunset Hill, located within Sakuragaoka Park of Tama City.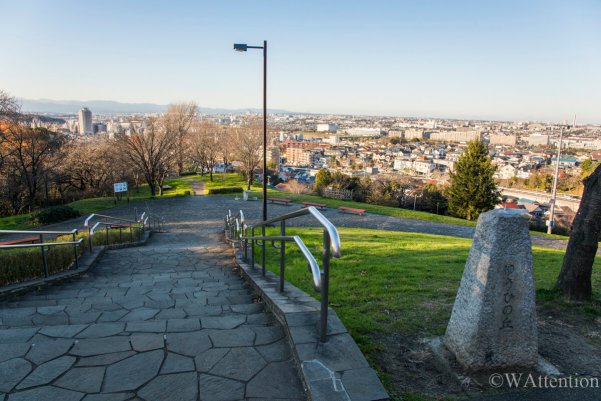 The clear, open sky from this hill, gives you a free, relaxed feeling. It might be called Sunset Hill, but I find the view at daytime just as wonderful.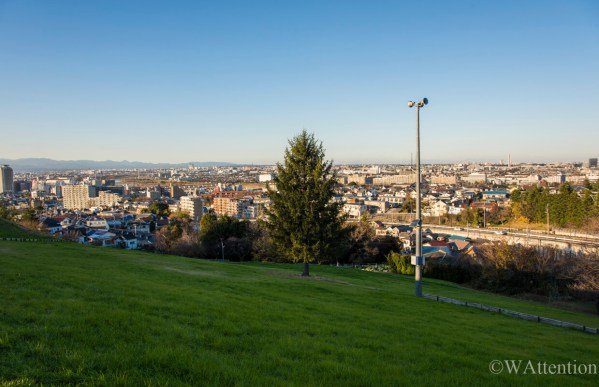 Despite the hill's name, you cannot see the actual sunset from here, but the view on Tama City's residential areas lightening up at dusk is well worth your visit.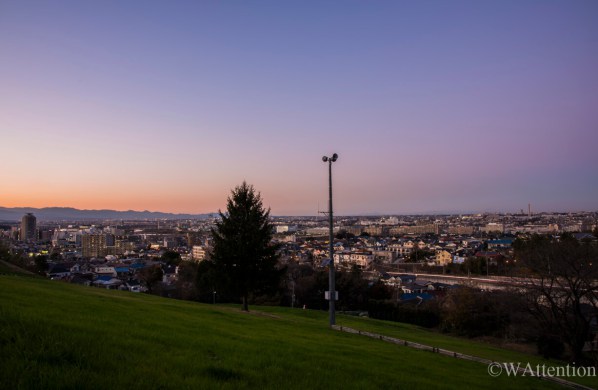 To view the sunset from Sakuragaoka Park, Asobi no hiroba, or children playground, is the best location. It is nearby on a 2, 3-min walk from Sunset Hill.
On a winter day with a clear sky, you can get a peek at Mt. Fuji lurking behind the other mountains from here.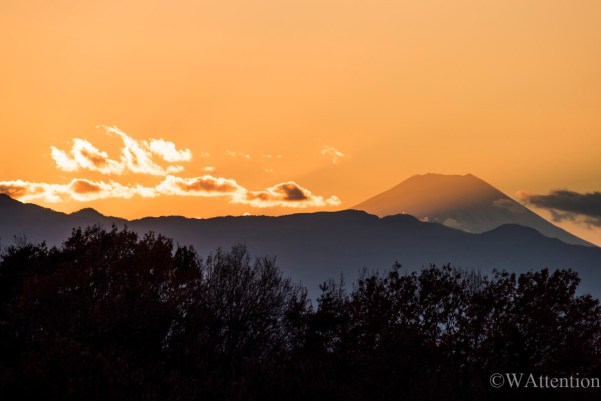 With a lack of city lights, it can be hard to see Mt. Fuji at night, but if you look at the right time at dusk, you will be able to enjoy a very alluring sight.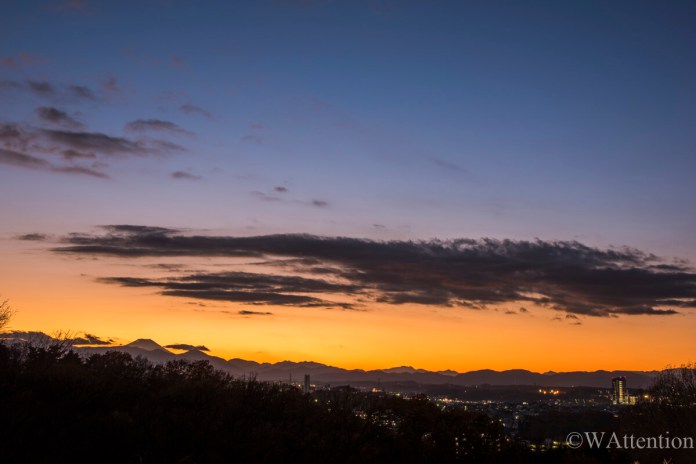 This is a panorama shot of the view on Tama City at dusk taken from Sunset Hill. You can see a lot of different Tokyo's suburban areas from here.
At the foot of the hill is Kawasaki Boulevard, with Tama River streaming behind it.
The high buildings on the left are located around Seiseki Sakuragaoka Station of the Keio Line. After crossing the bridge on the middle of the picture you can reach Nakagawara Station, also from the Keio Line. The tower on the far right of the picture is Skytower West Tokyo (informally known as Tanashi Tower) of Nishitokyo City.
I zoomed-in on Tama River. You can see how the river's bridges are lit-up during the evening.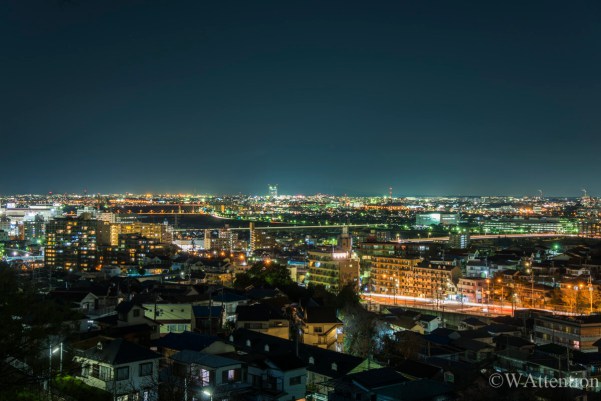 This picture was taken from the foot of Sunset Hill looking upwards.
As there are no lanterns here at night, it can get quite dark, so be careful when ascending or descending.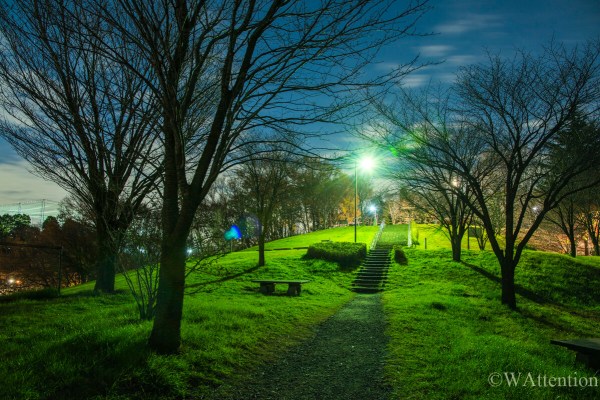 The contrast between city lights and Sunset Hill's green somehow warms the heart.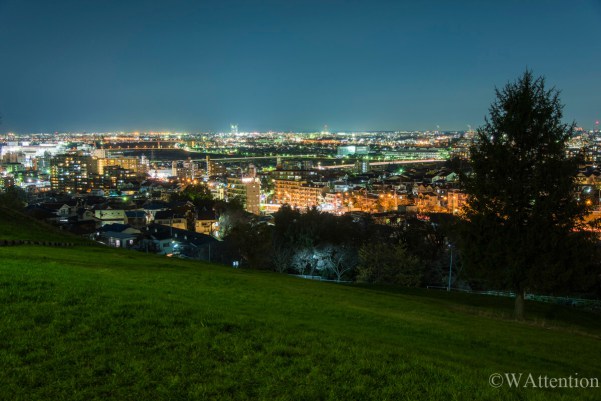 Sunset Hill is divided into three parts, each part getting higher. I recommend you have a look at the view from each part of the hill as it gradually changes. For this blog, I started with pictures taken from the lowest part of the hill, and ended with pictures from the highest point. There are benches on each part of the hill, so you can enjoy the view at ease.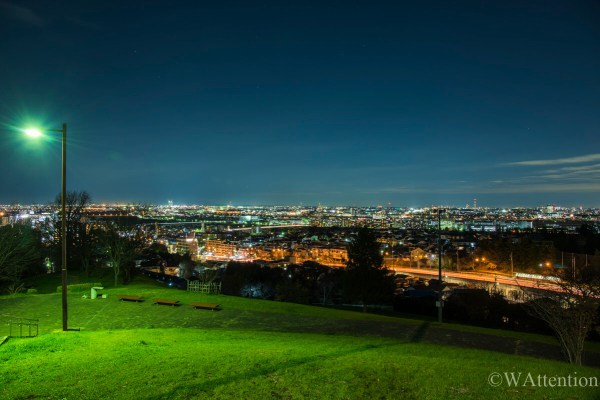 As this is a popular park, it can get crowded. If possible, visiting during a weekday is recommended.
I focused this blog on Sunset Hill, but Sakuragaoka Park itself is a great park full of beautiful nature. If you have the chance, combine your visit to Sunset Hill with a stroll through some bits of the park. As the name (Sakuragaoka literally means cherry blossom hill) hints, the park's myriads of blossoming sakura trees during spring are truly mesmerizing.
Sakuragaoka Park
Location: Renkoji 5,Tama,Tokyo
Entrance Fee: Free
Open: Every Day
Access: From Seiseki Sakuragaoka Station (Keio Line), take the Keio Bus headed for Hijirigaoka Danchi and get off at Kinenkan-mae
URL: http://www.tokyo-park.or.jp/park/format/index065.html