A てるてる坊主 (teru teru bōzu) is a small doll used to pray for good weather.  Teru (てる) means "shine" as in sunshine, while bōzu (坊主) refers to a Buddhist priest. It is believed that when you hang these dolls facing outside you will get good weather the next day. Teru teru bōzu became popular in the Edo era (1603-1868) and are used by children the day before important events or festivities.
There is a custom that if it doesn't rain the next day after hanging the teru teru bōzu its head is washed with sacred sake and the doll is sent into a river to be washed away. Rivers are believed to connect to the afterlife, so sending the teru teru bōzu down the river is similar to candles and lanterns floating down the rivers during Obon. This way the doll is guided back home and the spirit is laid to rest.
Let's make a teru teru bōzu together so you can avoid rain on that important day. You will need: tissue, pens and glue or tape.
After making the doll, you can sing the teru teru bōzu song to add more power to your prayer.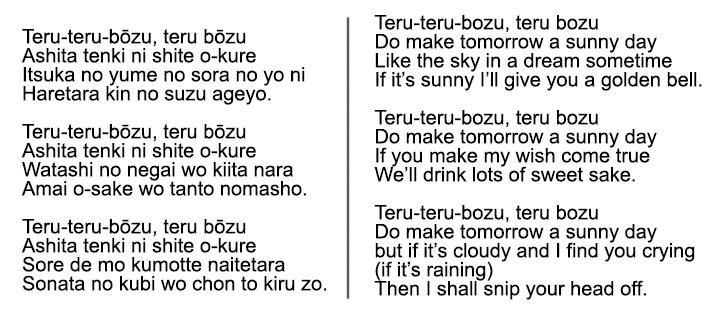 Ninja ID: KansaiKitsune
---
WATTENTION NINJA WRITER PROFILE

Ilse Montald
From popular culture to traditional culture, I've immersed myself in both. I love writing about tradition, history and sharing fun discoveries. If I'm not outside watching a festival parade I'm leisurely reading manga in kimono.MORE ARTICLES BY THIS WRITER | ABOUT WATTENTION NINJA