Takachiho Gorge: Like magic to your eyes
Located on the north edge of Miyazaki prefecture on Kyushu Island, the Takachiho Gorge is without a doubt, one of Japan's most impressive natural landscapes. With dramatic cliffs, verdant forests, and an emerald green river, the area is certainly worth a visit. To top it off, the stunning Manai waterfall strikes you like sunlight bursting through the morning clouds. Truly, this gorge along the Gokase river is magic to your eyes. Paddle your way around with the rental boats and feel the power of Manai waterfall from up close.
You can also chose to hike the path along the Takachiho Gorge that lets you look at this breathtaking landscape from above. After passing the gorge, the path leads you to the picturesque Takachiho Shrine that boasts a history of 1,800 years. Be sure to wear the right shoes, as there are quite a lot of stairs to climb along the way.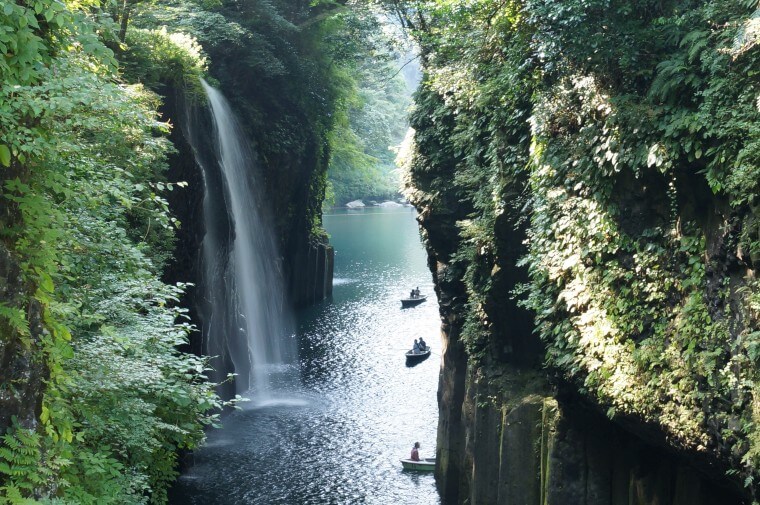 If you visit during the summer, enjoy a refreshing meal of ice-cold somen noodles at the tea houses located nearby. These thin wheat flour noodles will come floating your way on a long bamboo flume. Can you catch them with your chopsticks before they flow on to the next customer? The gorge is also lit up with illuminations until 10PM during the summer months.
Trust me, the Takachiho Gorge won't disappoint. In addition, there are many other sites to visit nearby as well, including the mysterious Amanoyasugawara cavern, where according to legends the sun goddess Amaterasu used to retreat.
To sum it up, if you are making a trip to Kyushu Island, the Takachiho Gorge has to be on your list!
Next in this series: Picturesque Japan: The Kujuku Islands
Spot information
Name: Takachiho Gorge
Address: Mitai, Nishiusuki-gun, Takachiho-cho, Miyazaki Prefecture
Access: Takachiho can be reached by bus from Kumamoto or Nobeoka. The gorge is located within walking distance from the Takachiho Bus Center.
Boat rental fare: ¥2000 for 30 minutes (Can fit up to 3 people)
Boat rental hours: 8:30 ~ 16:30
Official Information: http://takachiho-kanko.info/en/