Yokocho in Japanese literally means "side alley" and usually refers to a small, winding smoky lane that leads you into another realm of Tokyo where grit rules over grids.
While popular as tourist spots today, these clusters sprung up randomly in the ashes of post-War Japan as black markets or unlicensed bars and businesses. Its role, however, remains the same—as a place to either lose, find or just be yourself off the mainstream hustle and bustle of life.
The Way of the Yokocho 
Entering a drinking hole along the yokocho for the first time can be daunting, especially if you don't speak Japanese. Fortunately, some shops in the bigger yokochos have English and Chinese menus. Otherwise, following these simple rules will help make your experience enjoyable.
Always order a drink or more to go with your food
Don't invade the counter space of the person next to you
Don't linger after finishing your food—bar hop to the next stop!
Do bring enough cash to pay, credit cards are often not accepted
YAMANOTE YOKOCHOS 
Check out these famous yokochos along the Yamanote Line, all within close walking distance from the station. Discover the different character, flavors and scents of each alleyway.
1) Ebisu Yokocho

This yokocho is unique for being indoors and hence, sanitized. Opened in 2008 after renovating an old apartment block, it maintains the alleyway feel of being cramped, or cozy, with a good mix of 21 food stalls. The crowd here has a higher proportion of expatriates, and is perhaps reflected in the choice of stalls which includes a couple of wine bars – one even selling Iberico ham!
Access: 2-min. walk from JR Ebisu Station East Exit, or the Hibiya Line Ebisu Exit
2) Ameyayokocho (Ameyoko)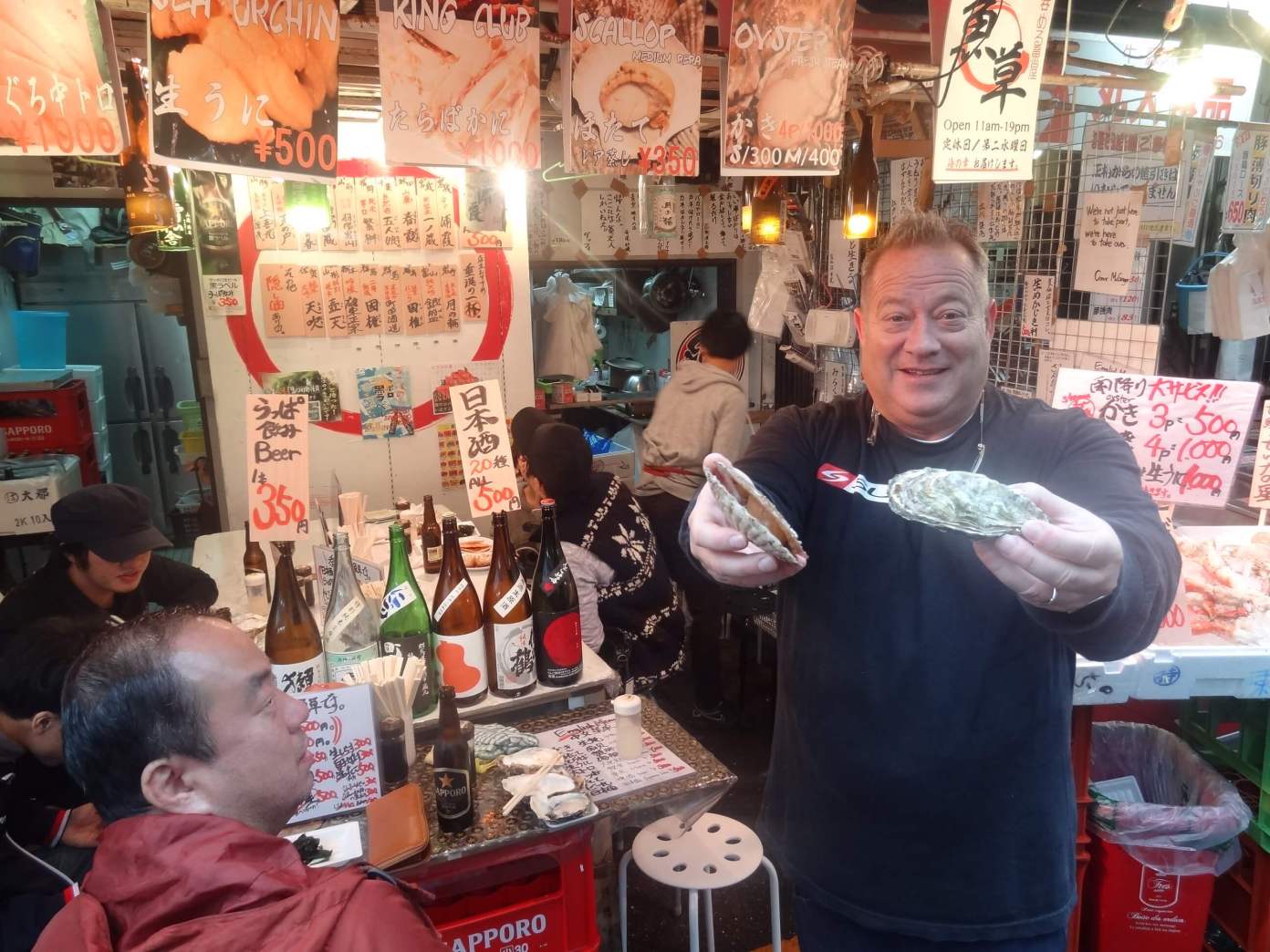 Ameyoko is thought to have its roots as a black market after World War II, where "ame" – standing either for candy or American goods – was sold here when such goods were scarce. Today, this 500m long street is packed chock-a-block with shops selling everything from snow crabs to candy and snacks, bags, clothes, shoes and exotic foreign foods. The alleyways off this alleyway house a maze of izakayas which start from as early as 10am.
Access: 1-min walk from JR Ueno Station Chuo Exit
3) Shimbashi Gado-shita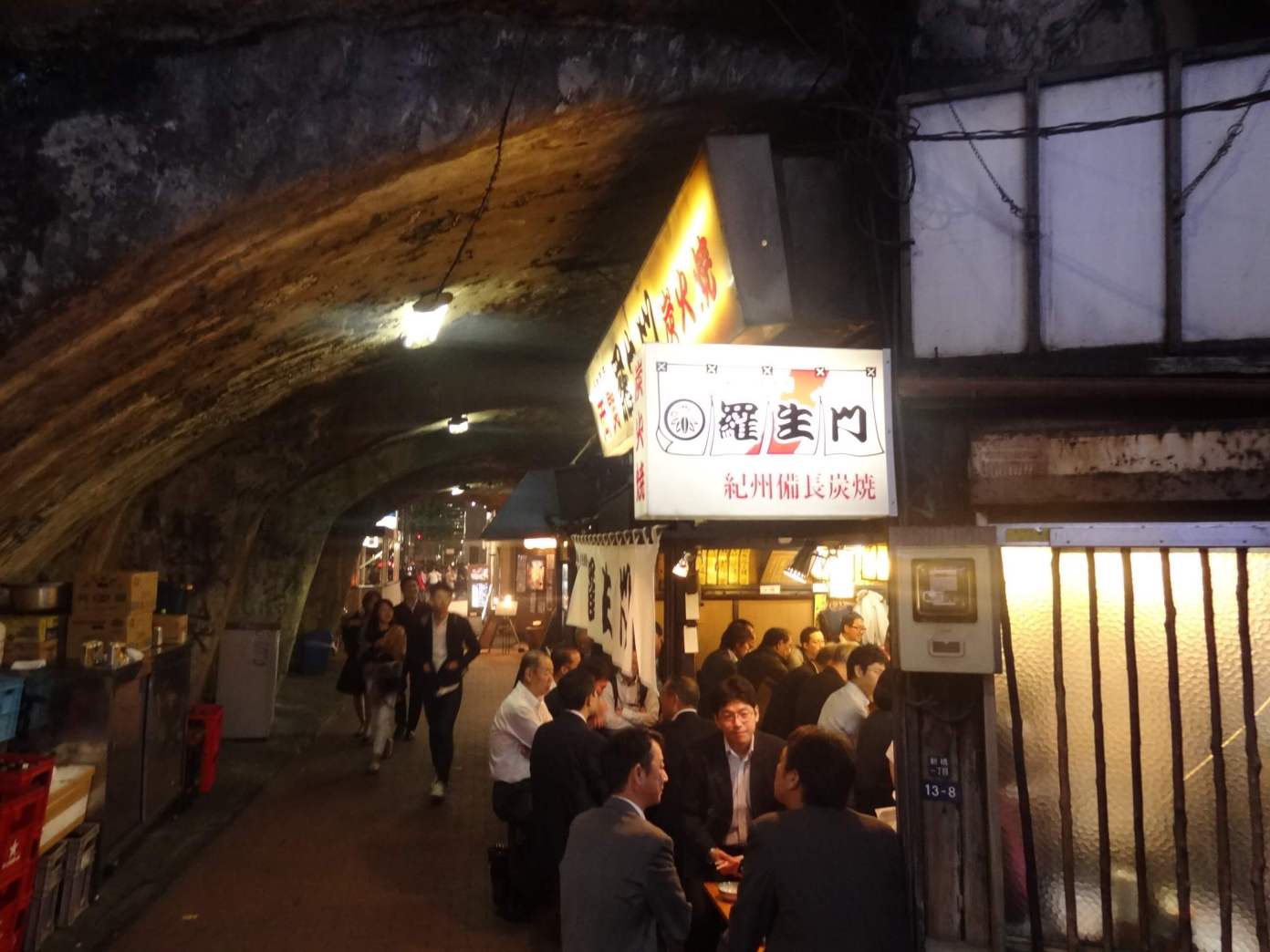 Located near the central business district, this stretch of watering holes under the train tracks is the big brother of drinking alleys and known as the "salaryman's heaven" where tired men in dark suits go to knock back a swig or two over a couple of skewers on the way back from work, or to unwind on a Friday night with colleagues.
Access: 2-min. walk from Karasumori Exit of JR Shimbashi Station
4) Omoide Yokocho 
Take a walk down "Memory Lane" (Omoide Yokocho) which lies in the shadows of Shinjuku's skyscrapers. Numerous izakayas and bars line this winding back alley where stalls selling grilled cow and pig innards (motsuyaki) emerged in the post-war days when flour was scarce. Today, about one-third of the nearly 60 shops here still dish out this soul food. Salarymen can also be spotted queuing up for their favorite soba shop or yakitori joint. Pull up a bar stool, grab some skewers, and soak in the retro atmosphere here while creating some new memories of your own!
Access: 1-min. walk from JR Shinjuku Station East Exit.
URL: http://www.shinjuku-omoide.com/english/index.html
5) Nonbei Yokocho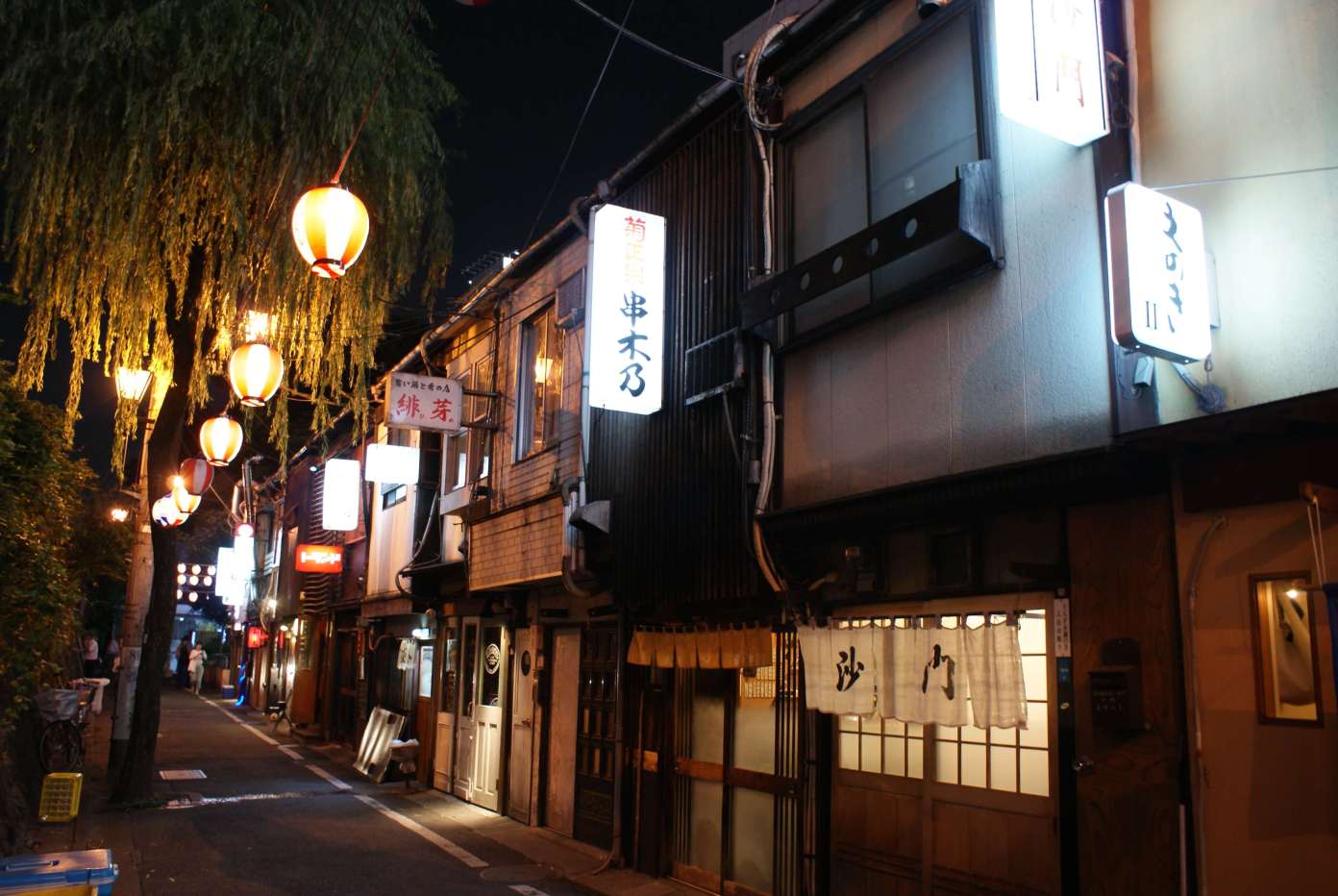 Tucked away from the Shibuya crossing crowd and fancy fashion malls is Nonbei Yokocho (literally, "Drunkard's Alley") that still offers a glimpse of 1950s Shibuya, when shops were low-rise and had wooden structures. Take a reminiscent stroll through this 36-eatery-lined alleyway and you'll understand why some tourists might mistake this for time-travel theme park.
Access: 4-min. walk from JR Shibuya Station Hachiko Exit.
URL: http://nonbei.tokyo