Japan Tour Guide (JTG) is an online portal that aims to match volunteer Japanese guides with visitors coming to Japan. Read about their tours put together for tourists by these friendly local guides in this regular column!
We received a request from Monica from Taiwan (pictured center below), who wanted to visit Asakusa and Shinjuku. The guides were Tomonari Watanabe, a university student, and LingLing, a student from China studying abroad in Japan.
ASAKUSA
We met with Monica at the iconic Kaminarimon Gate at Sensoji Temple in Asakusa in the afternoon.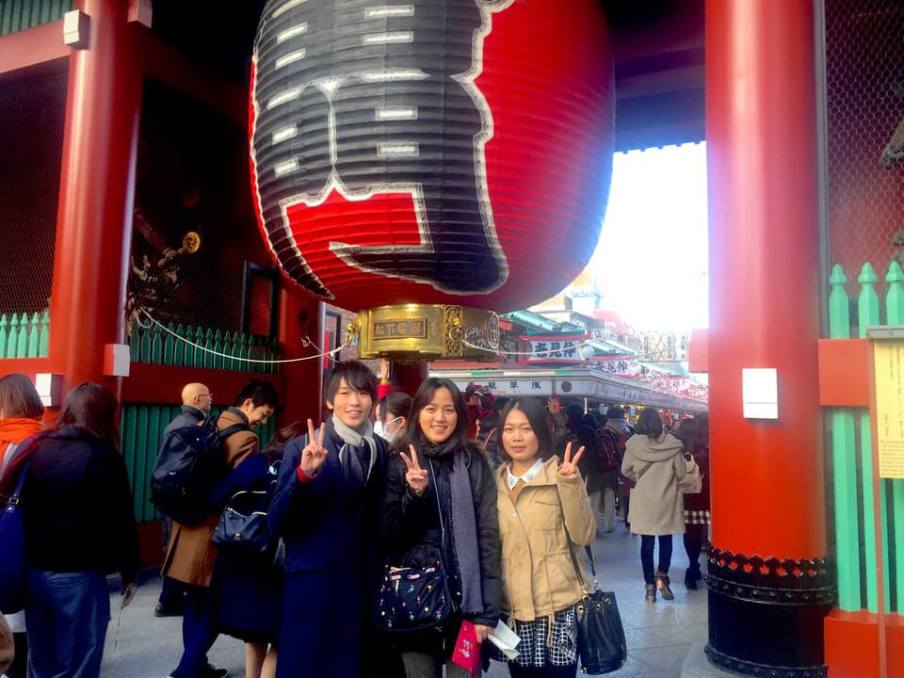 After introductions, we explored Asakusa Nakamise-dori. This is the main shopping street at the temple, filled with shops where you can buy souvenirs and snacks.
We ate ningyoyaki (small griddled cakes filled with bean paste), one of the most famous food items in Asakusa, and monaka ice cream (ice cream sandwiched between crisp wafers).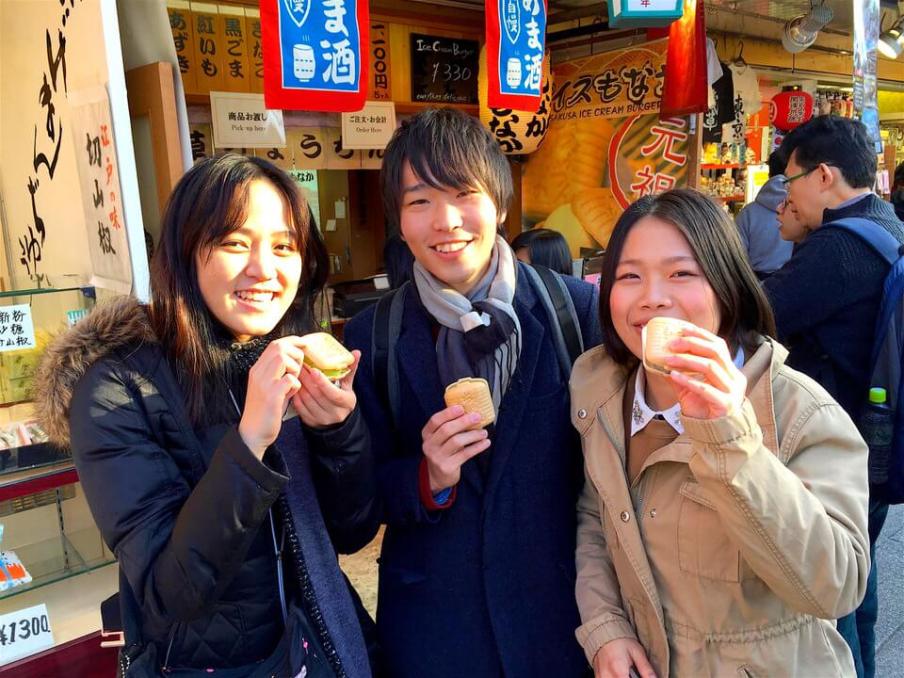 Next, we tried omikuji. These are sacred lots that tell one's fortune. Here's how they work: first, put 100 yen in the money box. Second, shake the container with many numbered sticks until one comes out of the little slot. Lastly, find the box with the same number and take out the paper sheet. This little slip of paper predicts your fortune!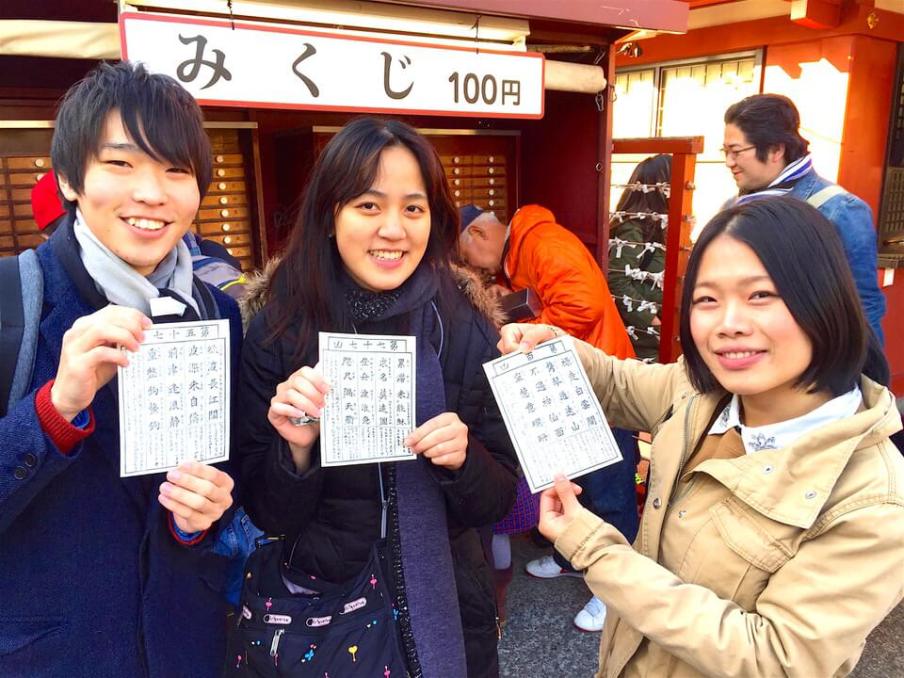 We then needed to cleanse ourselves before entering the temple. We went to Sensoji and put 5 yen into the osaisen (offertory) and prayed. It is believed that 5 yen will bring good luck to your love life!
KAPPA-BASHI
From Asakusa we headed to Kappa-bashi by foot. Here, there are lots of shops with kitchen goods and food samples. Monica showed great interest in food samples, as she also makes them back home, but out of clay instead of wax.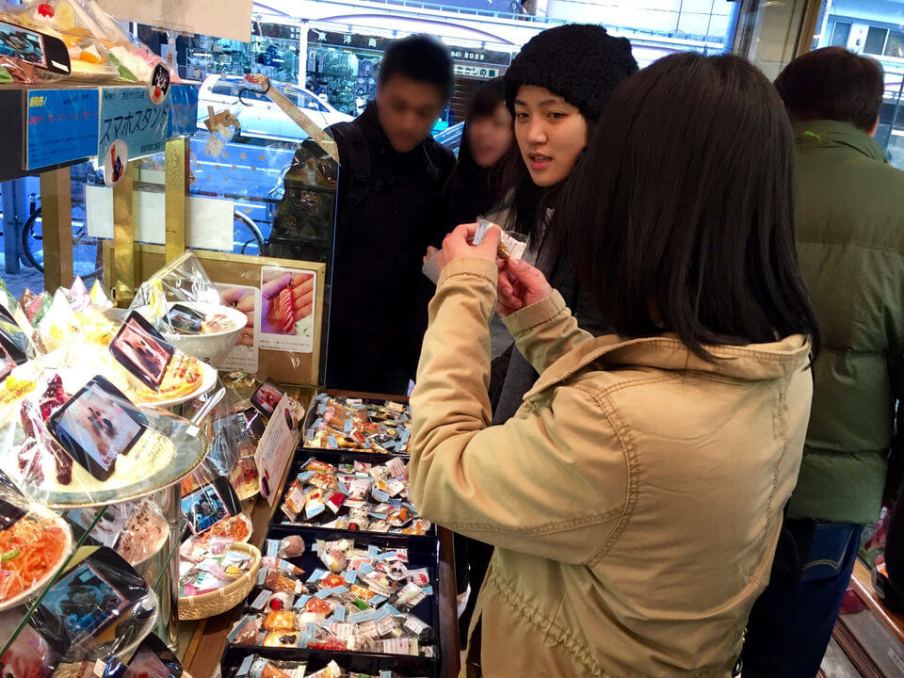 UENO
Afterwards we explored Ameyoko (Ameyayokocho), a busy street market area which is wellーknown for having very reasonable prices. Various products such as fresh fish, dried foods, bags, cosmetics, imported goods and more are sold along both sides of the street. Since the New Year was just around the corner, it was crowded with people seeking ingredients for osechi-ryori (special dishes only eaten for New Year's). Monica told us that Ameyoko is similar to Taiwan's night markets.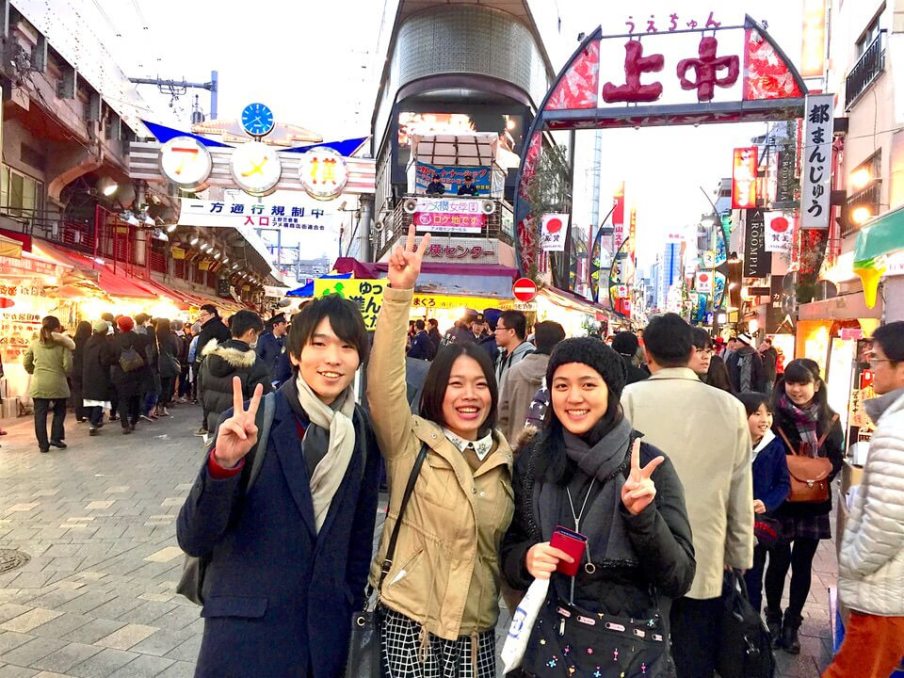 SHINJUKU
At the end of the day, we went to the Izakaya "Kyomachi Koishigure" in Shinjuku. Once we stepped inside, it was like being transported to Kyoto. We enjoyed delicious Japanese food and sake while enjoying the atmosphere and vibe of Kyoto.
This is just a small look into one of the many adventures you can have with Japan Tour Guide.
We are looking forward to guiding you around the city and showing you the ins and outs of Japan!