Just as the seasons inspire traditional Japanese confectionery, the Western-style shops are inspired as well. Especially during Christmas season!
Snowglobe Dessert (1,200 yen)
Working Holiday Connection is collaborating with a café in Harajuku to raise money for people who want to make a change abroad. Only available from Dec. 16th, 2016 – Dec. 25th, 2016. Be quick to grab these adorable snowglobes as the café only has 60 seats. The main components are pistacchio and raspberry mousse, champagne jelly and cake pieces. Truly a Christmas delight!
Information
Working Holiday Connection
Harajuku Omotesando YM square shop
Shibuya-ku, Tokyo Jingumae 4-chome 31-10 YM square Harajuku 2F
4-31-10, Jinguumae, Shibuya-ku, Tokyo
Hours: 11am – 11pm every day
TEL: 03-6434-0359
URL: http://wh-c.jp/
2016 Kid's Dream Cake (5,400 yen)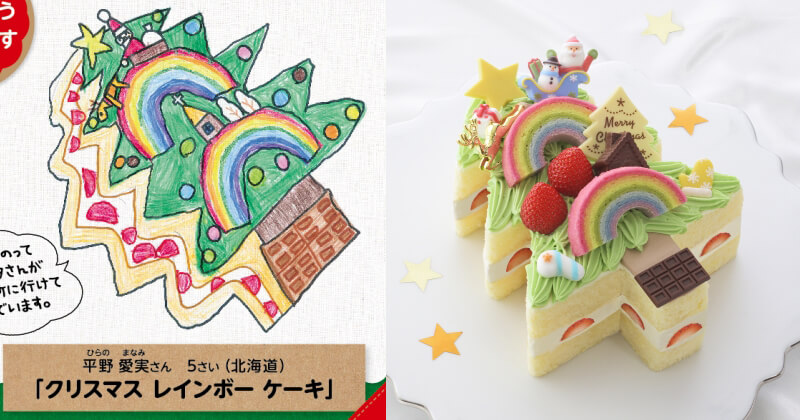 Well-known bakery chain "Ginza Cozy Corner" launched a competition to design your Christmas Dream Cake, and this is the grand prize winner! Chosen from 17,663 participants, 5-year old Manami Hirano's design won the honor of being realised in cake form. Her "Christmas Rainbow Cake" can only be pre-ordered and there is a limited quantity of 200 cakes. Each cake serves about 6-7 portions.
Information
Ginza Cozy Corner
Shop list (600 shops all over Japan): http://bit.ly/2ddBZBP
Order deadline: until Dec. 18th, 2016
Delivery/Pick-up date: Dec. 23-24-25, 2016
Christmas Doughnuts (190 yen ~)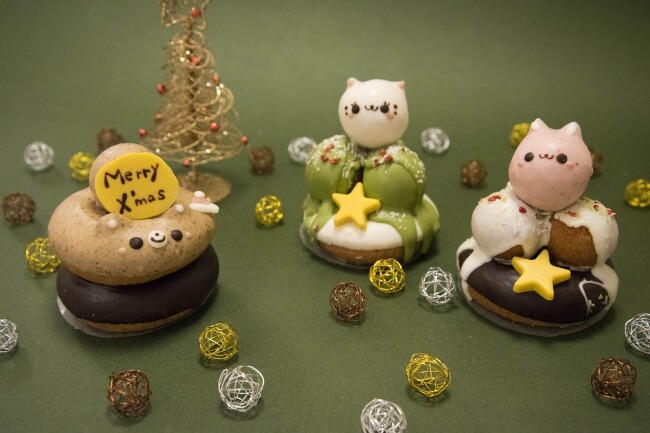 If you're not into the classic Christmas Cake, here are some Christmas doughnuts! Floresta is known for its animal doughnuts that now received a Christmas twist. Besides the cute designs, there are also walnut and rum doughnuts for a limited time during Christmas. Your friends will be surprised when you bring this tasty alternative to a Christmas party. Floresta uses all-natural ingredients from Hokkaido such as flour and soymilk.
Information
Shop list: http://bit.ly/2h0T3MT (Japanese only)
Limited until Dec. 25th, 2016
Christmas Tree Pancake Parfait (1,790 yen)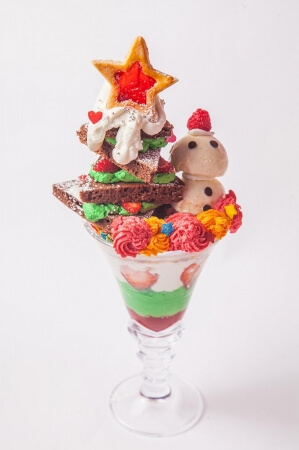 Since its opening last year the Kawaii Monster Cafe in Harajuku has been charming diners with colorful dishes and crazy concoctions. Ingredients of this parfait are green tea mousse, cheese mousee and vanilla ice cream. This Christmas tree and snowman are made from cake and more ice cream.
Information
Kawaii Monster Cafe Harajuku
Shibuya Jingumae 4-31-10 YM square 4F
Hours: Mon-Sat 11:30am – 4:30pm (lunch) 6pm – 10:30pm (dinner) / Sunday 11am – 8:30pm
Url: http://kawaiimonster.jp/pc/
Christmas Trifle (800 yen)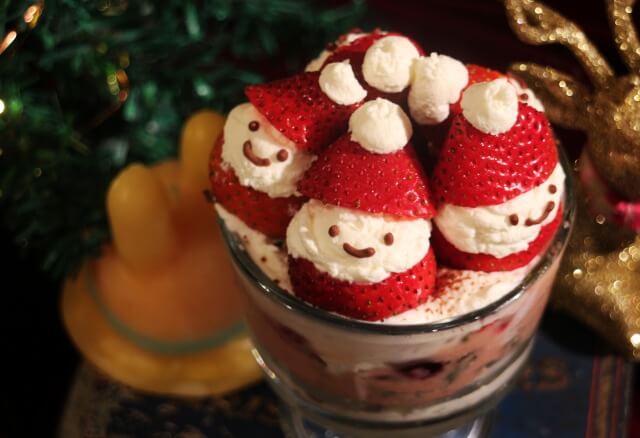 Cute little strawberry Santas on top of fruit-filled layers. No sugary whipped cream is used so you can savor all the natural flavors.
Information
Nicolas House Harajuku
Limited time menu until Dec. 30th, 2016
address: Shibuya-ku Jingumae 4-26-5 1.2F
Hours: Weekdays 11am – 8pm (last order at 7pm) , Weekends 10am – 8pm (last order at 7pm)
URL: http://www.nicolasusagi.com/
---
WATTENTION NINJA WRITER PROFILE

Ilse Montald
From popular culture to traditional culture, I've immersed myself in both. I love writing about tradition, history and sharing fun discoveries. If I'm not outside watching a festival parade I'm leisurely reading manga in kimono.MORE ARTICLES BY THIS WRITER | ABOUT WATTENTION NINJA