Detective Conan celebrates his 20th anniversary as an Anime in 2016!
For those who aren't familiar with the story, Detective Conan follows the story of a talented and renowned high school detective named Shinichi Kudo. He got in the way of a criminal syndicate, known only as the "Black Organization" who attack him and force him to swallow a drug called "APTX4869", that transforms him back into a child. He assumes a fake name: Conan Edogawa and while keeping his true identity hidden, he continues to solve cases.
To celebrate the new movie, Detective Conan: The Pure Black Nightmare (released on April 16th), Detective Conan Cafés were opened in various locations throughout Japan (Nagoya・Hiroshima・Tokyo・Yamagata (until May 8th) , Osaka (until June 19th)).
WAttention staff visited the one in Shibuya, Tokyo.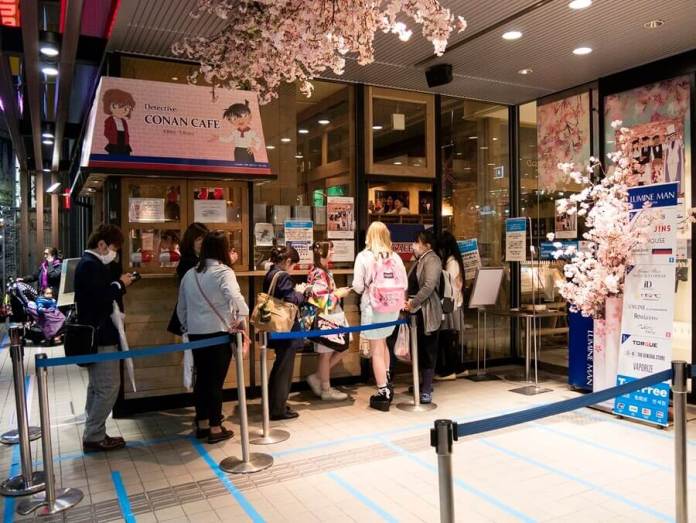 You should plan some extra time for lining up, especially during lunch and dinner time because it might be crowded.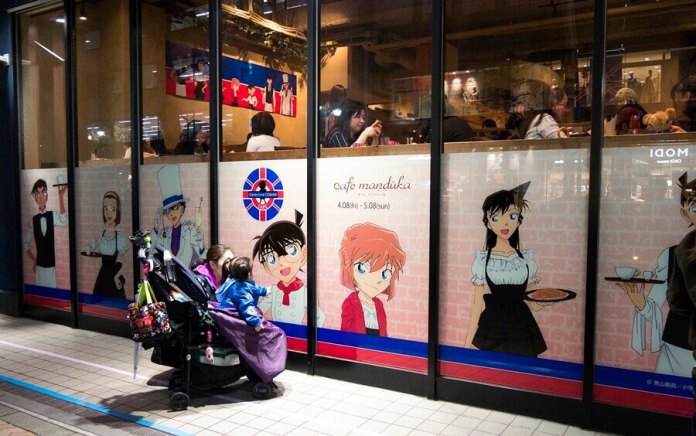 The front of the Café is features the main characters of the Anime.
At the takeout stand you can buy éclairs wrapped and shaped in the image of the "APTX4869", the drug which transformed Shinichi into a younger version of himself.
After entering the Café you can take a commemoration picture at the photo spot with Conan and his rival Kaito Kid.
The windows at the back of the Café have "Mori Detective Agency" 毛利探偵事務所 (Mori Tantei Jimusho) written on them, just like in the Anime.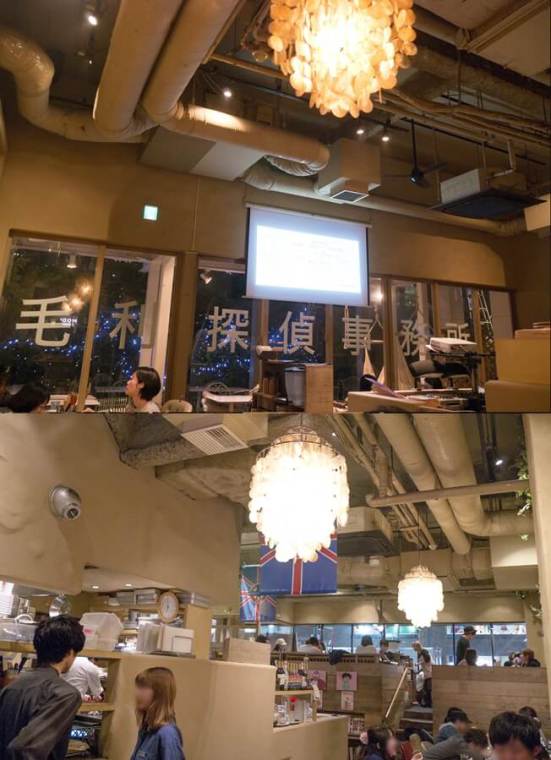 The whole theme of the Café is inspired by London, the home town of Sherlock Holmes, another famous detective character created by author Sir Arthur Conan Doyle. Detective Conan chose the same name as the author of the detective whom he admires so much.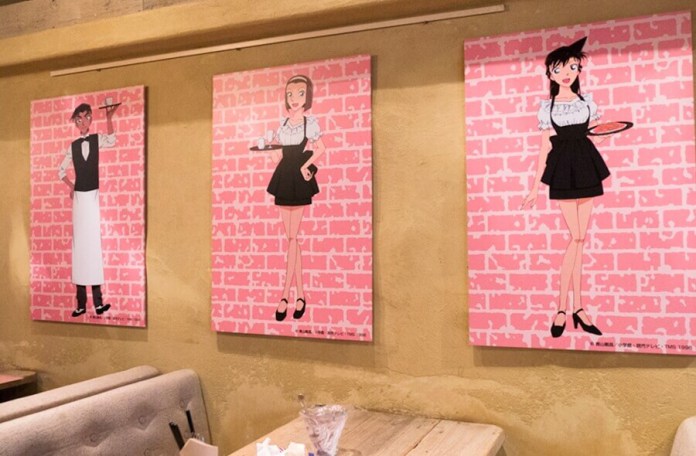 The walls are covered with pictures of the characters.
The time limit for staying at the Café is about one hour.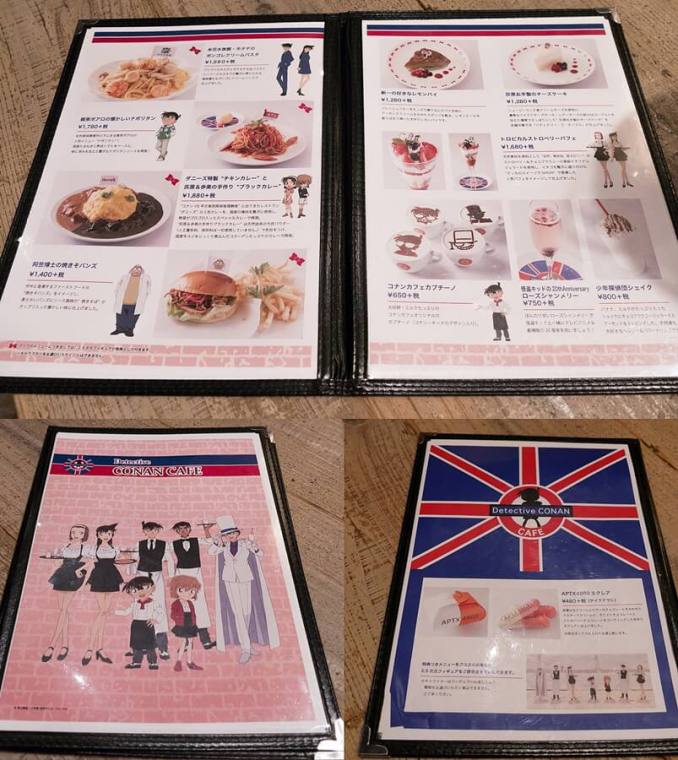 The menu is divided into savory dishes, sweet desserts and drinks. Every dish is connected to the Anime.
We decided to order "Danny's Special Chicken Curry" together with "Haibara & Ayumi´s homemade Black Curry".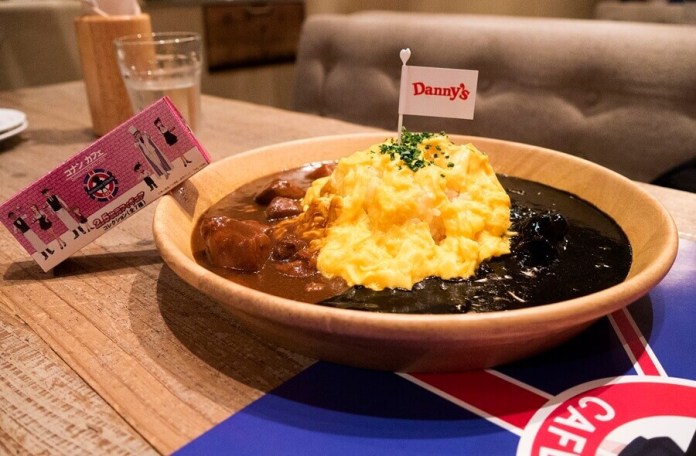 Every savory dish comes with a 2.5 dimensional figure which you can collect and also purchase in the merchandise store in front of the Café.
For dessert, we ordered the "Tropical Strawberry Parfait"….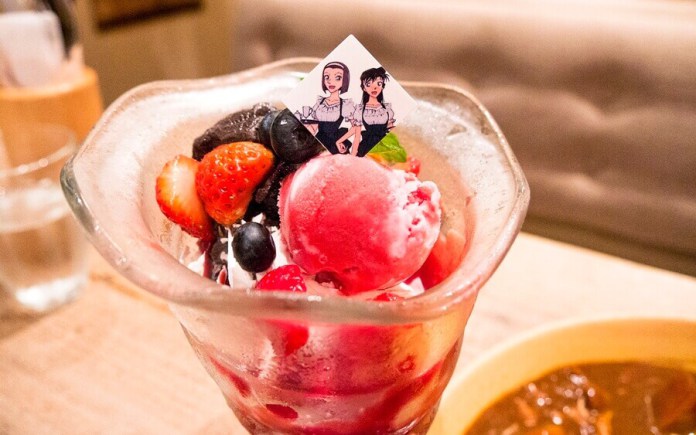 …and the "Conan Caffè Cappuccino", which is designed with either Conan´s or Kaito Kid´s silhouette.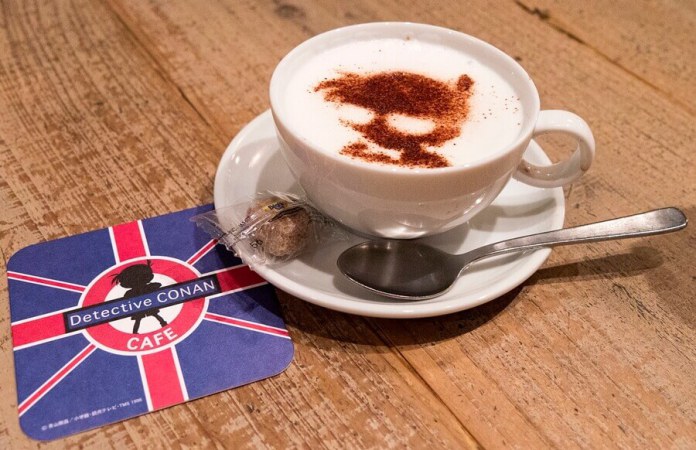 As a present you will receive a specially designed coaster.
After eating, you can buy limited merchandise at the official "Conan Café Shop".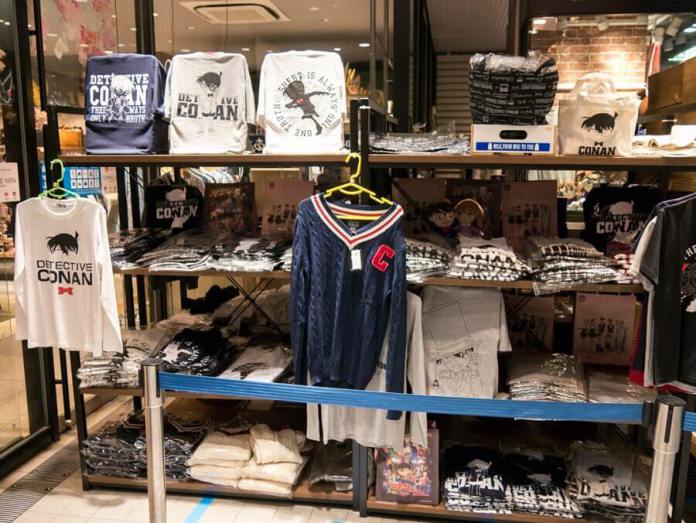 There is a variety of goods that you can choose from. Your purchase will be then put into a limited paper bag with the new movie's commercial image and the logo of the Café.
Café details:
Café Manduka (Detective Conan Café + Detective Conan Official Shop)
Lumine Man Shibuya 1st floor
Jinnan 1-22-11, Shibuya-ku
Tokyo 150-0041
Opening period: April 8th ~ May 8th
Opening hours: Café 11:00 ~ 24:00 (last order 22:30)
Shop 11:00 ~ 21:00
Access: 2min walk from JR Shibuya Station – Hachiko Exit.
Website: http://www.conancafe.jp/en/
---
WATTENTION WRITER PROFILE