"To an onsen!"
This was what most WAttention readers said when asked where they'd like to go when they visit Japan. Onsen are natural hot springs found all over Japan. Because there are more than 2,400 formally registered hot springs all over Japan, plenty Japanese onsen are easy to access.
The number will double if you include private onsens or those that are currently being drilled. So you'll have plenty of choices when it comes to which onsen to visit. You can go to practically any part of Japan to enjoy an onsen. But, with so many options, what are the different kinds of onsen in Japan?
What is an onsen or a hot spring?
Onsen technically means either a place or phenomenon where water springs from the ground. According to "the hot spring law", onsen water must have temperatures of above 25℃ in Japan, Korea, Taiwan and South Africa. The temptation is lowered to 20℃ in European countries like Italy and France. Finally, the threshold is above 21 ℃ in USA. The onsen water must also have at least more than one of 18 compounds to qualify as a hot spring. Onsen minerals and compounds include manganese, ion and radium salt. Often in Japan, the springs have much higher levels of such compounds than required.
Each onsen location offers different water types and qualities – such as carbonate springs, sulfur springs or intense salt springs. However, a common characteristic among them is the rich content of minerals in the water. These onsen minerals are known to be beneficial for health. Natural Japanese hot springs can give you smoother skin, ease stiff shoulders or even aid in weight loss. The medicinal value of these hot springs have been recognised since ancient times. In fact, they have been known to alleviate symptoms like nerve-related pains, excessive sensitivity to cold, diabetes, ringworm and so on. Traditionally in Japan, many who hope to cure chronic diseases often immerse themselves in therapeutic baths called "tooji", and stay for longer periods at such spas.
Roten-buro: Charming open-air hot springs
Can you imagine dipping yourself in an open-air hot spring bath – with the wind rustling past and sunlight bathing you – as you soak in the surrounding scenic beauty? This is a quintessential "roten-buro" experience, whether you're enjoying the lush greens of summer, the splendid bright colours of autumn, quiet snow scenes in winter or a night bath under a starry sky. Relaxing in a hot spring bath and falling in love with the scenery around you makes for a memorable experience.
Japan is blessed with many hot springs, each with a distinct characteristic. Here are some of the more popular places: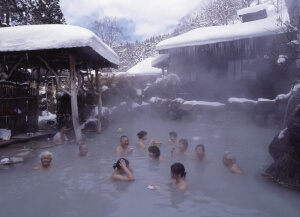 Tsurunoyu (crane's hot water), a part of Nyuto hot springs (Akita Prefecture), is situated in a deep mountain and earned its name from an old local folklore as a place where cranes used to go to nurse their wounds. This is a very popular place because visitors love the unspoiled natural beauty of the mountains while relaxing in the milky hot spring with a sulfurous content. Many foreign travellers come here from all over the world.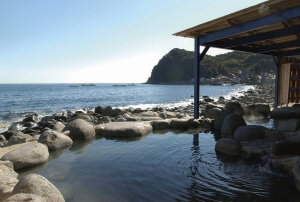 Kuroneiwa-buro (Shizuoka Prefecture) is located by the sea and has an open atmosphere. It is a wonderful spot to enjoy the scenery of the vast ocean spread right in front of you while you soak in the hot spring. The scent of the ocean and sound of waves add to the sense of relaxation. It's a mixed bathing place, but don't worry! You can wrap a towel around yourself when entering the bath. The hours between 19:00 and 21:00 are allocated exclusively to ladies.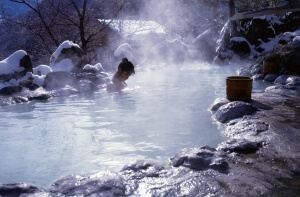 Shirahone (Nagano Prefecture) is a public open-air hot spring at the confluence of two rivers – the Yuzawa and the Yukawa. Surrounded by a forest of broadleaf trees, the autumn scenes are simply breathtaking, creating a heavenly experience when bathing during this season.
Mixed Bathing in Japan: time-honored Japanese culture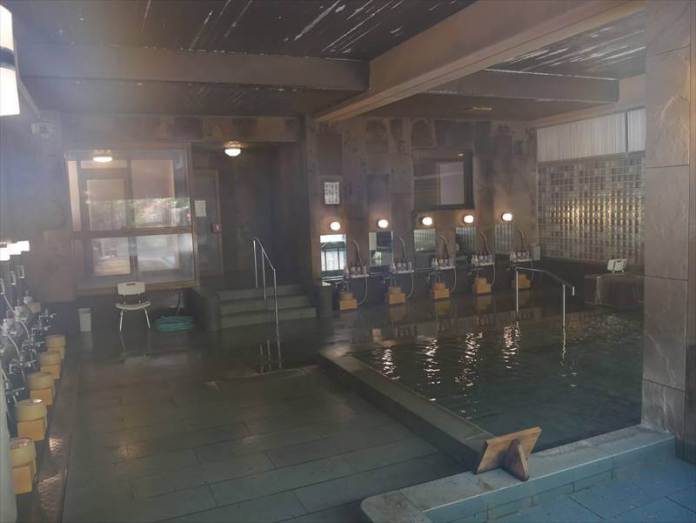 You may be astonished and even feel shy, but don't be! This has been a common custom since the Edo period (1603-1868). In fact, public baths have served as social gathering places, where everyone – including men and women, old and young – enjoyed each other's company. In those days, hot springs were meant for locals who knew each other very well. They would even scrub each other's back while enjoying local gossip. Mixed bathing in modern days is the legacy of this custom in agrarian Japan. Many historic hot springs, such as Houshi Onsen (known to be 1,300 years old) and Lamp no Yado Aoni Onsen are meant for mixed bathing.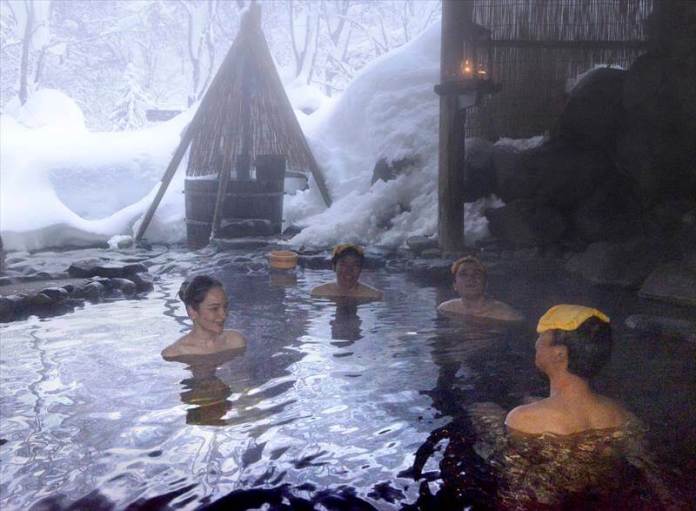 One good aspect of mixed bathing is that the whole family or a couple can take a bath together. Nowadays, the tendency to prefer mixed baths is getting popular among young women. Some would say that they felt shy in the beginning, but with their boyfriends nearby, they felt very safe. Others don't enjoy hot springs when they have to be separated into single-sex sections. "Going to an onsen on a weekend is a special occasion for us. We enjoy bathing in an onsen together."
Enjoying a dip together with friends in an onsen to chat or to enjoy the view would definitely make for a memorable holiday.
For those of you who find bathing with total strangers totally unacceptable, there is a solution! You can reserve an area in a hot spring – either open-air or indoor – exclusively for you and your loved ones. Many inns and hotels offer rooms with these exclusive onsens.
Here are a few inns and hotels that offer private open-air onsen: